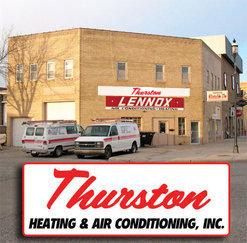 Thurston Heating and Air in Kearney, Neb. services all makes of heating, air conditioners, and heat pumps. Thurston Heating and Air has been your local Lennox dealer since 1954. Thurston also provides 24-7 service.

As your local Lennox dealer, Thurston Heating and Air is proud to offer the finest heating, cooling and indoor air quality products, with prompt and professional customer service. Regardless of the season or the temperature outside, we can make your home feel perfectly comfortable.
Please explore our website to learn more about our quality products and services. If you have any questions or would like to schedule an appointment, feel free to contact us any time.
Members of:
Like us:
Business ID: 1111833150 | Universal ID: 9df5b1f6-6c62-55ee-90c6-0b15b1941a31
Testimonials

Great Personnel
"The personnel were great, knowledgeable, prompt, clean. A great group and friendly furnace is very quick and working fine. Air cond. not used yet since just installed at end of October."
Highest Quality
"The service we got from Thurston Heating and Air Conditioning is always of the highest quality. They are an excellent dealer and Lennox should be proud of them."
Friendly and Helpful
"I have been doing business with Thurstons for a number of years. I have always been satisfied this serviceman was especially friendly and helpful a very nice well qualified young man."
Pleased
"Thurston's heating and air never keep my need for service waiting i am very pleased to deal with them."
Knowledgeable
"The service people at Thurston Heating and Air have always been 'service' knowledgable to us and when we had any questions they would be as helpful as possible. We are very satisfied with the service that they have given us."
Excellent Service
"Mr. Thurston and his staff are very nice & polite & offer excellent service. They always schedule me as quickly as possible when I call."
Accomadating
"Very courteous and nice people Terry is so knowledgable Terry had to come for a minor thing on July 4 2009 and was so accomadating."
Terrific
"My dealer is a treasure! His employee that come to my house and did the work. Was terrific he couldn't be better to have in my home."
Worked with us
"The dealer worked with us/me about answering all my questions about heat pumps. Furnaces, filters and systems in general, before we settled on system he installed!"
Go the Extra Mile
"They went the extra mile and left a cell ph number in case I had any questions over the weekend."
Very Good Company
"Thurston Heating & Air Cond. are the only people we call for our heating & a.c. service, product needs. They are a very good company."
Top Notch
"All of the people at Thurston Heating and Air Conditioning were top notch both in knowledge of product and their installation of the product purchased. I would make special mention of TERRY the salesman and installer and feel he is a definate asset the to Dealer. Thanks to all."