KEARNEY — God called him.
That's what Steven Dahl says about his new position as envoy (the administrator) at The Salvation Army at 1719 Central Ave. in Kearney.
In the last five months, he's relied on heavenly assistance to help with recovery efforts after not just one, but two Nebraska floods — the July 9 disaster here, and floods in Fremont in March.
The Kearney flood roared in just 13 days after he arrived from North Platte to succeed Major Normalene Daniels, who was transferred to Huntington, Ind. Dahl suddenly found himself overseeing 330 flooded-out hotel guests and 400 flooded-out families.
"I've been doing a lot of big-picture oversight, helping people get what they need or do what they need to do," he said Wednesday, preparing for a two-hour conference call while sitting down to catch his breath before several hundred flood victims were due to arrive for a seven-hour marathon effort on flood relief with 16 Kearney nonprofits.
Sign up for Kearney Hub daily news updates
Want to read more local content like this? Subscribe to the Kearney Hub's daily headlines newsletter.
Dahl speaks quickly and smiles often. Asked about all the flood-related meetings he'd attended in the past 10 days, he said, "It was an honor to be invited."
On July 9, after he, his staff and volunteers had fed and calmed 330 flood-displaced people, he said, cheerfully, "One thing I know: God is good."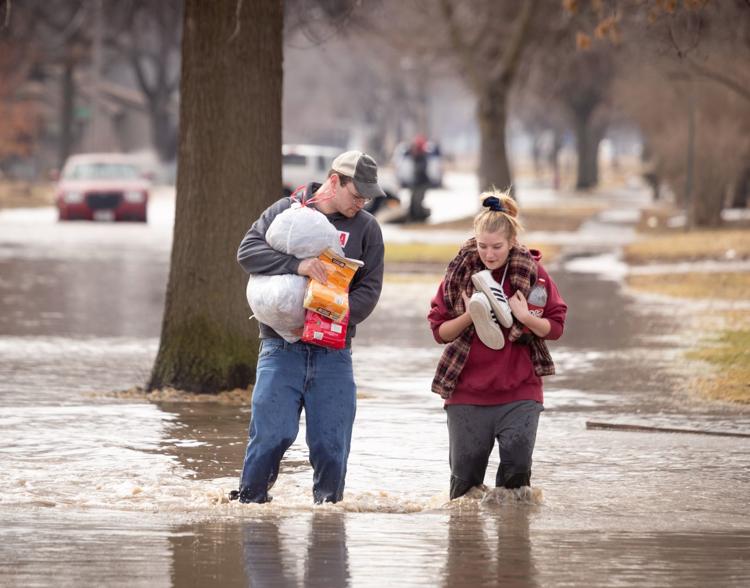 First, a flood in Fremont
For Dahl, 44, the Fremont flood was, literally, spring training for what he would face in Kearney.
Then a Salvation Army staff person in North Platte, he was asked on March 17 to take a Salvation Army emergency disaster unit to Omaha, then return to North Platte. "But when I got to Omaha, they told me I needed to take the disaster unit up to Fremont and stay there for a week," he said. He ended up staying as the incident commander for two weeks.
In Fremont, Dahl oversaw the feeding of 500-800 people three meals a day, plus snacks and water. He worked with Operation BBQ Relief, an 8-year-old nonprofit that brings food in after natural disasters. "At first, we were going to feed just first responders, but that turned into feeding the community overall," he said. "I also helped Fremont create warehouses for the huge amount of stuff coming in from all over the country."
Dahl also helped with logistics of all the donations, which initially were put into two giant warehouses until being distributed to the community.
"There were great people, great volunteers there," he said. "You learn to be decisive. You learn to take everything down to what needs to be done immediately. You have fewer committees than with normal undertakings, and a shorter time frame. I enjoyed that aspect of it. You see a need and fill that need without a long conversation."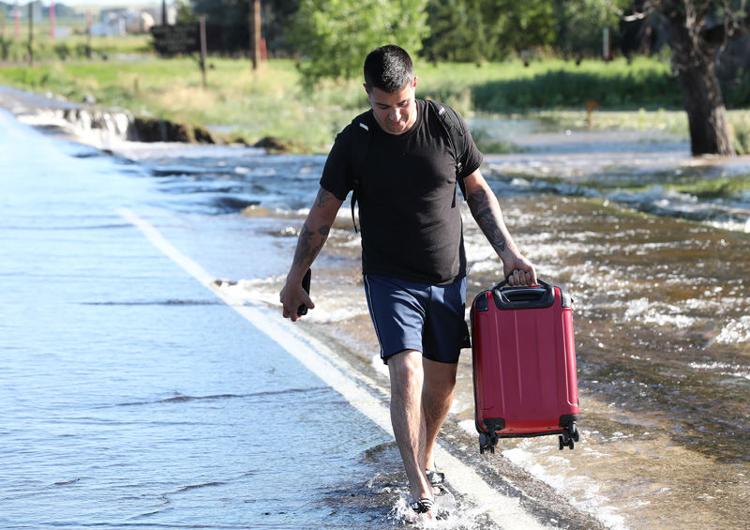 Rising water in Kearney
Not quite four months later, Dahl was transferred to Kearney. Little did he know that a flood was lurking in the shadows.
After an overnight thunderstorm, July 9 dawned sunny and dry. "When I drove over the bridge over the Platte River, everything looked normal," he said. At 10:30 a.m., he was leading a Bible study at Emerson Place Apartments when he got an urgent phone call.
"They said, 'We need you back at The Salvation Army offices. We will have 330 people here in 15 minutes.' I didn't even see all the water until later that afternoon, but I took their word for it," he said.
Hurrying back, wearing a red knit shirt instead of his official Salvation Army uniform, he learned that hotel guests had been rescued in air boats, without suitcases, toothbrushes or their cars, and were on their way to The Salvation Army. With help from staff, advisory board members and volunteers, he leaped into action.
"We opened our thrift shop. We got movies going for kids in our chapel (a large multipurpose room). We got snacks and water. People needed shampoo, toothpaste, bottles of water. Walmart donated toys so kids had something to play with.
"Our advisory board worked the thrift store. One man — I don't even know his name — came in and took over the donation intake. We started getting money and cleaning supplies," he said.
"We made contacts for people with medical issues. We got what they needed. We served food to 330 people. We gave them a place to stop and stay until we learned where their shelter was going to be. Then we just sat and listened to them. They needed to talk."
He coordinated with UNK representatives about rooms for those displaced, both out-of-town hotel guests and Kearney residents. He spoke to landlords about housing displaced local residents.
"Basically, my decision-making stops at The Salvation Army door, but when someone said we needed more toiletries, I said I had them, and I loaded them up," he said.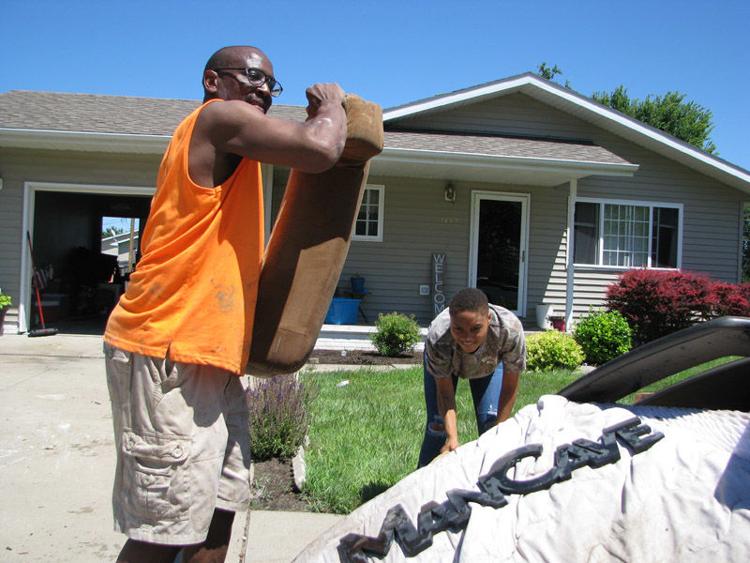 'My community'
The Kearney flood affected Dahl differently from the disaster in Fremont. "I grew up here, so it had a personal aspect," he said.
Born at Good Samaritan Hospital in 1975, Dahl grew up on his family's farm in Axtell. Then he helped run the farm while working at Studio D photography business. He married and had five children. He helped establish The Table Church at 522 W. 11th St.
"I was happy. Everything was good," he said. "But one day the Good Lord put something else in my heart."
It began when Dahl happened to ask a friend where he went to church. "The Salvation Army," the friend said. "I asked him, 'Why does a church meet at The Salvation Army?'" Dahl learned that The Salvation Army held its own church services on Sundays. One thing led to another.
"I had a house, a family, a business and a church I was part of, but God said, 'I want you to do this.' I wouldn't have done this otherwise."
Initially, he joined The Salvation Army as a year-long intern in Omaha "to see if this is really what I wanted to do." He worked with recovering drug addicts and homeless people. "I saw everything The Salvation Army does," he said. He was hooked.
After two years of training in Chicago, he served three years in Lafayette, Ind., and one year in North Platte before landing in Kearney.
A learning curve
Dahl estimates that the flood has affected 600 families from Lexington to Elm Creek to Kearney to Gibbon. "Life is not normal for 400 units," he said.
He describes himself as "a doer," adding: "I'd rather be doing. This got me out from behind a desk, and that was kind of a bonus. Fremont prepared me so I could get into the mind-set, but now I'm making decisions with agencies and people. It's been a bit of a learning curve. Each agency or nonprofit here sees the needs of the community through different eyes. We all have to figure out how to work together to create the most effective and best response," he said.
Fremont taught him a lot about disasters in unexpected ways. While there, he stayed in the home of another Salvation Army officer, but he gave up his bed and slept on a cot when a veteran Salvation Army officer arrived to lead disaster efforts. "They got me a nice fancy cot. It was pretty comfy," he said.
Here, when flood victims were housed in dorms at UNK, he thought the dorm rooms were luxurious because displaced people often sleep in rows of cots set up in large places such as gymnasiums.
"This flood has been different because it is my community. I grew up here, so it had a personal aspect. In Fremont, I helped the first responders and people who were displaced, but I was there just 14 days. Then I passed my responsibilities onto the next person. Here, I'll be working alongside affected people indefinitely," he said.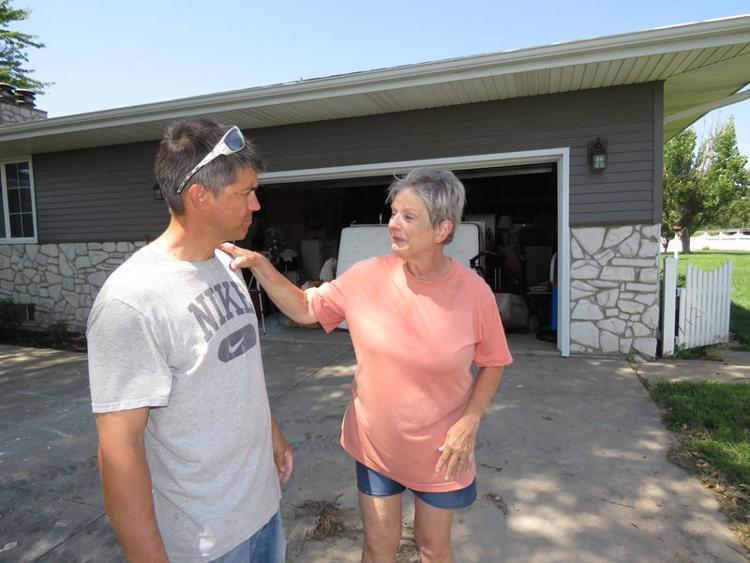 Having hope
Chuckling, Dahl said, "It's been an interesting year of weather in Nebraska." He loves Kearney and its people. He values his Salvation Army staff and advisory board. His mind is reaching into the future.
"I need to find funds for immediate needs, but I'm also thinking more long term. People need rental assistance because they still have mortgage payments at their flooded properties. Their utility bills will increase," he said. "We fill needs the best we can, but it doesn't have to be through an agency. We can help our neighbors on our own. If you see a need, try to fill it.
"I hope this flood brings us together as a community. Sometimes a negative event can turn into a lot of positive with people working together," he said. "I have hope. If I don't, nothing's going to get done."