KEARNEY — On the Hook Fish and Chips dropped by Kearney last week with its off the hook beer-battered, fried cod.
The company, based in Laramie, Wyo., serves only one menu item — fried Alaskan cod with french fries. And three 2017 Beatrice High School graduates are working on one of the company's food trucks that delivers the ocean catch to landlocked Nebraska.
Manager Jacob Adams and his buddies Garrett Bloomquist and Ben Gascon share roles in quickly cooking and catering to long lines of customers from their Waverly, Neb.-based On the Hook Fish and Chips food truck.
While in Kearney, the young men worked in synchronization.
Gascon prepared the crispy, golden and tender fries.
Sign up for Kearney Hub daily news updates
Adams and Bloomquist took turns coating fish in made-from-scratch beer batter and dropping it into bubbling hot oil, while the other took orders and lined boxes on the counter.
Each box is filled with two fillets, one tail, a big portion of fries, malt vinegar and custom-made sauces - tartar and spicy sriracha mayo. Each box costs $12. An extra piece of fish is $3.50.
"It's kind of like a flaky, moist fish. It's a white fish," Adams described the meal. "It's a hefty meal. It fills you up for sure. I can hardly finish one."
The fish is line caught from the "cold, clean waters of Alaska," according to the company's website.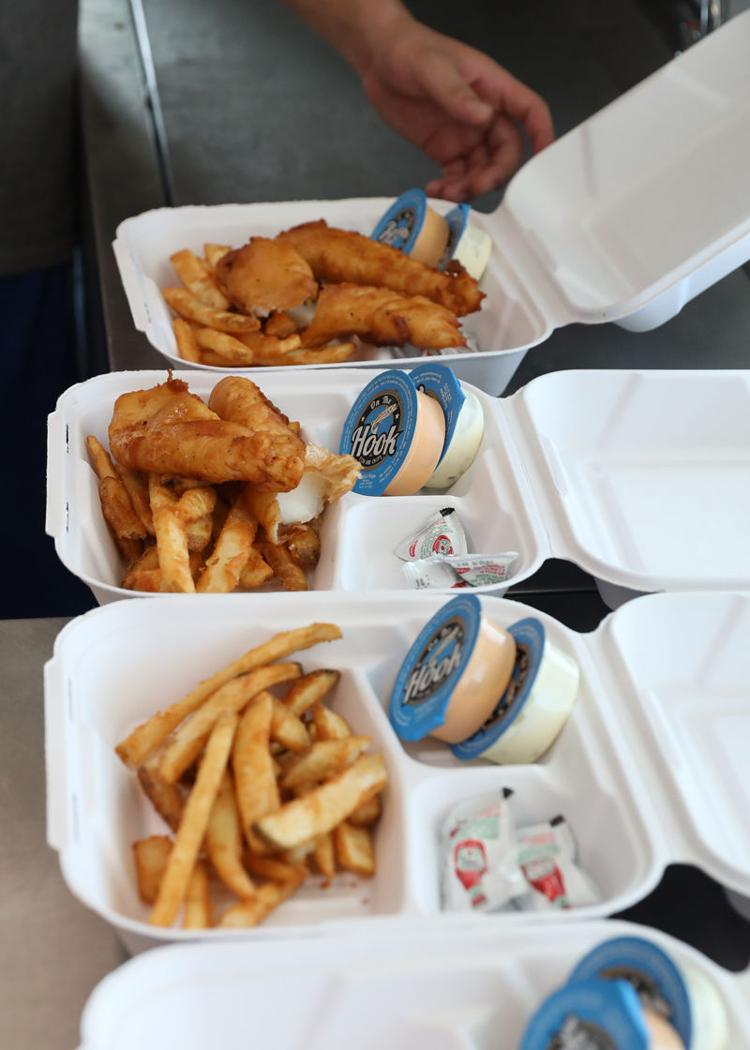 "There's a 47-mile-long trail line that follows the boat, and every 42 inches on that line, there's a little piece of calamari on a fishing string," Adams explained. "When they bring it on the boat, they'll de-head it, bleed it and then they'll flash freeze it, which is one of the best ways you can preserve fish."
On the Hook co-owner Ocean Andrew's dad is a captain on the Northern Leader based out of Seattle. He provides the fish for his son's food truck, according to Adams.
Andrew and Hunter Anderson started the business in 2016 while they were in school at the University of Wyoming at Laramie.
Back in Nebraska, Adams was seeking a way to make some extra summer cash for college.
"My mom actually found this post on Facebook for it, so I joined expecting just a quick little gig. Then (it) transformed into staying and (I) never regretted it."
Adams has been managing one of two Nebraska-based On the Hook Fish and Chips food trucks since October. He then recruited Bloomquist. Gascon came on board this summer.
"We had some openings open up and they were the first ones to call," Adams said about his friends. "They had interviews with my manager and everything worked out."
The friends aren't planning to go back to school anytime soon. The men were hooked by the "opportunities" for growth within the company. Gascon said the pay is good, too.
Adams soon will become district manager and Bloomquist will take over as manager of the truck. Another Beatrice High School friend then will join the team.
The traveling food truck business is also an adventure.
Adams, Bloomquist and Gascon work 60 or more hours a week visiting cities Tuesday through Saturday in Iowa, South Dakota and as far west as North Platte in Nebraska. They'll visit one or two cities a day and will try to reach each spot about every four to five weeks.
Adams drives the truck, while his friends ride along.
"It's more like he's the chauffeur in the morning and we take an extra nap," Gascon said with a laugh.
Along the way, they have suffered a few fryer burns, but have bonded and taken in different scenery across the Midwest.
"If we're driving and there's a nice field, we'll stop to get a picture of the truck. The owners like us to send pictures in," Gascon said.
For Adams, managing the food truck business has taught him responsibility.
"Honestly, I told myself I would never work in the food industry. This isn't one of those things where you just show up to a restaurant and cook food all day," he said. "A lot of stuff can happen with the truck. There's just a lot of stuff you have to be prepared to deal with."