KEARNEY — Candela Sudano's face was spattered with tears when she left Rafaela, Argentina, last August for a six-month stay in Kearney.
Sudano, 21, had arrived at the airport five hours earlier, but the security line was so slow that she almost missed the flight.
"I went running to the gate with all my carry-on luggage and my backpack as they were calling my name on the intercom. At the gate they went through my bags again, and I had to take my shoes off again. When I finally got on the plane, my phone battery was dead so I couldn't text my parents to tell them I was safely on board," she said.
Then the jet lifted off, carrying Sudano to a new life in a strange new place called Kearney.
Welcoming people
Tears likely will return Tuesday when Sudano flies back to Argentina. "I love the people from Kearney. They are so welcoming," she said.
Her stay here came through the New Generations Service Exchange, a Rotary International Program that provides professional and humanitarian service opportunities for university students. She was sponsored by Kearney's Dawn Rotary Club.
Sudano has been a paraeducator in the Kearney Public Schools, working with children in the English Language Learner program. She spent eight weeks each at Horizon Middle School and Kearney High School, and two weeks at Central Elementary.
"When I started, the students just looked at me and didn't talk too much, but once they got comfortable with me, they would say, 'Hi, Mrs. Anna,'" she said. Some of them gravitated toward her after realizing that English was not her first language, either.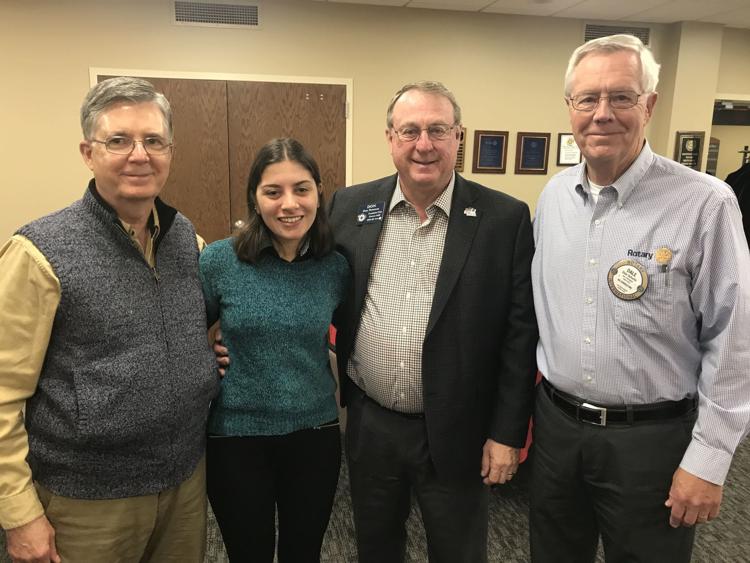 Rotary connections
Sudano, an English major at a university in Argentina, had wanted to travel to an English-speaking country to broaden her English-language skills. She had started learning English at age 7 at an English academy in her city. She continued classes there into high school.
"I just wanted to know another language, and there were English words on TV that I wanted to understand," she said.
She learned about the Rotary program from Pedro Zanini, the district governor for the Rotary Club Las Parejas in Argentina, near Sudano's hometown. Zanini is a friend of her father Diego.
At a Rotary training in San Diego in 2015, Zanini had met Don Peterson of Kearney, the past governor of Rotary District 5630 (central and western Nebraska). The two men didn't speak the same language, but they struck up a friendship.
Last year, Zanini met Dawn Rotarian Bob Taylor when Taylor came to Argentina to dedicate a project that Dawn Rotary had assisted with. Taylor told Zanini about the program. Zanini, in turn, told Sudano's father. Quickly, Sudano applied. "I was so excited to come," she said.
She paid for her flight and her visa. Rotary paid for her insurance. She stayed with three Rotary members during her visit: with Janet Trewin, who met her at the Dallas airport and drove her to Kearney last August; Steve and Renee Brodine; and Tami Moore.
Dale Schultz, the immediate past Rotary district governor, coordinated and oversaw her NGSE experience.
Fitting in
Sudano quickly discovered that Nebraskans were friendly, gracious and helpful. She said Nebraska "looks like home" because it is flat like the Argentinian plains where she grew up.
She had to adjust to eating dinner "so early." In Argentina, families do not eat dinner till 9 or 10 p.m.
Different, too, was the way Americans greet friends. "In Argentina, every time we see someone we know, or gather with friends or family, or when we go to an informal meeting, we kiss on the cheek to say hello and goodbye. When I came here, I was always reminding myself not to kiss hello or goodbye people."
She was homesick at Christmas, but she was in daily contact with her family back home through FaceTime.
She saw snow for the first time, but she never fully adjusted to it. "Winters at home won't be so hard after this one," she said.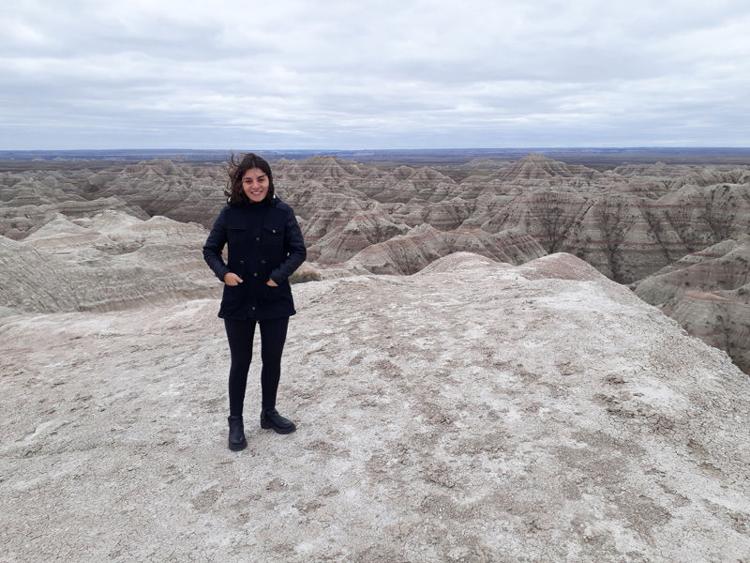 Seeing the U.S.A.
Sudano crammed her calendar with activities and travel. Dawn Rotary members took Sudano to South Dakota, Wyoming and Colorado. She explored Kearney attractions and much of central Nebraska. She helped Rotarians in Holdrege fill bags with rice and protein for the Feed My Starving Children nonprofit. The food went to Third World countries.
In December, she flew to New York City for three days. The man checking passports at Kearney Regional Airport began speaking Spanish to her. She was startled. She had to scramble mentally to respond in Spanish.
"In Argentina, students go to school only in the morning," she said. They can stay longer for physical education, sports and extracurricular activities, but those are optional.
Schools there do not have cafeterias. Students bring their lunches or buy something at the snack bar. High school classes are co-ed and can have up to 40 students. Sudano appreciated smaller classes here. "Schools are better here," she said.
A week in Haiti
In December, she went to Haiti for a week with Anita Lorentzen, president-elect of Dawn Rotary, to help with Kearney-based Mission II Haiti, which repairs water wells around Cap Haitien.
"I loved helping the people and working there," she said. She said Creole-speaking Haitians were "sometimes shy."
"The people have almost nothing, but they are happy. It made me think of all the things we complain about. It really changed the way I think," she said.
After she graduates from college in two years, she expects to teach English, but she's keeping her options open. She knows now that plans can change in an instant. "I had never planned to come to the U.S., either," she said.