KEARNEY — The old Kearney High School at 3610 W. 36th St. is about to rise like Lazarus.
At 8:30 a.m. Sunday, members from First Baptist Church will begin a Walk of the Cross procession. In relay fashion, as if carrying the Olympic torch, they carry a cross from their old sanctuary at 1616 W. 39th St. to their new one: the 60-year-old former high school about a mile away.
At 10 a.m., they will arrive in their new church home for a service of praise and dedication in the old North Gym. Sunday evening they will return for a festive potluck dinner.
"I've never seen a Baptist church move so quickly on a project so huge," Senior Pastor Sean Dougherty said. "It was a once-in-a-lifetime opportunity. It has unified our congregation."
Last week, Dougherty led a visitor through the high school's renaissance. Old classrooms now are Sunday school rooms and preschool facilities and church staff offices and meeting rooms. An old locker room now is a spacious kitchen, with gleaming stainless steel islands and two enormous lockers for meat and frozen foods. Another room is filled with pictures, sweatshirts and other memorabilia from the old Kearney High School.
The work is far from finished. For now, the congregation will worship in the old wrestling room until the South Gym is transformed into the sanctuary. Walking carefully under ladders and stepping carefully on boards in that old barrel-ceilinged gym, Dougherty said that "like human beings, this project is not finished," but his eyes gleamed with promise.
"There were concerns about the age of the building and whether we could afford this much space, but it was a once-in-a-lifetime opportunity. This also allowed us to save a huge community building right in the heart of the city," he said.
Nobody foresaw this nine years ago when the church realized that it needed a new structure for more parking and future growth. Planning began. In 2014, a capital campaign was launched, and the church purchased 12 acres of property at West 56th Street and 11th Avenue.
But in June 2016, the night before the building committee was to meet to sign contracts for that land, committee member Brent Upson called committee co-chair Jay Utterback and asked the group to explore buying the old high school instead. The Kearney Board of Education had just issued a request for proposals for its future.
"We heard through the grapevine that the old high school was available," Utterback said. "Brent dogged us. He said, 'You've got to look at this.'"
Utterback put that item as first on the agenda and expected to move on to finalizing details on the West 56th Street purchase, but the committee never got that far. The idea of moving into the old school was so compelling they never looked back.
"We had already voted to go to 56th Street. Our congregation had voted to build up there," Utterback, co-chair of the committee with Tim Hughbanks, said. "We had heard astronomical cost numbers about removing asbestos; plus, the timing wasn't going to work. We wanted to get moving on the 56th Street project because we were afraid the costs might go up. But the city had done a full-blown feasibility study of the school. We studied it and realized it would be a feasible project. We had to rescind the 56th Street vote."
The committee explained its new idea to the 200-member congregation. They overwhelmingly approved it. On Oct. 10, 2016, the Kearney Board of Education awarded the structure to the church for a bid of $260,000. They won it over two other bidders.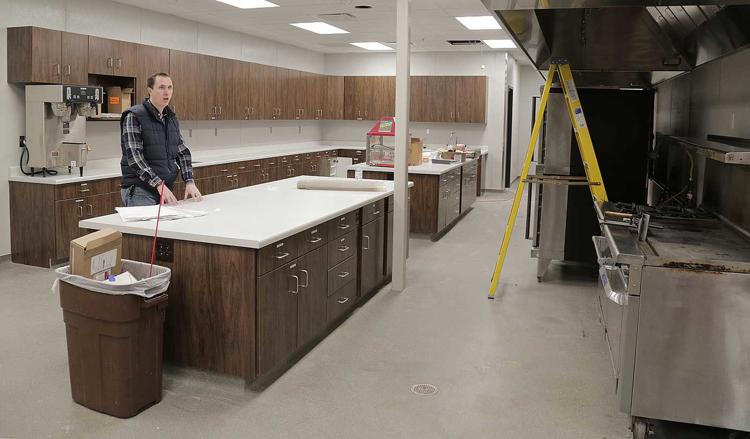 Quietly, behind the scenes, Jacob Sertich, an architect at Wilkins Architecture Design Planning at 2908 W. 39th St., was already hard at work on the building. Wilkins ADP, in association with Miller & Associates and BD Construction, Inc. assisted Kearney Public Schools in preparing to either dispense of the property and building as is, or retain the property but demolish the building.
In 2008, Sertich had been the lead architect when the school board hired Wilkins to look at expansion and renovation of the crowded high school. He was the architect when the City of Kearney studied turning the old school into a recreation center, with parks and recreation offices there. When that plan fizzled, Sertich prepared documents for the dispensing of the building. "I knew that building really well," he said.
At the same time, separately, Sertich was working on designs for First Baptist's new campus on 56th Street. "I knew the First Baptist congregation, its needs and objectives," he said. When the church bought the old school, Sertich was in a perfect position to evaluate its future as a church.
Dougherty believes Sertich's plans and involvement were divine intervention. "We were able to change plans so quickly because all the work had been done. The architect knew the building," he said. "Besides, this building has huge historical significance in the city. We didn't want to see it demolished for a strip mall. We're a teaching church, and this is an education facility."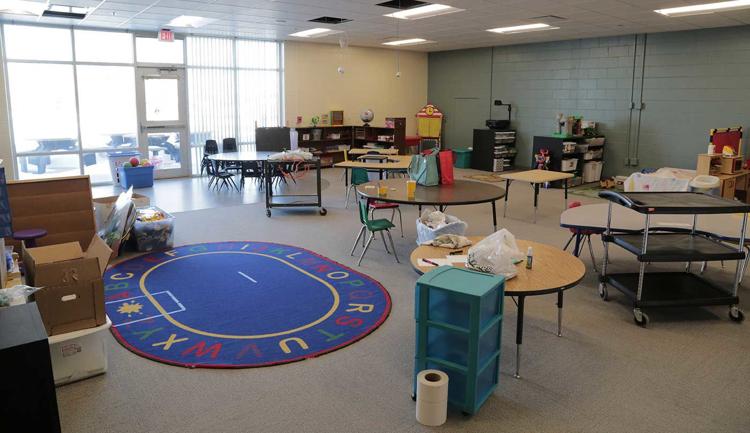 The church took possession of the old school in November 2016. Renovations began in early 2017. Since then, workers have removed asbestos and demolished 112,000 square feet of the structure's 220,000 square feet. Gone now is the school's oldest section, built in 1958, but additions from 1985 and 1989 remain. They have become educational and programming spaces.
Dozens of church members, including high school students, have painted, prepared surfaces, done framing and put in cabinets. "I just put out the word, and people responded," Dougherty said.
"We're still a work in progress. We will need to grow into the building. A lot is undecided, so when people come, they won't see a finished product, but people are really excited about it," he added. "I see people excited about what God is doing."
Meanwhile, Schrock Chiropractic has purchased the old church building and expects to open there in February. The church has held worship services in the gym during the transition.
Sertich, the architect, said it's been a "blessing and a privilege" to be part of the transformation process. "God placed me in that position to give the opportunity to get to know that building, God makes things happen," he said.