KEARNEY — Mary Aupperle is 79, but she has no plans to retire. Ever.
Her co-workers at the Community Action Partnership of Mid-Nebraska hope she never retires, either. If she did, they'd miss her German chocolate caramel brownies, her dream bars, her chocolate caramel bars and more.
"She spoils us year-round with her treats," Kyla Martin, Community Action's director of development, said. "I tell her, 'Mary, these are to die for.'"
On paper, Aupperle is an administrative support secretary at "Mid," as the nonprofit calls itself, but she says she's a "hodgepodge of everything." A 36-year employee — she celebrates 37 years April 23 — she answers the phone, sorts the mail, greets people at the front door and prepares rooms for meetings.
Best of all, she bakes. She bakes for monthly board meetings and for volunteers at Mid's two annual craft shows — Signs of Spring and Holiday Splendor — at the Buffalo County Fairgrounds. Her treats are legendary.
It all started with Karen Lueck, the now-retired Mid chief executive officer, who learned that Aupperle had taken a candy-making class at North Platte Community College years ago and spent many happy hours in her kitchen. "We had a candy sale at a craft show. I really got into it," Aupperle said.
Ever since, Aupperle has kept baking. She has spoiled the Mid board with her treats. One year, she didn't make peanut clusters, "and some of the board members were disappointed. Previously, each board member got their own bag," she said.
Spoiling the board
Aupperle is in charge of providing fruit and sweets for every Mid board meeting. She often goes to supermarkets several days ahead to find perfect fruit. She knows when each grocery store fills its shelves, but she often asks the people behind the counter if they have anything fresher than what's displayed.
"I value our board like I value my family, and I will not take anything substandard," she said.
She chooses to spend evenings at home cutting up the fruit — apples, cantaloupe, honeydew, strawberries, pineapple, grapes and oranges — while her TV is tuned to baseball and football games. "I do so much in the kitchen as I watch TV," she said.
She said she can feed "the whole (Mid) agency," not just the 20-member board, with one cantaloupe and one honeydew melon. "I cut up more than what they need, and if there's any left, it goes to the staff. That's a wonderful feeling. I just buy what I can get and fix it. Word gets out," she said.
Leftovers are set out the next day and disappear quickly.
Baking is a joy
Born in McCook in 1941 and raised near Lodgepole, Aupperle has sweet memories of her early years. "My dad went to war and got back in 1945. I remember the suckers he always carried around in his coat pocket," she said.
She never thought baking was unusual. "I grew up with it. I thought it was nice to be helping the family, but I didn't think I was doing anything special. We were raised that way," she said.
She still has her grandmother's recipe for kolaches. Her mother kept homemade pfeffernusse in pickle jars. "When my mom wasn't home, I used to go through her recipe cards. She wasn't thrilled about sharing her recipes, but in later years, she did," Aupperle said.
Using her mother's recipe for German chocolate caramel brownies, Aupperle doctored them to make them less sticky. Her dream bar is a favorite at Mid's training sessions. "I could make these all day long," Aupperle said. "I have to really watch them when they cook. They look like glazed candy when they come out."
Aupperle wasn't happy when cake mixes were downsized. "That interfered with my trademark recipes. I didn't want to bake something and have it not turn out right, but I didn't want to have to give it up, either," she said.
But she appreciates modern shortcuts, like using the microwave.
Baseball and baking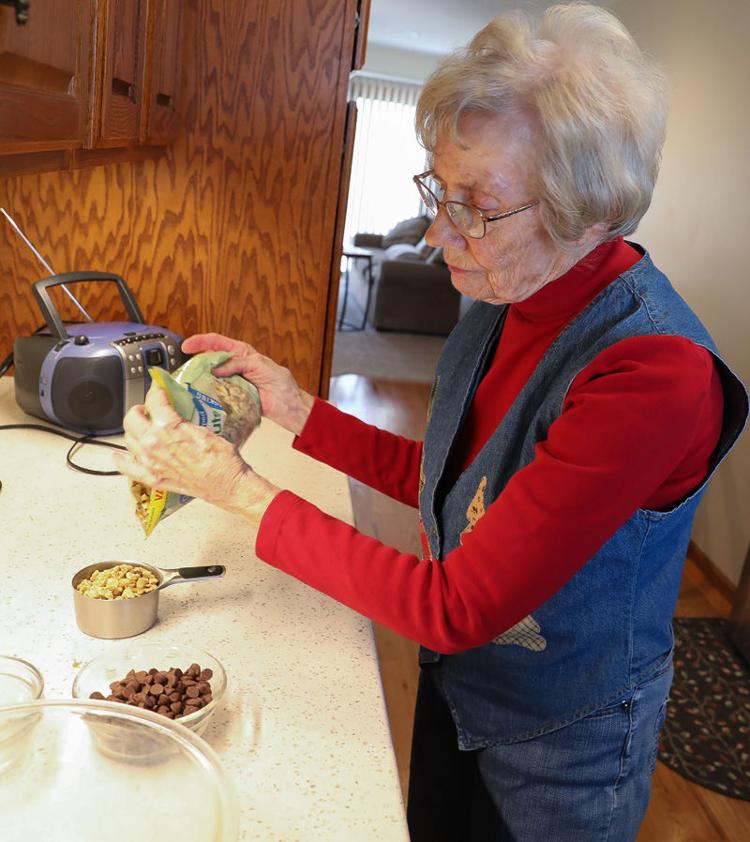 As a child, Aupperle loved baseball as much as baking. "We had no Little League. We just got together and played. Everything was family-oriented back then, and your parents did a lot with you," she said
She played neighborhood baseball "at whatever position they thought I wouldn't lose the game for them," she said. She did synchronized swimming. She pole-vaulted on a vault her father built. Her only siblings were two brothers, so she played with the boys in the neighborhood. She learned ballet, too.
She married before she graduated from high school, but she later got her G.E.D.
They first lived with her husband's family and helped them farm. Eventually they moved to North Platte, where her husband worked for a plumbing company for 18 years. Ten years later, they adopted two sons. Six years later, Mary gave birth to a daughter. Her husband opened his own plumbing business.
"I've done a little bit of everything," she said. "I never hated any of it. I'm hungry for new things."
She was a stay-at-home mom until she and her husband divorced in 1983. Needing to go back to work, Aupperle answered an ad for a job at Mid in the newspaper. She was hired the next day. She started on April 26, 1983.
Seven years later, when that office closed, her boss told her about a position with Mid in Kearney. Since her three children were nearly grown, she quickly took it even though she had to pay her own moving expenses. "I didn't bat an eye," she said. She's been there happily ever since.
She worked two other jobs at that time, too. In the evenings, she sold wedding gowns at Chantilly Bridal. On weekends, she worked at Little Kings, a sandwich place.
"Little Kings called, looking to hire my daughter, but I told them, 'She has moved to Omaha, but Susie's mom would like to do that.'" She got the job.
"By then the kids were older and they were out working, too. That's what I wanted them to do — to be self-sufficient. They did a good job taking care of their mother, and they still do," she said.
Downsizing
Six years ago, she sold her house and moved to a condo at the Regency, three blocks from her daughter and family.
Relaxing at home, she loves to cook. "Last week I went to Boogart's and got everything I wanted for beef stew. I used my daughter's recipe. With the meat, I put in non-gluten seasoning. I add three cups of water, celery, potatoes and carrots. I sneaked in mushrooms last time I made it. I don't add any other seasoning. That makes five bowls of soup, for me. It works out wonderfully for a week of lunch," she said.
She loves professional baseball, the Huskers, and family gatherings. She loves her job at Mid, too.. "Is it a privilege to work here? You bet. This is a family, just an extension of family," she said. "It doesn't seem like I've worked here very long, just the blink of an eye. I have no plans to retire. I don't think God's finished with me yet."