LEXINGTON — With their black bodies and bright white heads and tail feathers, mature bald eagles look as if they're dressed for a special occasion.
That's true whether they perch on leafless limbs to survey their universe, glide toward open water to snag fish with hook-like talons or circle fields for other prey.
Mottled brown or nearly black immature eagles appear to be dressed for work. Or at least like they came straight from work to the Platte River, Johnson or Harlan lakes, or the Central Nebraska Public Power and Irrigation District canal downstream from the J-2 Hydro.
Maybe no one told them about the dress code to be the center of attention.
Sign up for Kearney Hub daily news updates
The dignity of bald eagles is apparent whenever I make a winter trip to J-2, south of Lexington and east of Johnson Lake, to stand at its huge windows overlooking the canal as water flows from the plant.
It's where a dozen or more eagles often gather on branches next to roosting trees used by wild turkeys. Predators and possible prey don't pay much attention to other because the eagles' focus is on catching fish in the canal.
Eagle numbers there usually are higher if cold weather has caused the Platte, other streams and lakes to ice over.
It's a show Mark Peyton of Gothenburg has seen many times during his years as a weekend host when the J-2 plant is open to visitors 8 a.m.-2 p.m. Today (Saturday) was the first public viewing day of the 2019-20 season, which continues on weekends Feb. 29-March 1.
Peyton, a biologist, was a full-time CNPPID employee for 23 years and a part-timer for four more years. That was after 20 years as a teacher, including 13 at Gothenburg.
He will rotate hosting weekends this season with Dennis White, a retired CNPPID control operator at Gothenburg.
"Obviously, it's important to have someone here so people don't do anything goofy," Peyton said, but the hosts' main jobs are to open and close the plant, and answer questions about eagles and CNPPID operations.
"He knows the system very well. He can answer most of the eagle questions as well," Peyton said about White.
The reverse is true when Peyton hosts because his primary expertise is on wildlife and natural habitats. His book, "The Village Naturalist," was published in 2017.
Open for visitors
The J-2 plant first was opened to the public in 1988, according to CNPPID Public Relations Assistant Holly Rahmann, when the district was renewing its Federal Energy Regulatory Commission license.
One requirement was to enhance public education. "This was one of the education opportunities," Rahmann added, with brochures and a eagle section on the cnppid.org website also part of the package.
"But also because it's kind of a rare hot spot for eagles to visit and feed when other places are frozen," she said about creating an eagle-viewing site.
Rahmann said it's common to have 1,200-1,500 visitors annually during winter viewing weekends at J-2 and also at a second CNPPID public-viewing site below Kingsley Dam at Lake McConaughy that opened in 1990.
"For only being open 15 to 20 days a year, that's pretty good, I think," she added. "... Usually we get people from 15 to 20 states and sometimes a country or two, depending on where they are visiting family."
Others find the J-2 plant on their own by checking the map and eagle information on the website or talking to local folks. "We do get some interesting traffic," Rahmann said, including Interstate 80 travelers who like to take breaks from the road to see interesting things in the area.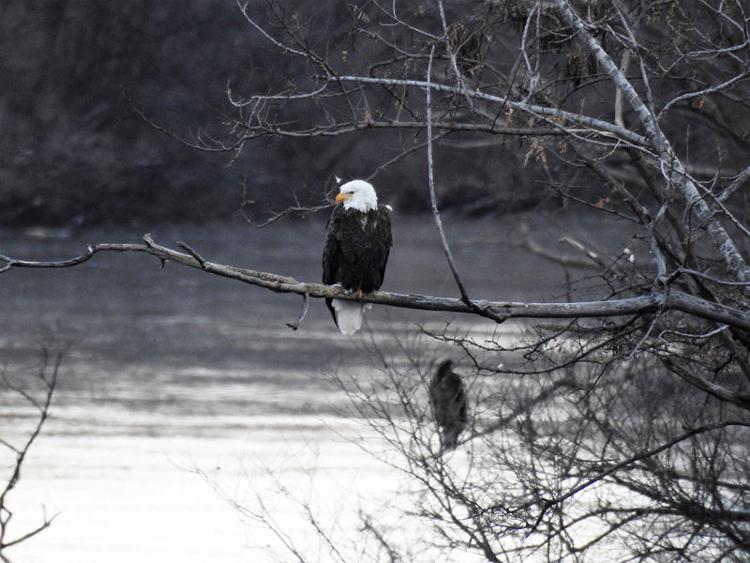 Loving eagles
Peyton has vivid memories of seeing his first bald eagle. "It was at Hay Springs (northwest Nebraska) and I was mesmerized," he said.
During his seven years teaching in Ewing, he first saw a breeding pair establish a nest on the Elkhorn River behind his house.
The CNPPID website says successful nests have been reported each year in Nebraska since 1992.
"Historically, there were not many eagles," Peyton said, although feathers used in Native American headdresses prove there were some in Nebraska's Platte Valley.
After moving to Dawson County, he helped with Nebraska Game and Parks Commission eagle surveys in February and March. "I did the stretch from Brady to Cozad ... I would literally walk the river," Peyton said. "I'd get 20 to 30 birds. But it would change every year."
That's because eagles go where there is open water. It's why eagle viewing can be different on different days and times of day at the J-2 plant.
It also is a reason the visitor schedule was changed from the original 8 a.m.-4 p.m. weekends through April 1. "A Know Nebraska tour bus pulled in here in mid-March one year and it was about 80 degrees," Peyton said. "One eagle flew by."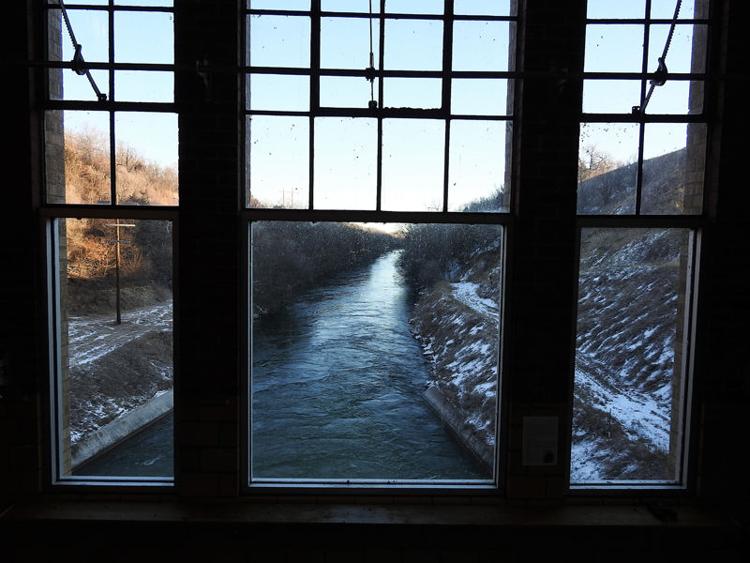 Recovery continues
Seeing one eagle in Nebraska or almost anywhere in the Lower 48 states would have seemed remarkable 50-60 years ago.
According to the eagle section of the CNPPID website, bald eagle numbers dropped drastically in the 1940s and 1950s, when the use of pesticides such as DDT and Dieldrin were common.
Eagles ingested the pesticides by eating contaminated fish and waterfowl. The pesticides interfered with eagles' reproduction by causing egg shells to be abnormally thin and subject to breakage.
"DDT doesn't break down biologically," Peyton explained. "It killed the bugs and the birds ate the bugs and on up the chain." He added that other factors in bald eagle declines included habitat losses and shootings.
"It was after World War II when people noticed that many bird species were declining," Peyton said, including other raptors.
He said adult bald eagle numbers dropped to around 2,000 in the Lower 48 states and to approximately 30 in central Nebraska.
The first step toward recovery was banning general use of DDT and several other pesticides in 1972.
Peyton said that after the Environmental Protection Act was passed in 1973, the first species showcased were gray whales, whooping cranes and bald eagles.
He said there are 150-160 bald eagle nests in Nebraska now.
Eagles seen over the winter are a mix of migrating and nesting birds, but it's unknown how many migrating eagles there are overall. "There are days when you can count 100 eagles on Johnson Lake or Harlan County Lake," Peyton said, "and they can't all be here year round."
Visitor tips
Weather always will play a role in where bald eagles hang out and whether J-2 visitors get up-close looks or see them in trees farther down the canal.
Peyton said the canal sometimes would freeze over in the late 1980s and 1990s, "so when you turned on the plant in the morning, all the activity was right here," below the eagle-observation windows. "Now, it's a little farther down."
They typically feed in the morning and when they're full, they may sit in the trees or soar around, he said.
His message to J-2 visitors is, "Come early. The earlier the better. We're gonna have birds around at noon, but there will be fewer of them."
"We don't orchestrate things," Peyton said. "The eagles are going to do what they're going to do."