A busload of kids arrived Tuesday at Capitol School of Hairstyling & Esthetics for a free back-to-school haircut.
Nash Womack, a soon-to-be seventh grader at McMillan Magnet Center in Omaha, was one of more than 50 kids who spilled out of the bus. He had a noticeably curly mop atop his head.
Nash's mother, Teresa Bagosta, who described her son's curls as "all over the place," said her son didn't want to get his hair cut Tuesday. But by the time his hair was trimmed, shampooed and done up with product, he was sporting a grin and posing for photos for both his mother and his hairstylist.
Bagosta said Nash has participated in the Open Door Mission's back-to-school haircut event for the past three years.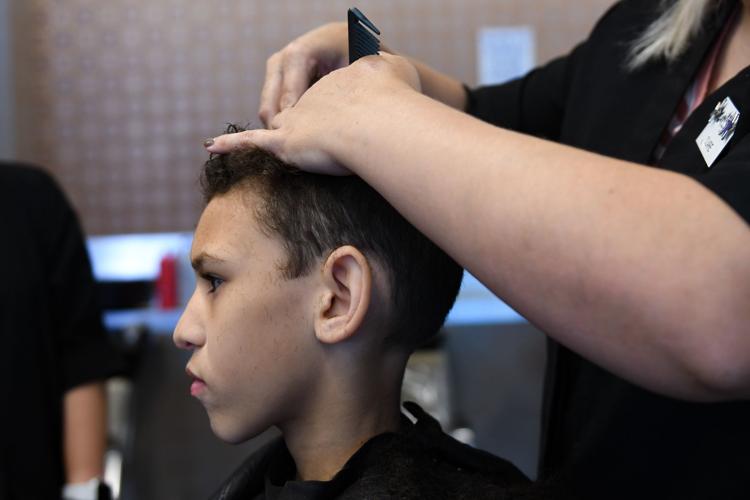 The mission and the hairstyling school have partnered for nine years, said Candace Gregory, president of Open Door Mission. Since then, Capitol and the shelter have set a date in early August to send kids "back to school in style," said Skylar McCaig, Capitol's director of operations.
"It's one of our bigger volunteer opportunities of the year, and a good chance to give back," McCaig said. "Our students like to be involved in the community, and it's great to see the kids' smiling faces when they get the back-to-school style they're looking for."
Taylor Clinch, a program administrative assistant at Open Door, said that when people are dealing with issues such as poverty, addiction and homelessness, smaller things — such as haircuts — can fall by this wayside.
"It's awesome that Capitol provides that," he said. "They're a very giving company. They're very kind and loving, and they provide for our kids."
This year, kids were also treated to lunch from Chick-fil-A and a showing of "The Lion King" at a local theater.
Bagosta said she and Nash used to stay at the Open Door Mission. Although they no longer live there, Nash still participates in several of the shelter's events.
Another event the mission runs is Adopt A Student, in which participants can spend at least $75 on new clothing, shoes and a book bag for each student they adopt.
"You remember it," Clinch said of going back to school. "You can have some sweet kicks, but if you've got sweatpants with holes in them, like ... it's a package deal. You want to fully feel like you're ready to engage in school and ready for that whole new year. If you're carrying old summer stuff back with you, it can kind of be discouraging."