ELM CREEK — Having grown up in a small Nebraska town, Shawna and Mike Strong wanted their three children to have the same experiences, so building a new house and moving from Kearney to Elm Creek came naturally for the natives of Eustis.
"Our classmates, we went to school with them all the way from grade school through high school," Mike said about the stability and predictability of growing up in a small town.
Safety, convenience, involvement and independence — they're also among the reasons the Strongs moved to Elm Creek, which has a population of almost 1,000. Many of the people who live in Elm Creek are like the Strongs — young parents whose focus is on raising their children.
"We just knew we wanted to raise our kids in a town like we grew up in," Shawna said about the journey that carried her and Mike from Eustis to Kearney and then to Elm Creek. Shawna and Mike both earned advanced degrees at the University of Nebraska at Kearney. He's an investment adviser and she's a school speech language therapist.
"It's a little bit closer to Eustis from here, and we like to go to Johnson Lake, which also is closer," Shawna said.
As far as activities, the Strongs' older daughter, Braelynn, 8, has a full calendar. She's able to play softball and volleyball at school, and she's taking piano lessons.
Son Carter, 6, plays football and wrestles.
Daughter Allison, 4 — like her siblings — can play with friends and go to the park or swimming pool.
Shawna said it's comforting knowing the kids are safe when they play outdoors and go to friends' houses. Mike said it also has been exciting making connections and getting involved in the community.
Mike enjoys the outdoors. He said living in Elm Creek puts him closer to his favorite fishing holes and bird habitat. Shawna said it's nice to be closer to Johnson Lake, where her grandmother has a cabin.
The Strongs' new home is on the west side of Elm Creek. It's a new neighborhood that's close to Highway 183 and U.S. Highway 30, but noise from the highways doesn't seem to be a problem. The Strongs' home is surprisingly quiet.
Although the Strongs were clear about their wish to build in Elm Creek, they hadn't thought a lot about what their house should look like or what features it should have.
They said working with Andy Spracklen of Spracklen Built Homes helped solidify plans for their 3,600-square-foot house.
"With young kids we wanted everyone on the main floor," Mike said, so there are two kids' bedrooms on the main floor along with the master suite. The open-concept living room, dining room and kitchen also keeps the family close. Shawna said she always feels involved with her family, even when she's cooking or doing kitchen chores. Strategically placed windows also allow her to keep an eye on the children when they're outdoors playing.
The kitchen has a handy island that doubles as an informal lunch counter with three seats for the kids. A pantry with lots of shelving helps Shawna keep spices and supplies well organized. There's even room to store appliances so they don't clutter the kitchen counter.
The kitchen opens to a mud room, which has been a great investment with three kids entering and exiting the house. The beautiful kitchen floor looks like natural wood, but it's durable vinyl to stand up to the children and the family's two dogs.
Gray is the dominate wall color, but Shawna has splashes of vibrancy in almost every room. She's a talented decorator with the ability to highlight colors present in furniture, bed linens, wall hangings and other decorating elements.
The three children share two bathrooms.
Shawna and Mike allowed the children to select the color to highlight walls in their rooms. Carter picked blue, which complements his poster of his favorite NFL football team, the San Diego Chargers.
Braelynn and Allison selected a room-brightening shade of pink for their highlight wall.
Shawna and Mike's suite is built around a massive king-size bed. A deep-colored quilt from Shawna's grandmother highlights furniture and other fixtures in the room. The Strongs have a tidy walk-in closet and bathroom with the basics, a bathtub with shower fixtures and tandem sinks.
The three-car garage houses Shawna and Mike's vehicles and a fishing boat.
There is plenty of room in the basement. Mike and Shawna believe it will become more of a hangout for the children as they become teenagers. Today, the place provides plenty of space for the family to enjoy television and games. An unfinished space behind two massive barn doors serves as an exercise room for the adults.
In the utility room the colorful blue and red plastic plumbing is a reminder for Mike of working with his father to install the home's plumbing.
"My dad owns Eustis Plumbing and Heating," Mike said. "I worked there when I was younger. I got to take some time off and help him here, so that was nice."
The Strongs don't plan to run out of hot water. They have twin 50-gallon water heaters.
Shawna said she really enjoys the open-concept living area. "I can see the kids no matter where they are."
Mike is happy the basement allows him some space to display his hunting trophies.
Allison has a playroom tucked away in the corner of the basement. She said it's one of her favorite places.
Carter said he's happy to have his drum set. Braelynn likes the stickers of the Disney characters on the wall of her room.
What are Mike and Shawna's favorite features?
"Our kitchen and dining room and living room all flow really well," Mike said
"We put a fireplace in, and now it's one of our favorite things," Shawna said.
Photos: The Strong's Elm Creek home
Exterior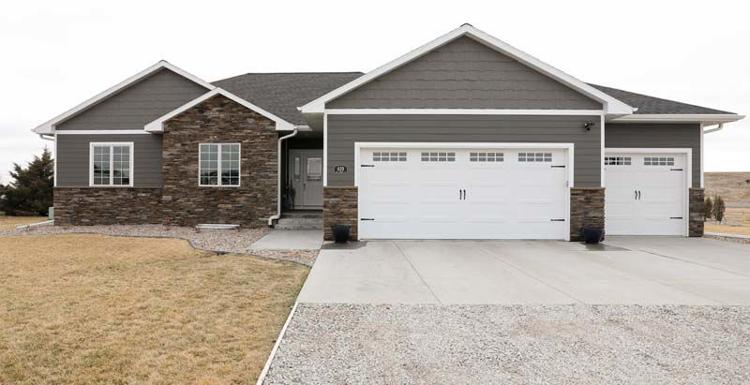 Main Entry Exterior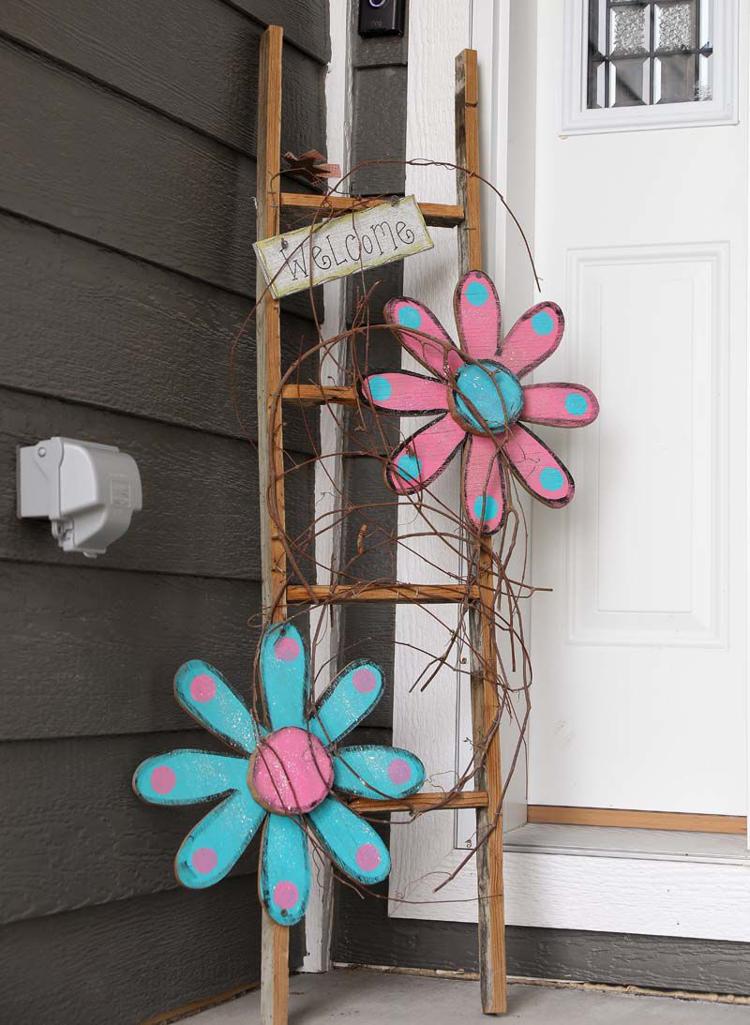 Covered Patio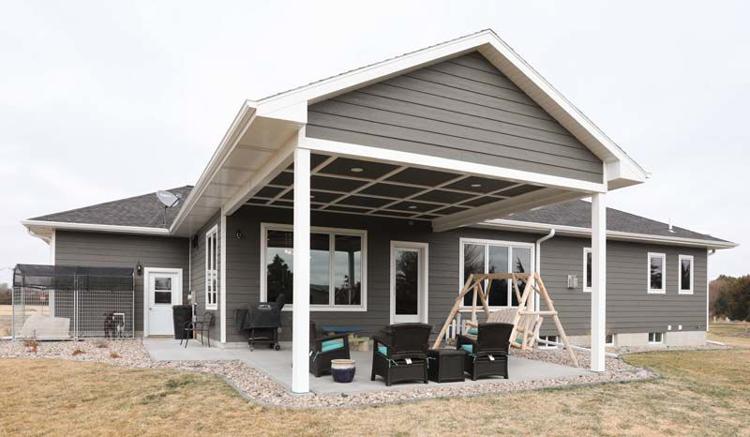 Patio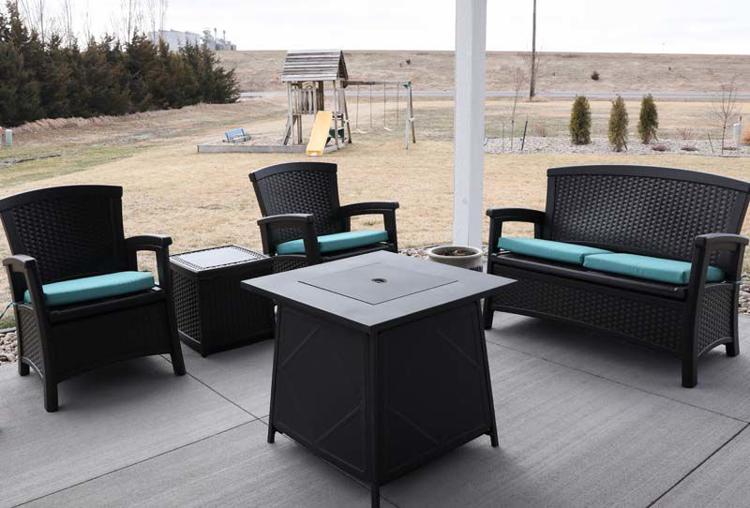 Great Room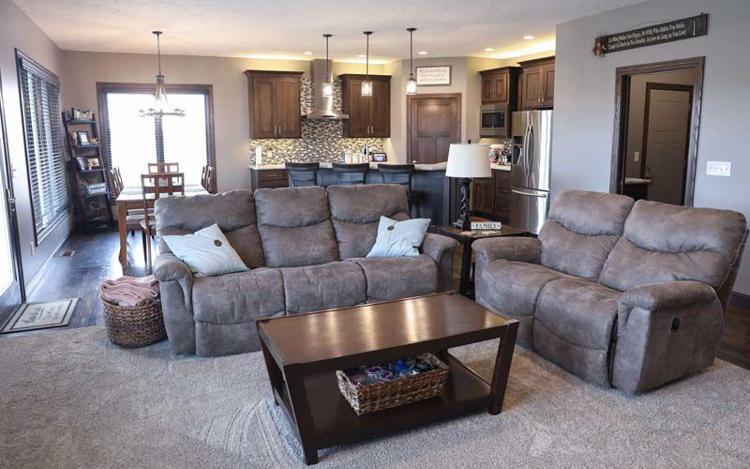 Kitchen Island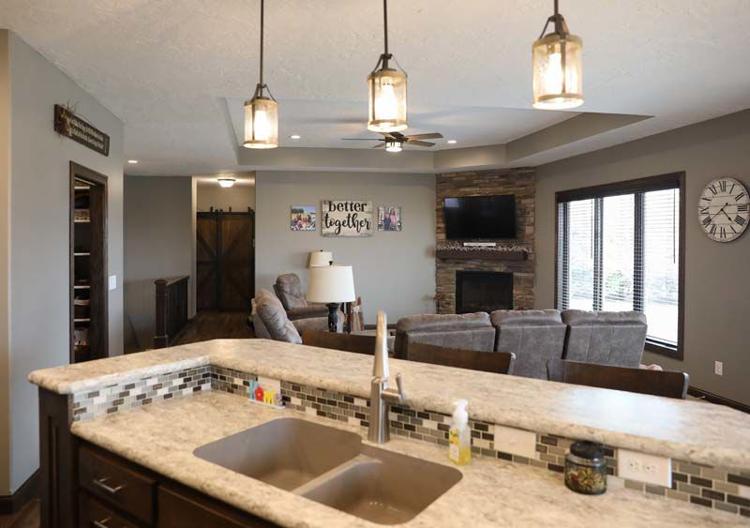 Kitchen Table
Pantry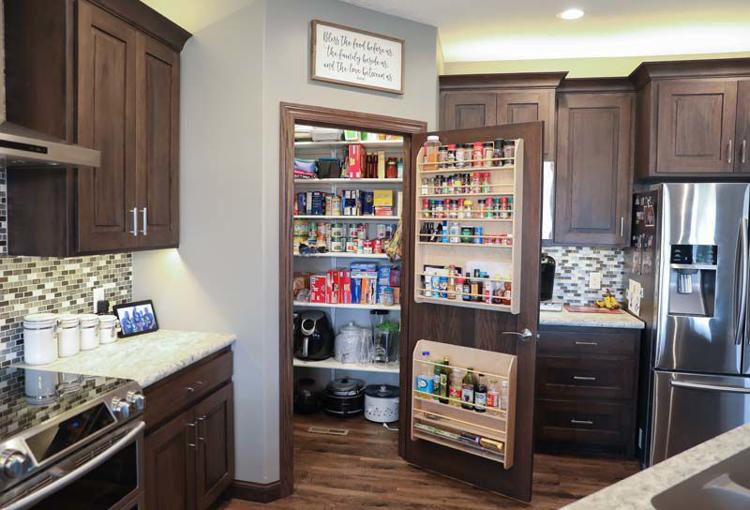 Organizer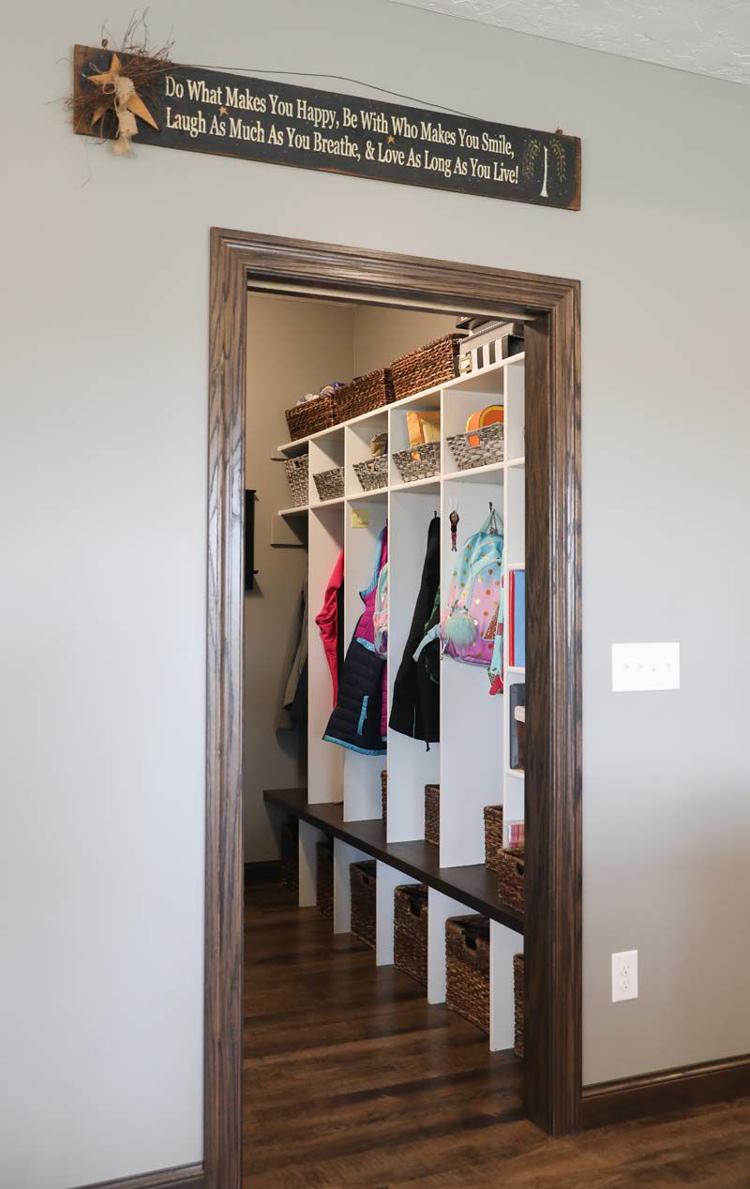 Laundry Room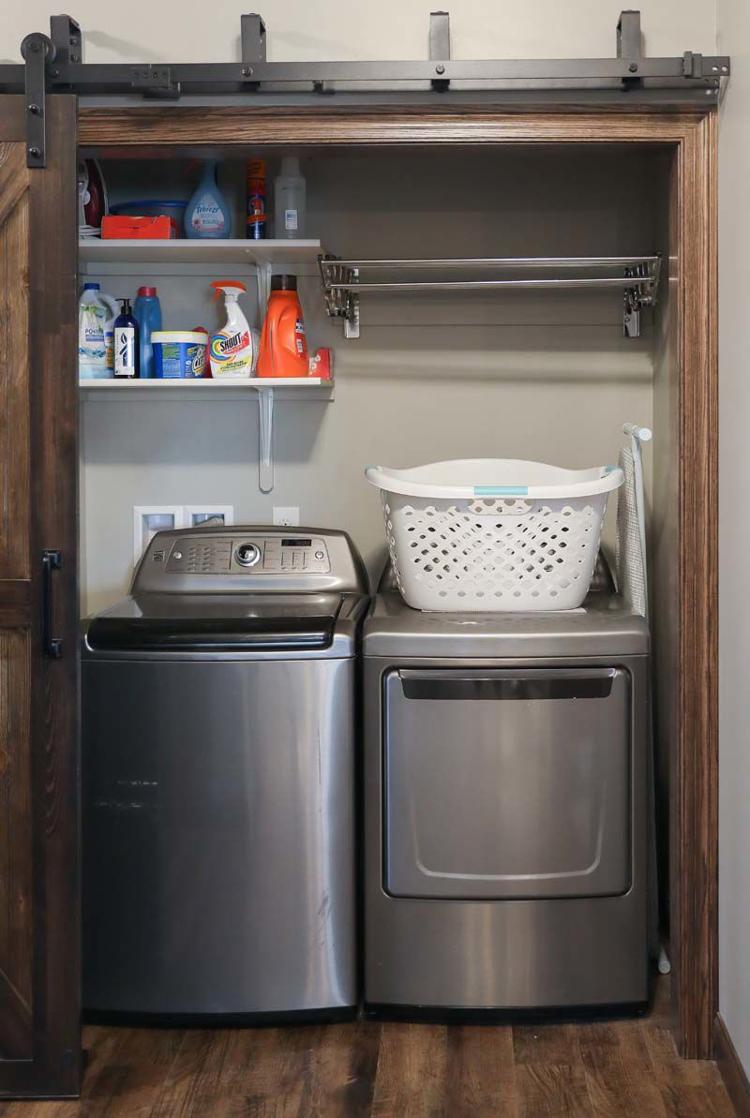 Star with Family Rules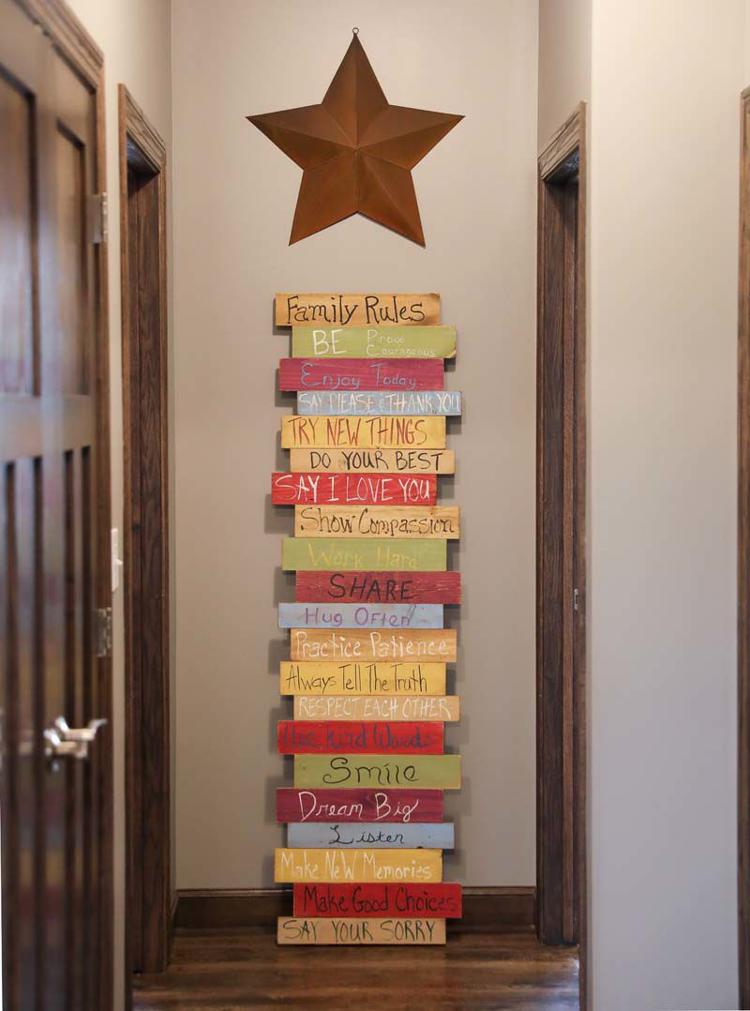 Piano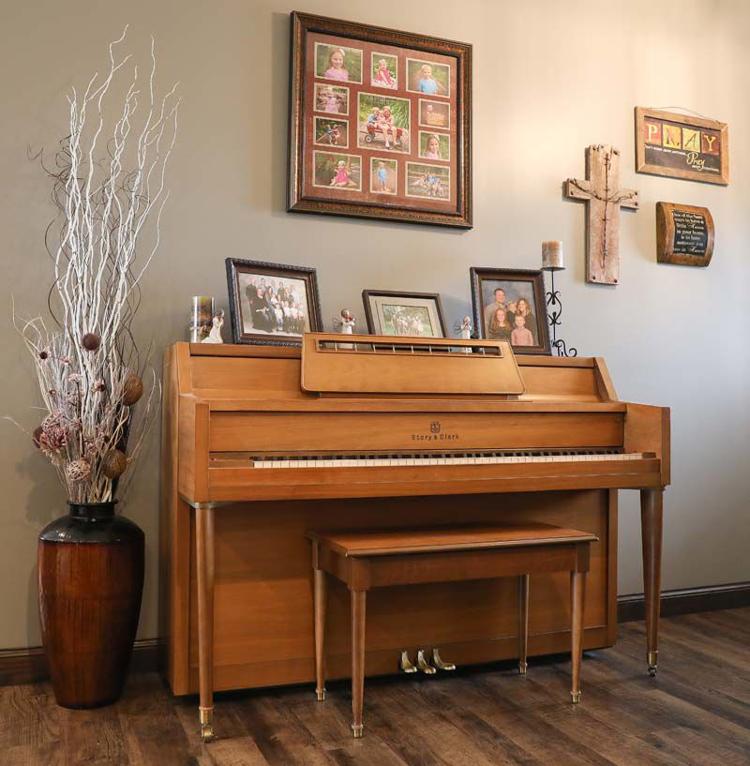 Master Bed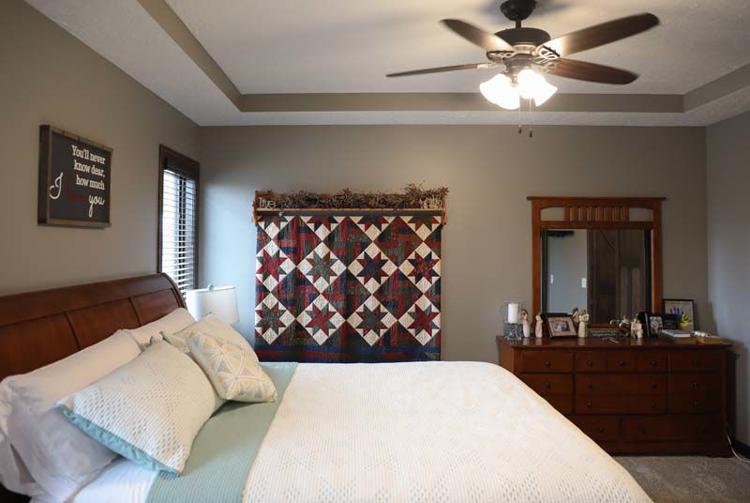 Closet and Master Bath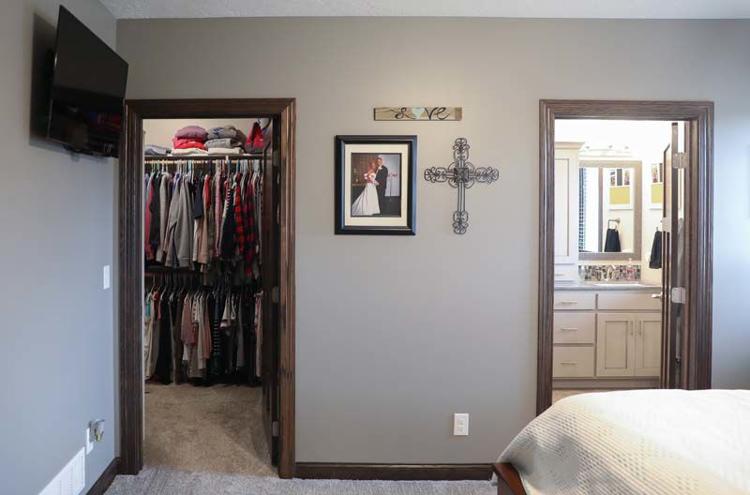 Tandem Sinks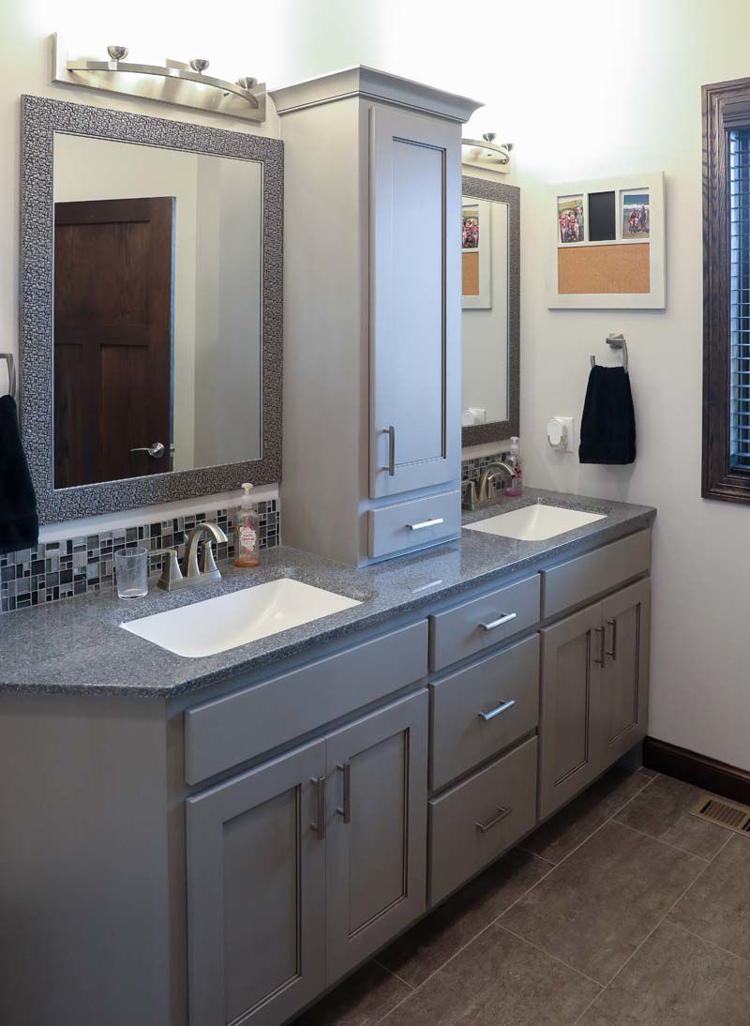 Framed S Decor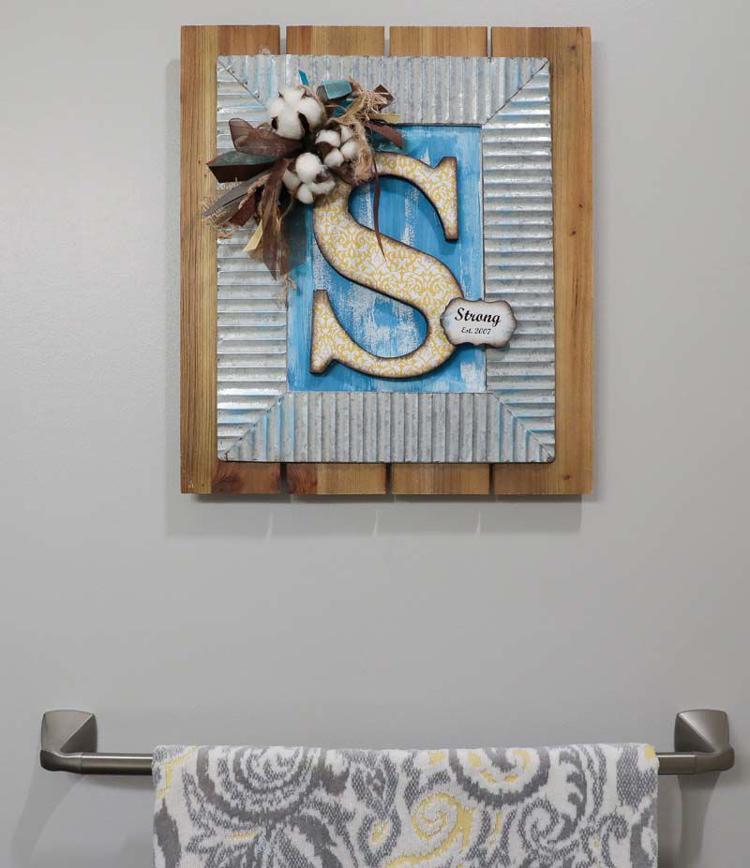 Allison's Dresser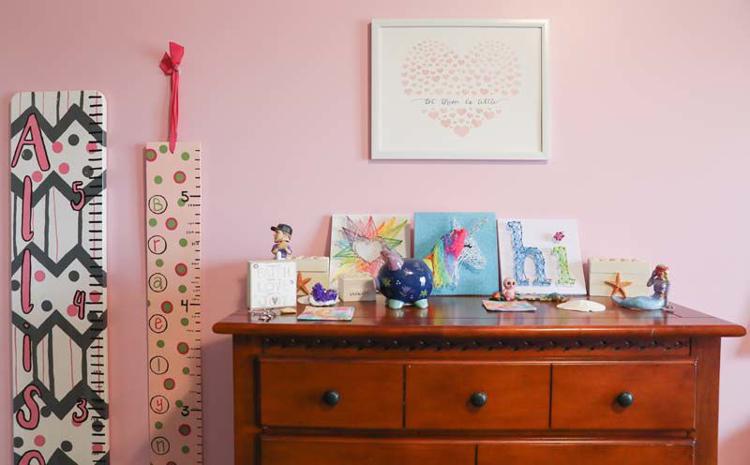 Braelynn's Shelves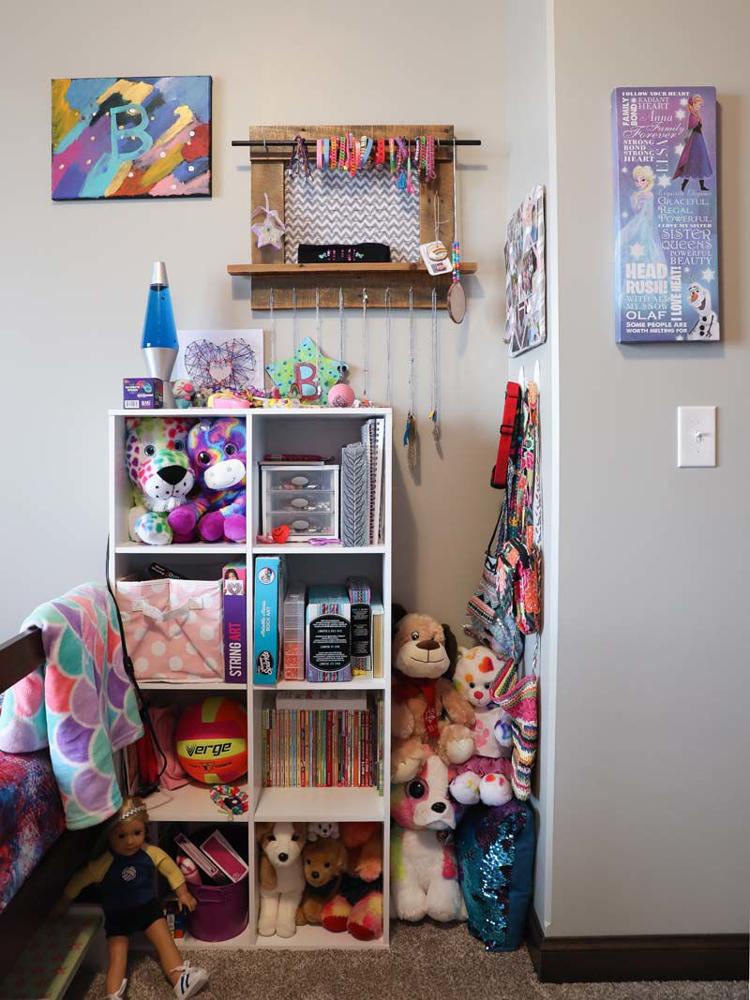 Braelyn and Carter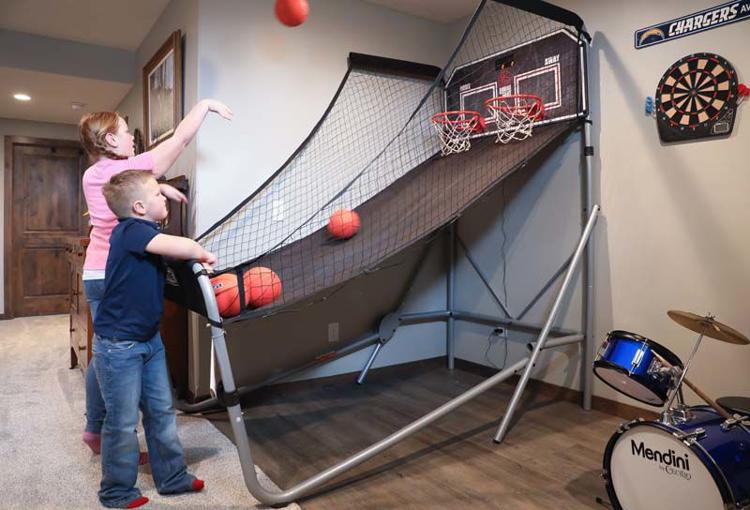 Braelynn's Wall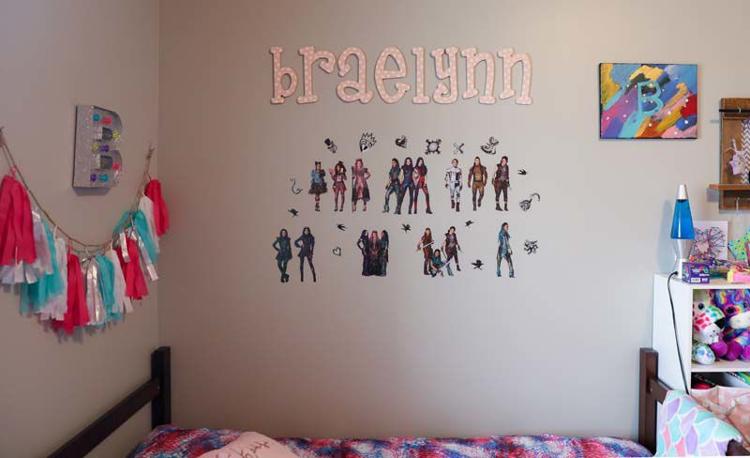 Allison's Wall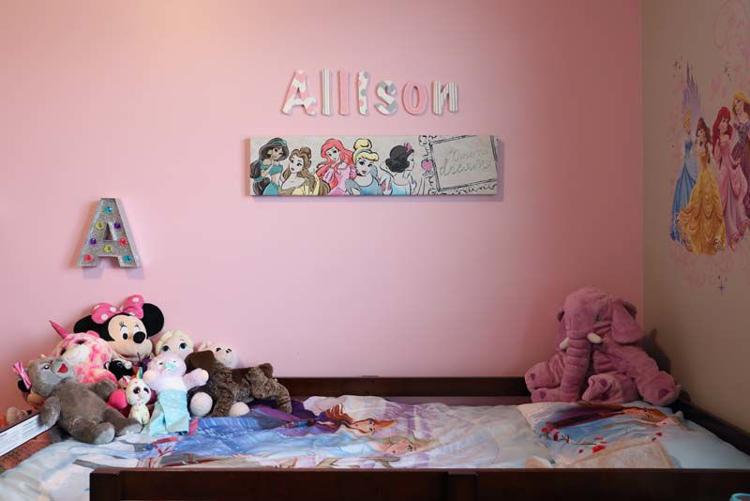 Carter's Blue Wall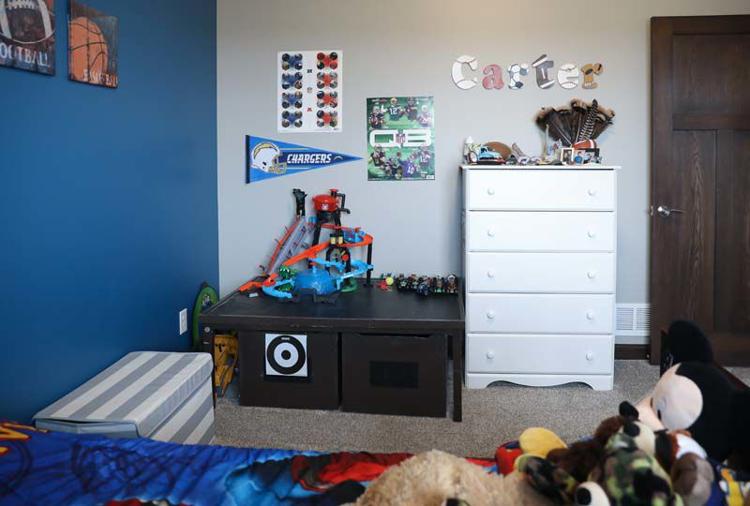 Carter's Room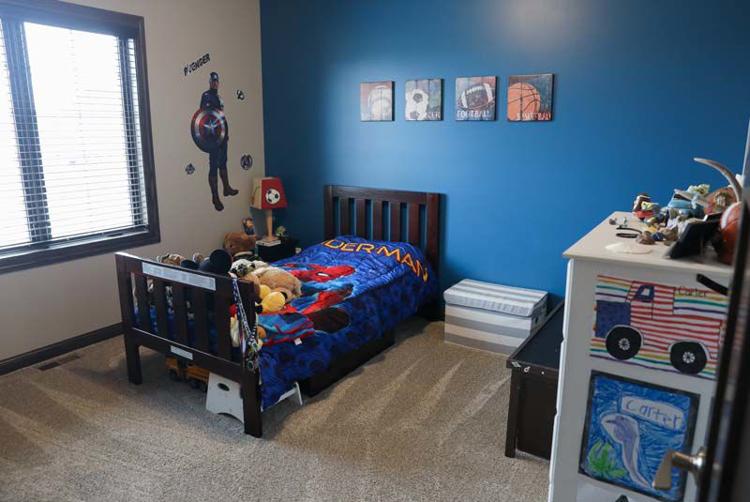 Girls' Beds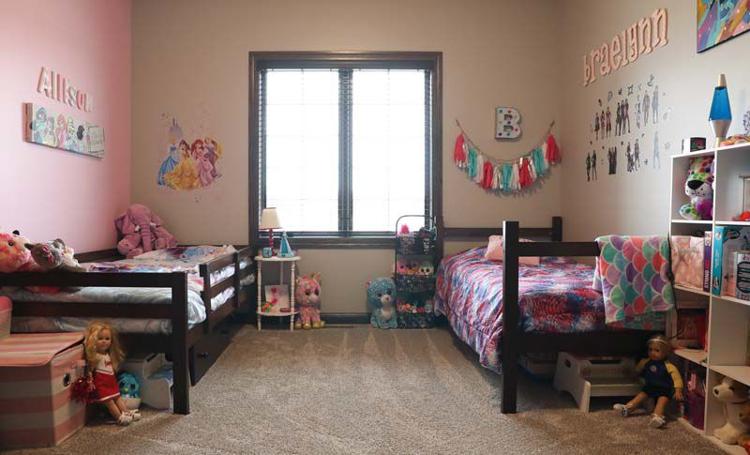 Main Bathroom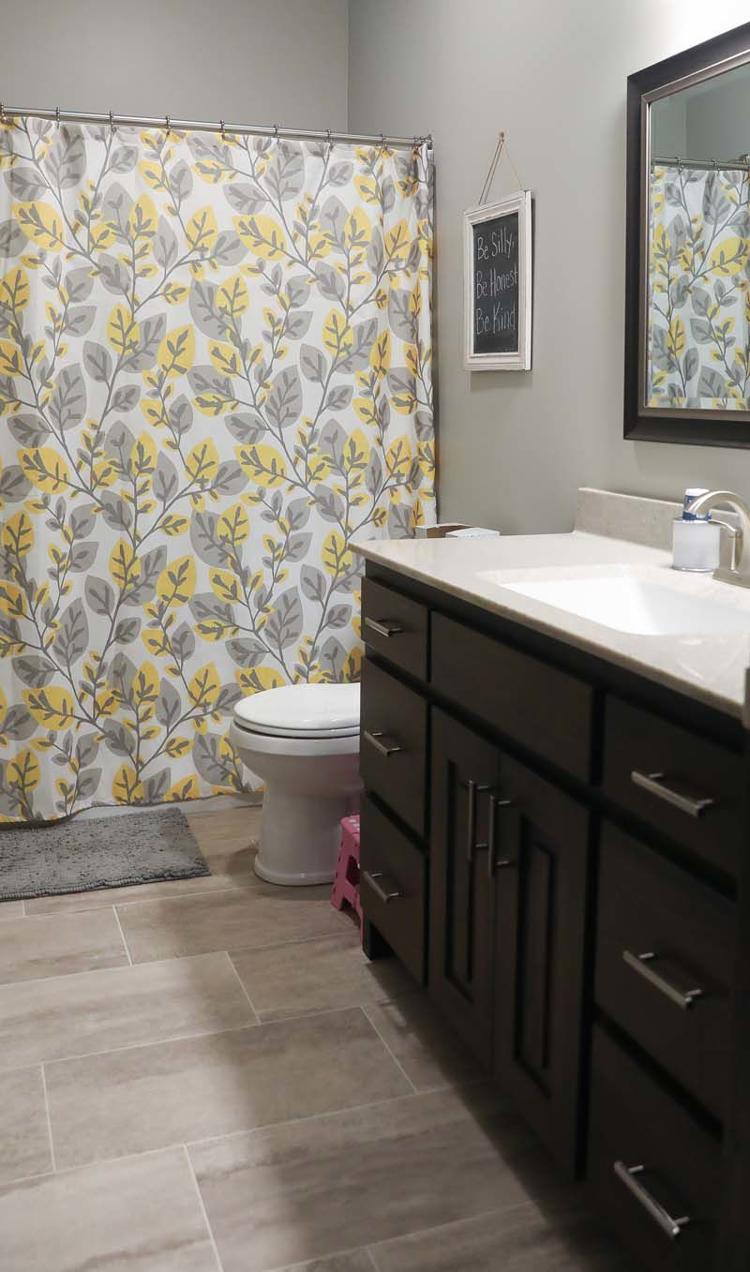 Bath and Shower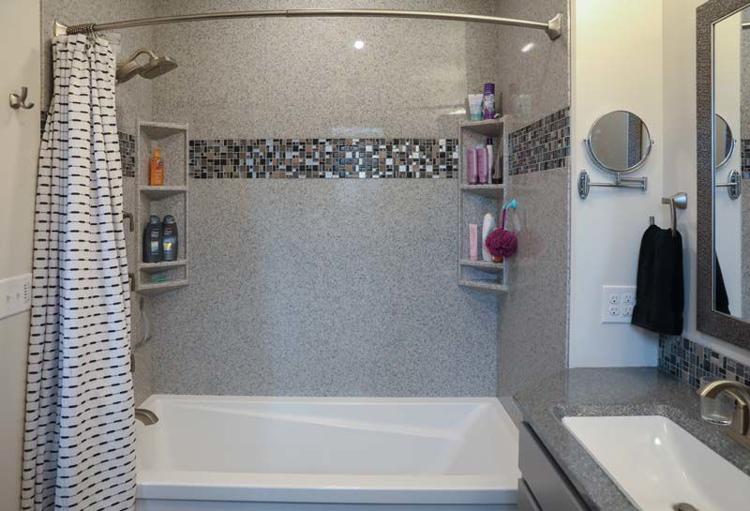 Basement Barn Doors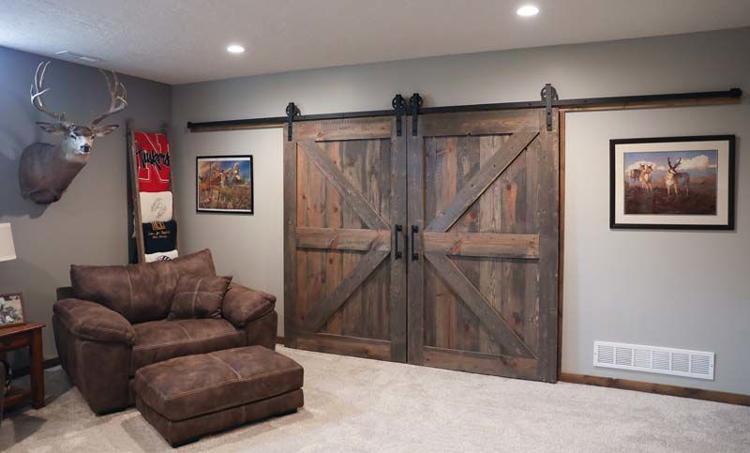 Hoops Game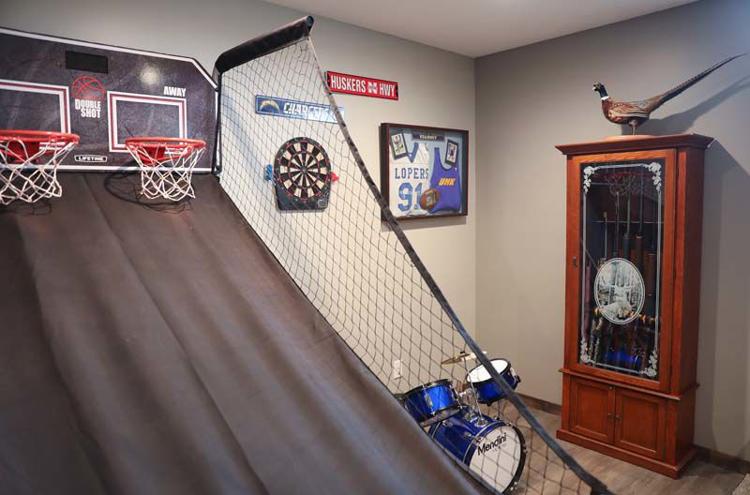 Mike Strong's Trophy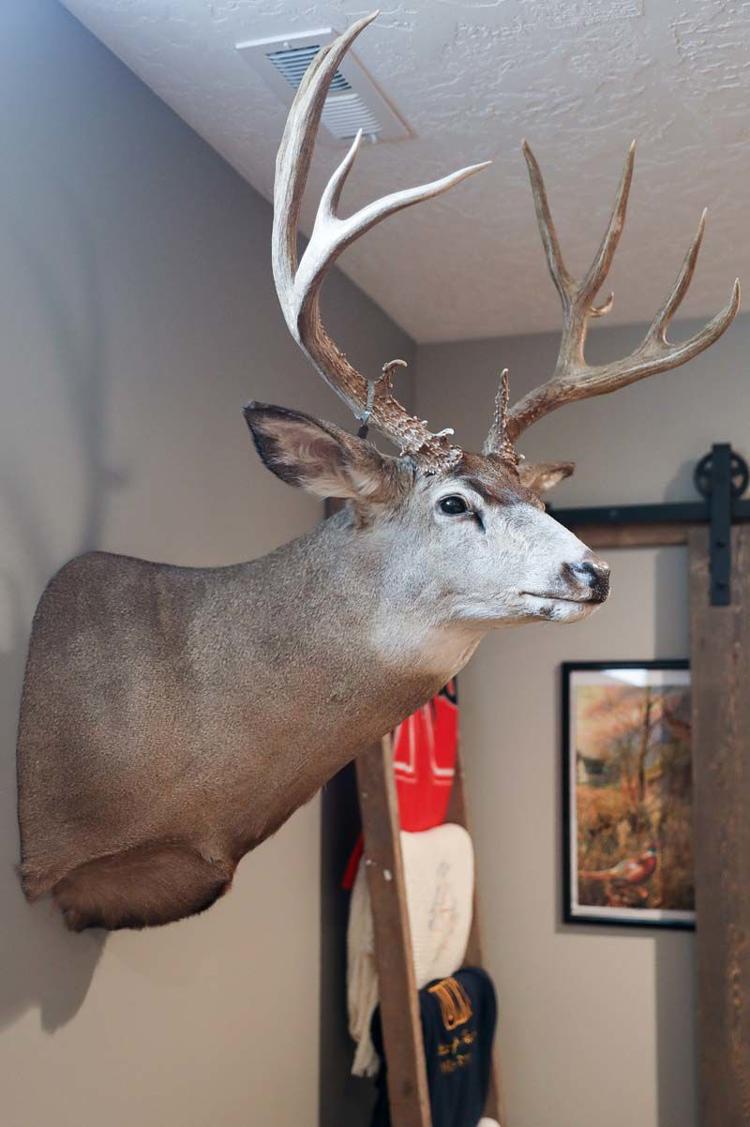 Wall Decor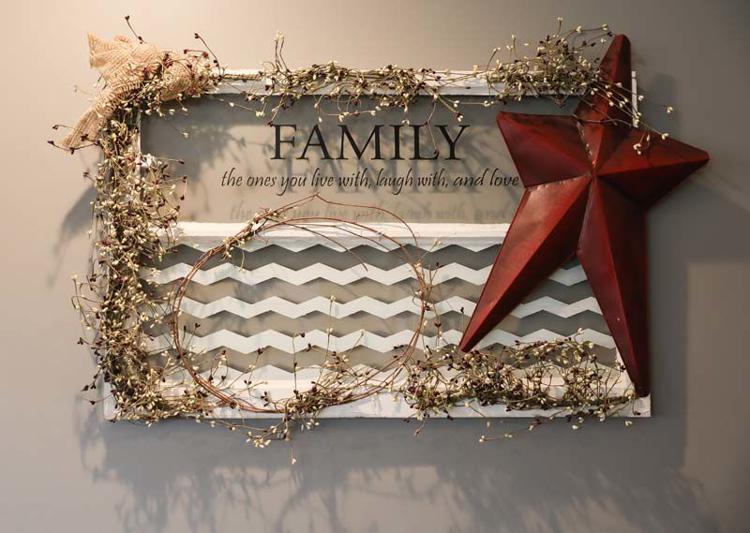 Basement Bathroom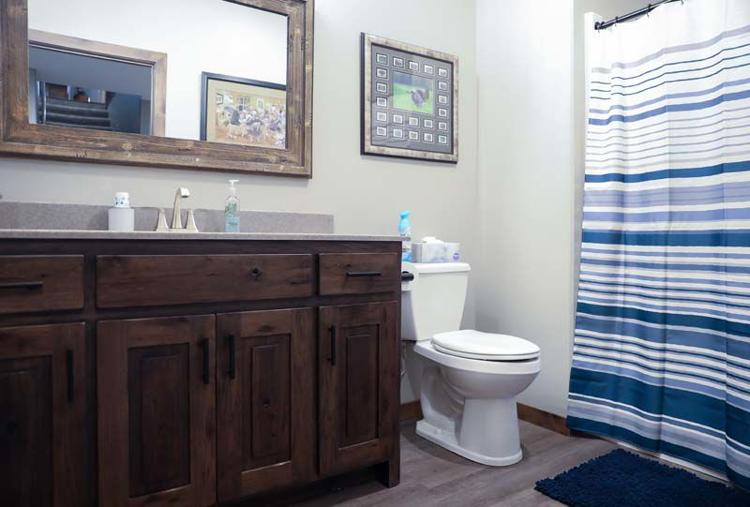 Decoys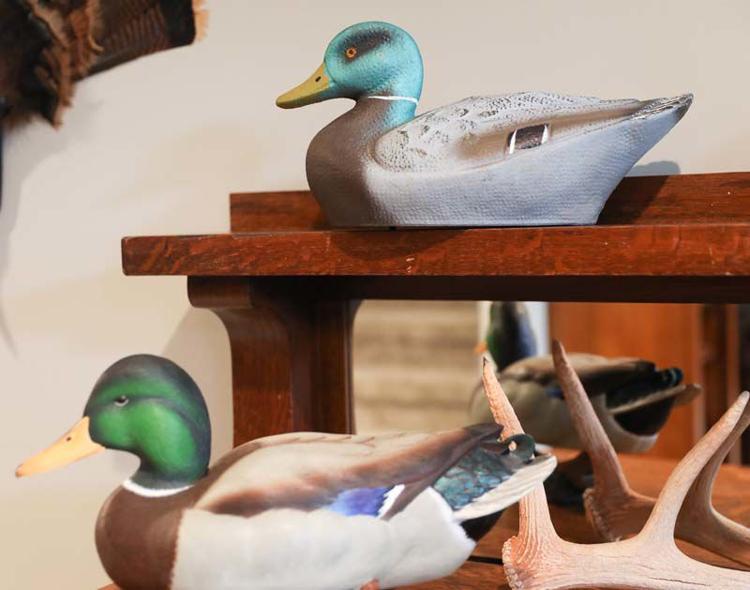 Exercise Room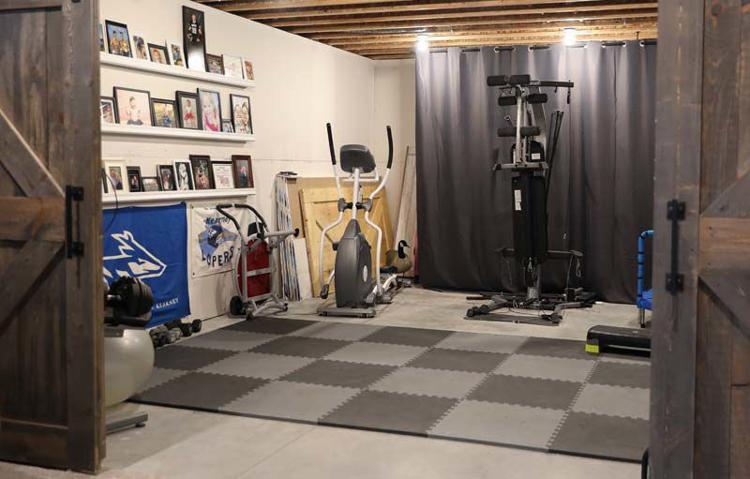 Spare Bedroom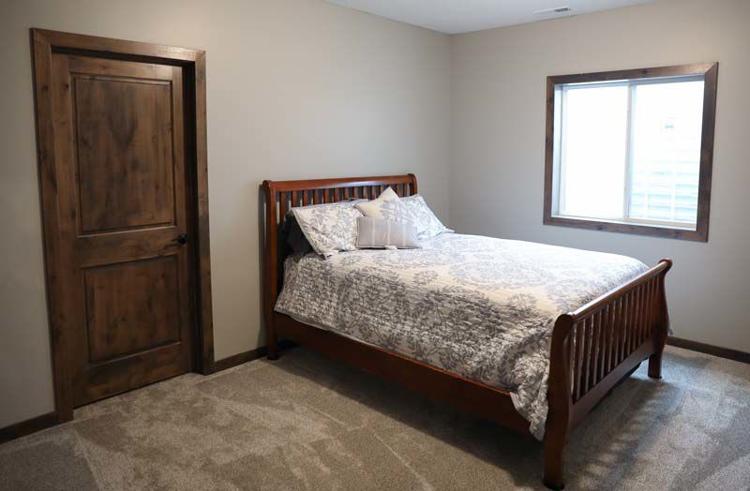 Strong Family