HOLDREGE — Sunshine and warmer weather will help emerging corn and soybean plants grow into green carpets covering south-central Nebraska fields.
It's a beautiful sight for farmers who struggled to get those crops planted during an extremely wet spring, but small comfort to producers still waiting for fields to dry.
South-central farmers who said most crops are planted in their areas added that they know many "holes and wet spots" remain.
"About 75 to 80 percent was finished timely," Dave Rowe of Johnson Lake said about corn planting in his area of Gosper County. "The rest has been a scramble."
Axtell farmer Dudley Nelson said the only planting left on his schedule is a neighbor's soybean field. That job was postponed by rain early Monday morning.
"Everything is growing slow. The corn isn't even 6 inches yet," Nelson said. "We need heat and sunshine."
Rowe joked that the corn plants so far have needed sweater vests.
Sign up for Kearney Hub daily news updates
Want to read more local content like this? Subscribe to the Kearney Hub's daily headlines newsletter.
Dave Nelson of Minden said some farmers who finished planting, even if it was two or more weeks later than normal, were glad to see the Monday morning rain because it helped break the soil crust for emerging plants.
"It was a godsend rain," he said, "if you had the crops in."
University of Nebraska-Lincoln Extension Educator Todd Whitney, whose focus area is Phelps, Gosper, Harlan and Furnas counties, said, "We are blessed compared to the Eastern Cornbelt and northeast Nebraska."
While traveling to a Columbia, Mo., conference last week, he saw flooded Kansas and Missouri farms. Extension colleagues from Illinois told him some farmers there haven't planted any 2019 crops.
South-central Nebraska farmers in different locations, with different field conditions and rainfall, have seen different rates of planting progress.
"We have people who have been completely planted for awhile," Whitney said Monday, "and I had one farmer tell me he was finally finished this morning.
"There still are significant acres that aren't planted," he added.
Wet weather is the biggest, but not the only, reason for delays. Whitney said it took time for soil temperatures to be warm enough for planting and producers with livestock had weather-related struggles while caring for their cows and calves this spring.
Crop options
The U.S. Department of Agriculture's Risk Management Agency has crop insurance-related prevented planting payments for corn not planted by May 25 and soybeans not planted by June 10. Payment rates are 55 percent of production value for corn and 60 percent for soybeans.
"The government really wants people to plant if they can," Whitney said, so if an applicant is surrounded by neighbors who planted crops by those dates, he must verify why he couldn't plant.
Whitney said corn can be planted — or in some cases, replanted — in June, but the later date will affect grain yields and decisions about using the crop for grain or forage. He added that Extension educators suggest switching to medium-season hybrids, not short-season varieties.
Sorghum is a late-planting option in cornfields. It usually is planted later because the optimum soil temperature is 10 degrees warmer than for corn.
Whitney said both are "grass" crops, so preparations for corn should allow sorghum planting. However, it still is important to read and follow label directions on products used in the fields, such a pre-emergent herbicides.
Broadleaf crops like soybeans and sunflowers are not options for unplanted cornfields because of the herbicides used.
Farmers in the prevented planting program must plant cover crops.
"You may be limited on what you can plant," Whitney said, because full payments require no harvesting or grazing before Nov. 1.
"We want to keep the soil cover. If you just idle it and there's nothing there, we can lose a lot of soil to erosion," he said, adding that additional cover crop benefits are weed control, soil nutrients for the next crop and water storage.
Whitney said considerations for farmers looking at options for unplanted fields start with confirming what is acceptable under their crop insurance and reviewing each field's herbicide history to avoid surprises.
"Run the numbers on what the scenario would be and make the best decision ... also consider livestock in the situation," he said, to determine if grazing a crop is an option.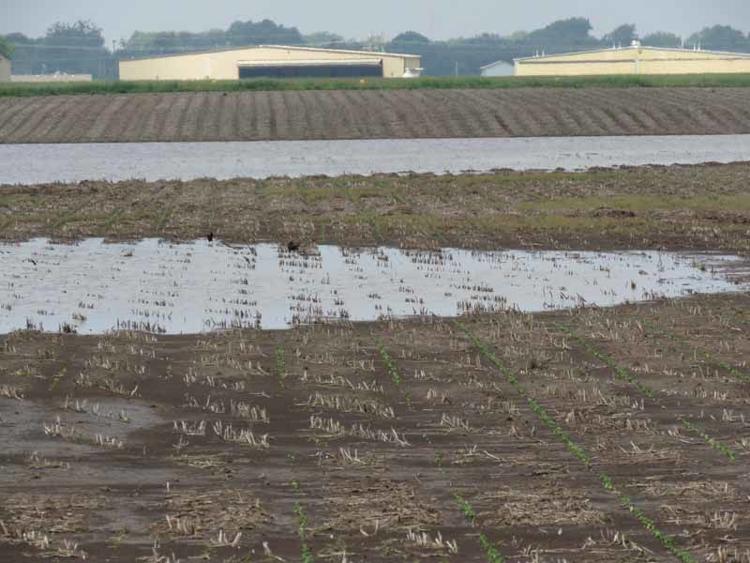 Waiting on the sun
Emerged corn and soybean plants haven't thrived. Whitney said corn plants took three weeks to emerge in some fields, compared to the more normal 10-day emergence.
He explained that a soybean's growing point is above the soil when the plants emerge, while corn must be 6-8 inches tall before the growth point is above ground. Both need warm weather and sunshine to grow.
And they still will need water during the growing season.
The wet spring has filled the fields' soil moisture profiles ahead of irrigation season.
Whitney said a full profile usually stores 2 inches of water per foot - with half available to the plant roots. In early growth stages, plants may need ¼ -inch per week, which increases to ½ -inch as plants grow.
Extension educators encourage farmers to use technologies, such as soil moisture sensors, to determine when irrigation water applications are needed.
"At this stage, if you have a full profile, you probably have two weeks before you need to put on more water," Whitney said.