Time for an update
Wilcox-Hildreth continues to raise funds to replace its old ag education building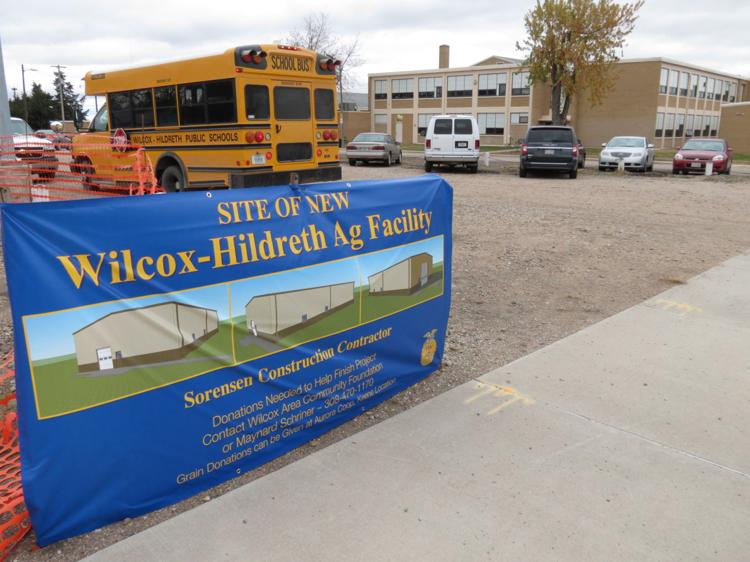 WILCOX — While at a funeral five years ago for a farmer neighbor, some Wilcox alumni started talking about adding a greenhouse to the ag classroom and shop facility on the east side of the school building.
By 2013, the idea had blossomed and fund-raising had started for a new, free-standing ag education building to replace facilities used by Wilcox — Wilcox-Hildreth since the 2002-03 school year — for about 65 years.
Gary Jensen, one of three school board members on the building committee, said it was past time "to replace a building that is beyond its useful life."
The initial building site was north of the Wilcox school, between the baseball and football fields. When the bus barn west of the school blew down in a June 2014 windstorm, it was decided that was a better location.
Now, construction is ready to begin on a free-standing 60-foot by 100-foot building by contractor Sorensen Construction of Kearney. A 24-foot by 30-foot classroom and restrooms will be in the building's southeast corner.
A groundbreaking program in the school's old gym Nov. 21 included a beef sandwich, potato casserole, salad and dessert lunch served by current Wilcox-Hildreth FFA members.
Banners on three of the gym walls recognize $20,000 donors and will be hung permanently in the completed building.
Project leader Maynard Schriner, who farms southeast of Wilcox and graduated from WHS in 1973, said the building could be up in 60 days, weather permitting and if more donations are received.
"I'd love to have the FFA banquet in there in May," Schriner said, but progress depends on raising the final $100,000-$120,000 for a project with a most recent cost estimate of $560,000.
"As of today, we don't have enough to finish the project," he said.
The 501(c)3 set up for the building as a designated account within the Phelps County Community Foundation holds about $320,000, including $220,000 from the 11 banner sponsorships and donations from alumni and other supporters, Schriner said.
Two in-kind donations also were made. Schriner said Gary and Cindy Lindstrom provided the Sukup building at cost, another banner-worthy amount, and some dirt and site work also were donated.
Schriner said the school board has approved $100,000 in district funds for the current fiscal year.
During the groundbreaking program, banner-level contributors were recognized along with the building committee and Wilcox-Hildreth School Board. FFA students and teacher-adviser Kassie Starkey showed a video of their activities and a thank you to donors set to the music of James Wesley's "Thank a Farmer."
Starkey, a first-year ag teacher who is a native of Blue Hill and lives in Campbell, knows the larger, more technology-friendly ag education building will allow her to do a better job of educating her students. There are about 25 students enrolled in her classes and 20 who are FFA members.
"It will give us more room to do the bigger projects the students want," Starkey said. Projects like the calf catcher Lance Aspegren is welding onto a four-wheeler and livestock panels being built by other students.
Current students and alumni who have used the shop area over the years say it is such a small space that there often can be only one project in progress at a time.
Each school year, welding is taught one semester and woods is taught one semester. Starkey said all the equipment must be switch out at the semester break.
Space in the new building will allow her to invite farmers and/or equipment dealers to bring in modern equipment for ag mechanics class demonstrations. "Especially in the winter months, it would be nice to bring things into the shop," she said.
And then there are the challenges of using a classroom with just three outlets. "We have extension cords and we share," Starkey said when asked how that works in an era of laptops and other plug-in devices.
The antiquated space limits lab work that can be done in plant science and animal science classes, even when just using a Power Point presentation. "Microscopes and things like that are hard to plug in when you have only three (outlets)," Starkey said.
"It's kind of a hassle to get everything done," said junior Dakota Norton, who looks forward to a classroom that allows everyone to plug in their own devices and work on their own projects at the same time.
She said a lot of cooperation is required to work in the current classroom.
"I'm really excited for the kids to do what they want and expand their opportunities to learn," Starkey said. "... and to teach them in a safer environment."
"It's pretty crammed right now. There are a lot of projects in a small space," said junior Jackson VanLangingham, who looks forward to having more opportunities in the new building to apply what students learn in class.
Senior and FFA President Alex Voichoskie, who along with Starkey spoke on behalf of ag students and FFA members at the program, said she is excited for Wilcox-Hildreth underclassmen even though she may not get to use the new ag ed building.
"We're hoping that some of the technical advances in agriculture are things we can bring to the kids," school board member Jensen said. "... They need to stay up with the times and the way things are changing."
When Schriner was asked why he put so much time and effort into the building project, he said one reason is his commitment to FFA as a past state officer.
"That's a good reason, but it's not the main reason," he said. "The enrollment today is 200 students at Wilcox-Hildreth in K-12. There are 200 reasons to be involved in this and that's the kids."
email to: