KEARNEY — After 26 years at the Kearney Hub, Becky Hilsabeck knows a thing or two about customer service and classified ads, and she's passed those things along to almost 30 co-workers who came and went during her watch.
"I trained many people, and I told them, 'I'm telling you these things because I learned them the hard way,'" said Hilsabeck, who will retire later this month.
In her customer service role, Hilsabeck smiles and greets people as they enter the Hub office. She helps them place ads to sell cars, rent apartments and hire new employees. Some purchase birthday and anniversary notices, or need to see other Hub staffers who can help, so she sees that they connect with the right people.
"One of my favorite things is helping people, especially businesses who don't know how to get started with their advertising," she said.
Hilsabeck said she'll miss her customers, but, "more than the customers, I'll miss my co-workers. A lot has happened in 26 years. I remarried, my daughter got married, and I lost a son. I always felt I had support, especially when my son was killed in a car accident."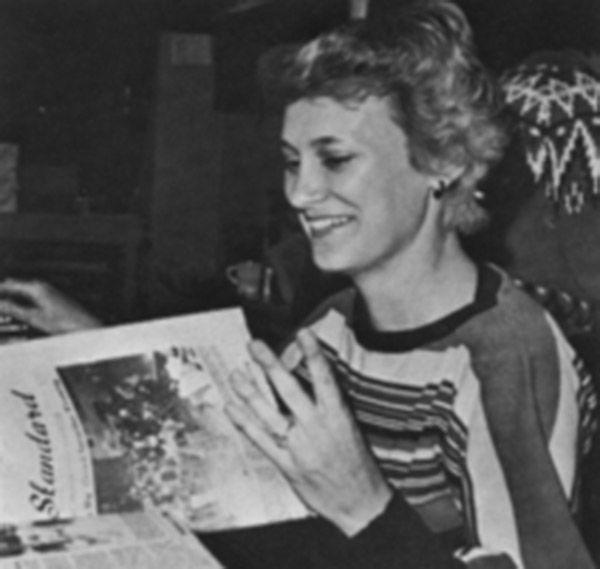 Hilsabeck has a scrapbook of her memories and friendships at the Hub. It's filled with birthday cards, attaboys and clippings.
She said her most inspirational time was the 11 years she worked with Carla Wick at the customer service counter. Wick had a brittle bone disease, Osteogenesis imperfecta, that kept her in a wheelchair. Wick's bones were so weak that coughing strongly could snap a rib, but she arrived for work every day with a smile.
"We worked together so long that we finished each other's sentences," Hilsabeck said.
One day when Wick bumped a desk drawer, Hilsabeck heard something pop. "She said, 'I just broke my leg.' She rarely complained about anything. We could all learn from her."
Wick died in November 2010.
Before her 26 years at the Hub, Hilsabeck worked 10 years at the Oxford Standard, beginning in 1979. In those days, newspapers published hometown "chicken dinner" news. Hilsabeck drove around the Oxford area collecting reports from correspondents. One of the more challenging weekly tasks was collecting market numbers for the Alma Livestock ad. As they were dictated to her by phone, she took down the numbers on a pad. "I tied up the phone line for a half hour. We had only one phone."
In the late-1970s and early 1980s, calculators were starting to replace adding machines, and computers and mobile phones were gaining a toehold. On Wednesdays, after the Standard was printed, Hilsabeck ran the papers through the Addressograph to add subscribers' names and addresses before the papers went to the post office for delivery.
"The 10 years of experience at the Oxford newspaper is probably why I got the job at the Hub," she said.
As with technology, the newspaper business has changed. Hilsabeck said that 10 or 15 years ago the Hub had three classified ad clerks in addition to the three-person customer service staff. "We took hundreds of classified ads each week, and the classified section was four or five pages per day."
Customers still can reach thousands of people through classified ads, but there are other options, and they've whittled down the number of ads that Hilsabeck and other staffers take in.
She said newspapers still have a strong following. "A lady came in yesterday and said she thought she could get along without the Hub, but she was really missing it and didn't know what was going on in Kearney. The newspaper is really your lifeline to the community."
As she thinks about her final days at the Hub, Hilsabeck hopes that she's preparing the people who will replace her. She's planning to travel with her husband, Tom, but is worried they may have too much free time. She's also worried about leaving behind daily routines, especially selecting her outfits for work.
Many of her co-workers believe they've never seen her wear the same clothes twice. Hilsabeck said they're wrong. She said she can recall for months what she's worn and carefully mixes and matches so no two outfits are alike.
"I really enjoy getting dressed for work," she said. "Some people like to cook or bake. I would rather organize my closet."
It wasn't so funny at the time, but Hilsabeck laughs about taking a classified ad from people who wanted to sell their cat.
"In the classification, Pets were '700' and Good Things to Eat were '704,' she said. After the cat ended up in 704, "I got calls about how I hated animals."