KEARNEY — Most food trucks do burgers, barbecue or something on the more savory side.
That's why Nathan Hill and his wife Destiny decided they wanted to do something different and introduce a little variety.
"It's something you don't normally see and I figured it's also something new to the community," Nathan said. "There's not very many dessert trucks out there."
The Hills opened up Big Red Donuts & More on Oct. 8 last year, and now customers usually can find the truck parked by Golf USA at 5001 Second Ave.
Friday is National Doughnut Day celebrated mainly in the United States.
Sign up for Kearney Hub daily news updates
Want to read more local content like this? Subscribe to the Kearney Hub's daily headlines newsletter.
After finding their love for doughnuts by working at Daylight Donuts, the couple wanted to stretch their creativity by concocting new fried dough creations. Now, in their truck, they serve up dozens of different flavors of doughnuts.
"We've had 72 different frosting flavors since we've opened and it's ranged from orange cream to piña colada," Nathan said.
They also try to make some flavors for specific seasons. Around Christmas, they'll feature a gingerbread or red velvet. To complement the summer season, the Hills currently are icing with more fruit flavors, like pineapple. For the Fourth of July, Nathan said he's planning a confetti cake doughnut with red, white and blue sprinkles.
The food truck isn't limited to sweets, though. They've also put in a lot of work to create signature burritos, enchiladas and a doughnut and gravy dish.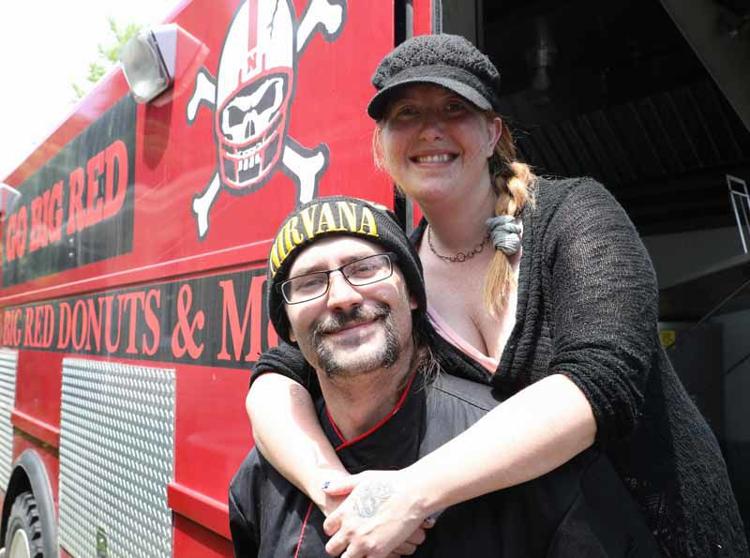 "Anything you can think of with a doughnut, we try to do with a doughnut," Destiny said.
The big red truck itself also has undergone some creative restructuring. Destiny told the Hub that her husband spent about a year renovating the inside of the old fire truck, by hand, to become a functional doughnut kitchen. Central Fire & Safety of Kearney did help with the fire suppression system and Marlatt Machine Shop fashioned the generator "caboose."
The Hills' big, red, renovated fire truck, and their son, Kodi, waving at passers-by in a doughnut costume, usually can be seen from quite a distance. However, Destiny said they try to keep up with customers through Facebook, announcing when they plan to be out that day and if they plan on being at certain events.
No matter where they are, though, the Big Red Donuts & More food truck proclaims, "Go Big Red."
"I kind of incorporated the big red theme and the fire truck theme (with the truck's name)," Nathan said. "It's something that people can relate to and it's fun like that."