LINCOLN — The North American Great Plains is an arid expanse of grasslands and rivers where the flow of Platte River water shows no respect for state boundaries. What do you learn if you try to follow that water?
NET's new documentary "Follow the Water" is a story about connections between the environment and people, and a river that shaped the land itself. It premieres on NET, Nebraska's PBS station, at 7:30 p.m. and 10:30 p.m. Saturday.
Nebraska photographer and author Michael Forsberg and filmmaker Pete Stegen set out on an adventure to follow a mythical drop of water 1,300 miles through three different states. Through iPhone interviews, photography from the Platte Basin Timelapse Project, journals and drawings — and with a backdrop of spectacular landscapes — "Follow the Water" tells a beautiful story about water as it flows from the mountains to the plains.
"If you want to find where the power lies, follow the money. If you want to find where life is, just go follow the water," said Forsberg, about his journey through the Platte Basin Watershed.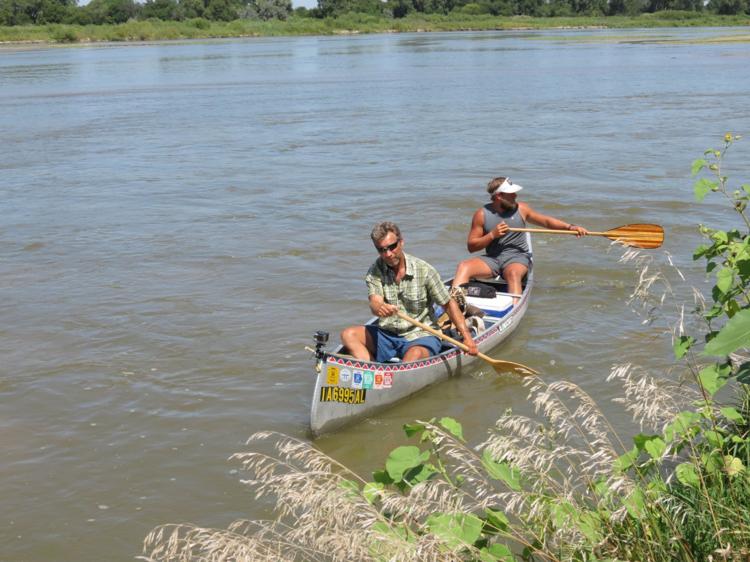 For almost two months, Forsberg and Stegen pushed themselves to the limit — biking, hiking and canoeing from the headwaters of the North Platte River in Wyoming to the mouth of the Platte where it flows into the Missouri.
The two men scaled rocks and scrambled up hills, hunkered down in a summer thunderstorm, climbed in total darkness, surveyed land near a wildlife refuge that will become a housing development and viewed a lone windmill on Colorado's Eastern plains as it pulls up water from the Ogallala Aquifer.
As part of their mission, Forsberg and Stegen captured water from three sources — melted water from a snowfield, rainwater from the sky and water bubbling up from the ground near Oshkosh. Eventually, the adventurers poured the water they collected back into the Platte River.
On their 55-day quest to "Follow the Water," friends joined them and guided them, and even rescued them when they got into trouble. Sunrises and sunsets colored the skies as the travelers moved from the solitude of alpine wilderness and the razor's edge of the Continental Divide, to the sprawling suburbs of Denver, to the peace of Nebraska's prairie, past Kingsley Dam and Lake McConaughy and finally on to the braided Platte River itself.