KEARNEY — John Lillyman could be suffering nightmares about the car that suddenly appeared in front of his bicycle July 10.
About how he hit the car, somersaulted six feet into the air and slammed onto the pavement.
About how he cracked a rib and suffered serious injuries to both arms.
But he'd rather marvel at how few bruises he suffered.
At the kind stranger who appeared and made sure 911 was called.
At what he calls "the glory of the small-town community" that is Kearney.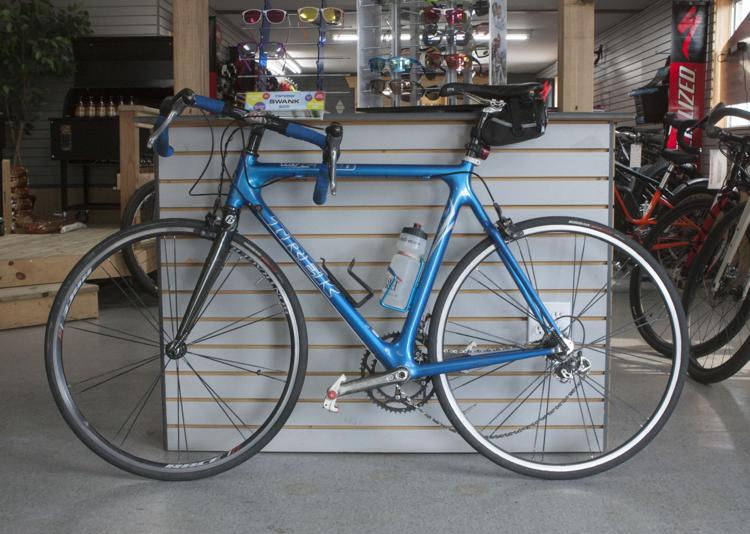 The collision
A project architect at Wilkins Architecture Design Planning LLC at 2908 W. 39th St., Lillyman, 61, rides his bicycle between 80 and 100 miles each week during the summer. On Tuesday evenings, he participates in rides organized by the Bike Shed at 1800 Second Ave.
On July 10, Lillyman was riding with several others when they became separated just past the UP tracks near Anderson Wrecking. "I decided I'd better keep riding," Lillyman said. "I was on the south side of Railroad Street, buzzing along at 15 to 20 mph, when suddenly a gray car pulled out of Avenue I and blocked my way. I was five feet away. I had nowhere to go. I had seconds to react. I knew it was unavoidable."
When he collided with the car he heard noise and crashing sounds, then nothing. When he came to, he was lying on his back on the road. His wallet and his phone had flown out of his back pocket onto the pavement.
"I just laid there. I remember the sheer heat of the road. It was 90-odd degrees. I felt like I was baking like a poached egg on a rock. Back home in Australia, you can poach an egg like that."
He realized that his left arm was in pieces with bones poking through. His right arm was folded over his chest. He could not move either arm. He asked the driver of the car to call his wife Rebecca, but the driver was distraught. At that moment, a man appeared and took charge. He asked the driver to call 911.
Quickly, emergency workers arrived. The man who had helped vanished. "I looked up and saw men with fire helmets, but I wondered why. I was not on fire. I thought I needed an ambulance," Lillyman said.
EMS workers ("just faces with helmets and uniforms") took charge. They worked quickly. At Fire Chief Jim Tacha's request, Lillyman moved his neck. There wasn't a single scratch on his bike helmet.
"I was so impressed," Lillyman said. "Those men are just volunteers, yet they were there so quickly, and they were able to help. They scooped me up and put me in the ambulance and got me to the hospital."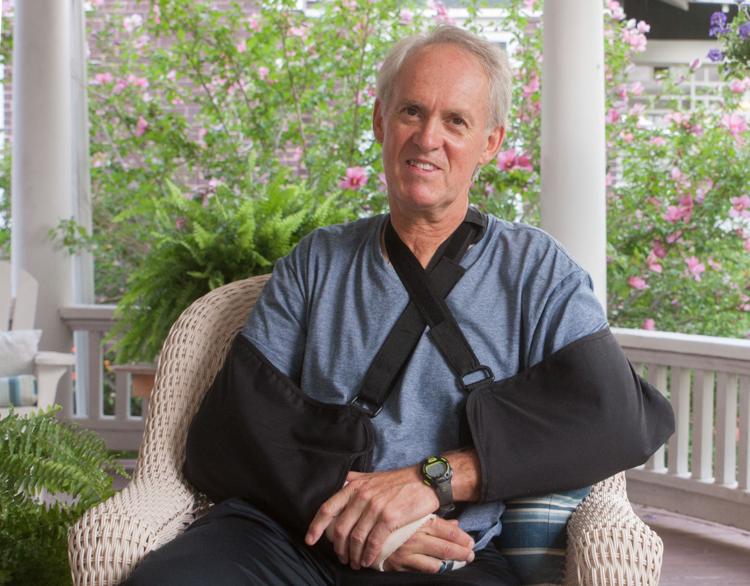 Friends and prayers
Arriving at CHI Health Good Samaritan, Lillyman began to feel pain so severe that he started to shake violently. Medical workers attempted to give him morphine, "but they couldn't find anywhere to jab me," he said. After five attempts in the foot, they were successful.
Tacha, meanwhile, had called Rebecca at home and told her that her husband had been in an accident. Tacha assured her that Lillyman would be alright, but she needed to come to the hospital. "He was very calming. He is a good communicator. He is a very kind man," she said. Five of their seven children hurried to Good Sam too, including Kim, 15, the youngest, who is a student at Kearney Catholic High School. "My brain exploded when I saw my father," Kim said.
Lillyman needed immediate surgery. When he was asked if he had a preferred orthopedic surgeon, he remembered Dr. Chris Wilkinson. Wilkinson and his wife Susie had taken Lillyman out to dinner when he first moved to Kearney from Wheaton, Ill., 14 years ago, before his wife and children arrived.
Wilkinson prayed aloud with Lillyman before operating. He operated again two days later. "He began to get the pieces all put back together," Lillyman said. "The care at Good Sam was just fantastic." Rebecca echoed that, too.
Spiritual gifts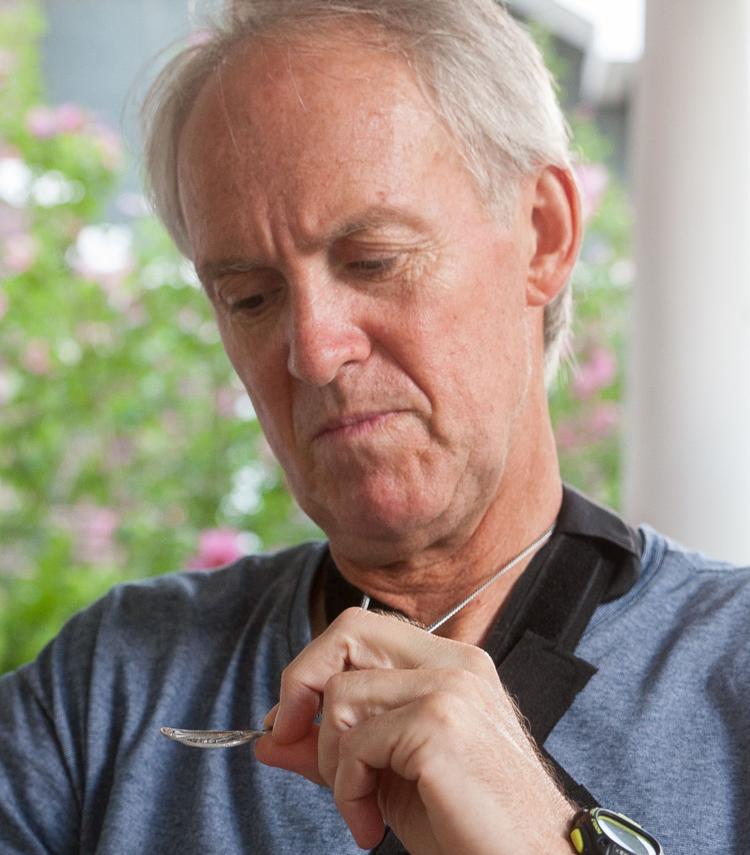 Throughout the ordeal, spiritual gifts flowed freely. As Lillyman was wheeled into surgery, an anesthesiologist asked him, "Do you go to Prince of Peace Catholic Church? So do I."
Visitors included The Rev. Christopher Morris from St. George Orthodox Church; John Watson, pastor of life groups and care ministries at eFree Church, and Father Paul Colling of Prince of Peace Catholic Church, which the Lillymans attend.
"Even though we are all on slightly different spiritual paths and journeys, I didn't know who was going to turn up. It was like an English Christmas pudding; all kinds of good things were thrown into it. It was a beautiful thing to witness," Lillyman said.
Doctors had feared that Lillyman might lose the use of his left hand, but the day after surgery, he was able to move it. "Even though the bones were floating around, my nerve was still intact," he said. "That was another miracle. It could've been a lot worse."
The mishap also bent the Miraculous Medal of Mary that Lillyman wears around his neck every day, but Lillyman suffered just a single broken rib. Rebecca said medical personnel asked Lillyman if he was a stunt man. "They couldn't imagine how he didn't break his pelvis or his legs. His arms took it all. He cracked one rib, but his rib cage didn't collapse."
He wishes he could personally thank the man who appeared after the accident and took charge until EMS workers arrived, the man did not leave his name.
On July 12, two days after the surgery, the Rev. Neal Hoke, the chaplain at the Newman Center at UNK, gave Lillyman Holy Communion in his hospital room. "I lost it," Lillyman said. "After he said, 'Christ was broken for you,' it really hit me. Suddenly I knew the brokenness of what Christ went through. I had the sustenance of knowing Christ was with me through this trial, and the mystery of offering up my sufferings for the good of others."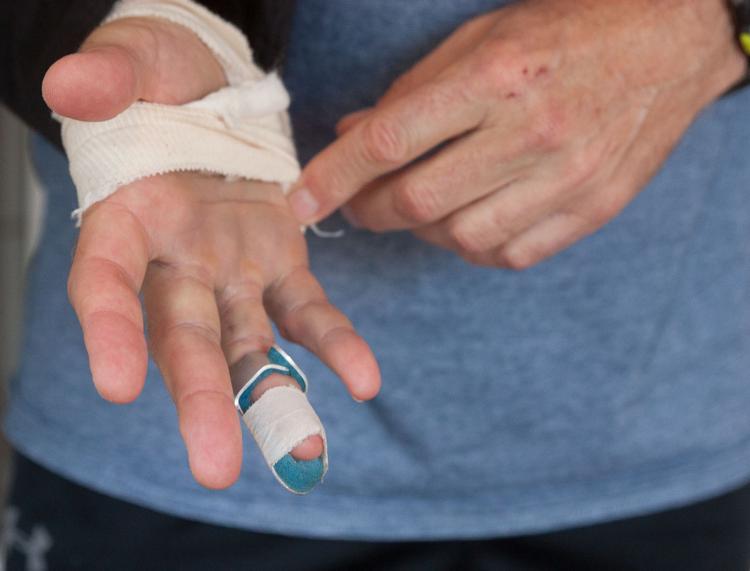 Back at home
Four days after the accident, Lillyman went home. The cast will remain on his right arm for four to six weeks. He has screws and metal and wires, "a lot of hardware" in both arms, but he has minimal bruises, scrapes or lacerations. For that, doctors are crediting his excellent physical condition.
Lillyman is resting and enjoying visitors. He has little use of his hands, so Rebecca, who is an educator at the English Language Institute at the University of Nebraska at Kearney, is feeding him, helping him dress, and more. She is, "thankfully," home for the summer, she smiled.
Sometimes, he thinks about what happened. Sometimes he asks why. He remembers how, at age 21, he was hit by a car while riding a bike in his native Sydney, Australia. He went flying and landed on his shoulder on a concrete median strip, but the shoulder was not broken.
"I wasn't a Christian then, but I think angels were watching over me then, too," he said. "The only thing that makes sense is that angels literally softened my fall on this one. I don't have another rational explanation. Angels have to be there when 180 pounds of body flies along six feet in the air."
Need for healthier living
Lillyman, the grandfather of nine, is a founding member of Move Kearney, a coalition that is pushing for more bike paths and more walkability in the city. He especially wants to increase safety for international students at UNK, particularly those who have no cars and must walk or ride bikes around town.
"Our roads aren't just for cars. We need better trails, footpaths and sidewalks. We need to make things more accessible," he said.
For now, he and his wife bubble over with gratitude for Kearney and its small, personal size. "It's wonderful to have people who know you and care about you," Rebecca said. "We've lived in big cities, and we've had family and neighbors there, but it's not like this. Even the anesthesiologist had a connection to us."
Lillyman seconded that, and more. "There is a side of our life that is supernatural. There's a veil between heaven and earth that is very thin. We don't truly understand it, but I feel like angels truly laid me on the pavement."