KEARNEY — Known by many in Holdrege as "Squiggy," David Rogers would do anything for virtually anyone, his family told the Hub.
"He was a jack-of-all-trades, always busy and helping people," said his daughter Stephanie Miller, 31, of Scottsbluff.
Rogers, 54, and Raymond Burton, 65, both of Holdrege were gunned down Thursday afternoon in their homes at Sunrise View Apartments in Holdrege. A suspect, Manuel Gomez, 45, of Holdrege, was arrested within 30 minutes of the shootings.
"I don't think I've ever met a person who didn't like him," said Robin Cunningham, Miller's mother, about Rogers. "He was just one of those people that people liked. He didn't have a mean bone in his body.
"It just blows my mind that this is how he died."
Rogers was born in Larned, Kan., to Leroy and the late Barbara Rogers. The couple had five children. David was the second to the youngest.
He attended Holdrege High School, and in 1986, met Cunningham. Miller was born a year later.
Although the two never married, Cunningham said Rogers often told others she was his wife.
"We lived together and acted like we were married," she said.
The two even got matching tattoos — a heart with a dagger through the middle with a rose on top — on their right forearms. Cunningham said Rogers had a lot of tattoos.
The couple lived together for five years before parting ways. They remained friends, talking occasionally. Cunningham said she last talked to him in December.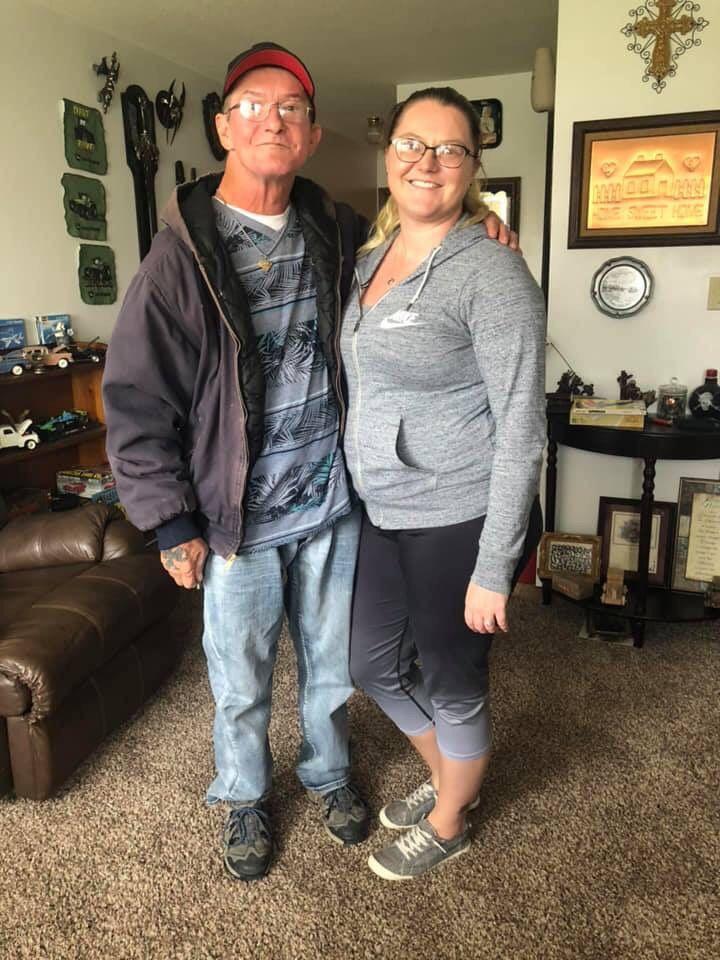 During the years Cunningham said Rogers worked as a roofer in the Holdrege area. He later moved to Norfolk where he was a traveling tool salesman, although he didn't have a driver's license.
Rogers made friends wherever he went, Cunningham said, and has "always been a man to give you the shirt off his back."
Three years ago Rogers moved to Hastings where he worked detailing vehicles for Jerry Spady GMC-Cadillac, and he finally got a driver's license. Miller said while at his apartment in Hastings Rogers fell down concrete steps, which caused nerve damage, a traumatic brain injury and dementia.
He was hospitalized for a year, and when he was released he moved to Wilcox where he lived on his own, Cunningham said. Despite using a walker, Miller said her dad was feeble on his feet and often fell.
Miller and Cunningham convinced Rogers to move back to Holdrege where he could be closer to family and friends.
"He had so many friends. You couldn't walk into Pump and Pantry, and mention Squiggy, without someone knowing who he was," Miller said.
Rogers moved into Sunrise View six or seven months ago, Miller said, and became friends with Burton.
Rogers' apartment was on one side of the Sunrise View office, while Burton's was on the other. The duo was known for chatting with other residents.
"They would hang out together and watch wrestling shows," said Miller, who last saw her dad in October on a visit to Holdrege. "He was as happy as I had seen him in a long time."
Despite his disability, Cunningham said Rogers and Burton would scoop residents' snow. Rogers also would ride his three-wheeled bicycle around town.
Miller talked to Rogers twice a week, if not more. She last talked to her dad on Sunday, inviting him to her May graduation from Western Nebraska Community College in Scottsbluff where she's getting a degree in business administration.
He couldn't wait, she said.
"He was a very loving person, always excited with anything I did. I could get a speeding ticket, and he would be excited about it," she laughed. "It was always something with him. He's a character."
Miller and Cunningham don't know why anyone would kill Rogers, but they said the kind man, who always smiled and did for others, didn't deserve to die the way he did.
"I don't know what would go on in someone's mind to kill a dementia-elderly person. I don't understand, and I probably won't ever understand," Miller said.