KEARNEY — Just like its name, Elevate is moving up. The nonprofit has opened its first storefront on Avenue A, just north of North Railroad Street. At its opening reception Friday evening, guests admired its sleek decor, colorful photographs and the jewelry, purses, belts, wallets, backpacks and other goods it sells.
All those goods are made in Nepal, Morocco, India or Bangladesh.
Elevate, owned by Brandon and Jessica Hotz, was founded in 2015 as part of their personal mission to assist people in impoverished Third World countries. The couple teaches people to use their own talents and abilities to support themselves.
"We focus on people living on less than $2 a day. All our products help communities support themselves," said Brandon, who is Elevate's international director.
The goods are made overseas, then shipped to Kearney to be sold. The Hotzes sell them and send profits back to start the process all over again. Elevate has helped launch 30 businesses so far. Hotz expects that number to expand to 1,000 within 10 years.
"Poverty is not just a lack of resources," Jessica, Elevate's executive director, said. "It's a lack of opportunity. We believe in giving opportunity, not charity. We want to unleash potential."
The Hotzes started their business in their 700-square-foot basement, but "we needed more room to house our leather. The basement wasn't cutting it," Jessica Madron, the company's marketing director, said.
After a search for just the right site, they found the Avenue A property in mid-July. On Aug. 1, they moved in and painted the walls, but they spent September in Nepal, where they helped six women start businesses as beauticians.
Elevate's 1,600-square-foot store will help support those efforts and more. It will display and sell all its products in Kearney, including the popular slingback purse that can be worn three different ways. "The slingback has been selling fast. We knew its functionality and design would draw attention, but we had no idea it would be so widely received," Madron said.
The products are made of full-grain leather, which is the finest leather available, Brandon said. "It is the best part of the hide. Nothing is added to it. It is the strongest leather there is, and as time passes, it gets stronger and darker," he said.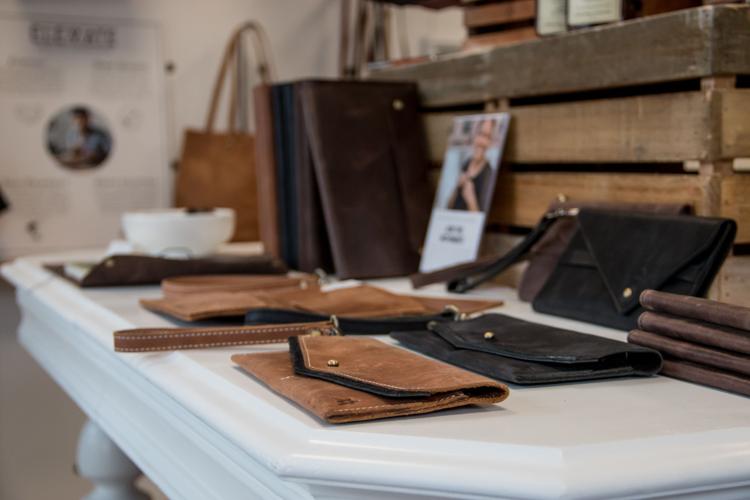 The Hotzes met during a six-week trip to India in 2012. They were among 18 college students who visited social justice organizations. Brandon, who attended the University of Nebraska-Lincoln, and Jessica, a Lexington native who studied at the University of Nebraska at Kearney, discovered that they shared a passion for a life of service. They married in 2013, received their college degrees in 2014 and, a year later, founded Elevate to create sustainable jobs for people around the world.
Since then, Brandon's business training curriculum has been translated into Nepali to enable people there to teach it to others.
Elevate's products will continue to be sold at the 308 Boutique in Holdrege and Wynk Boutique in Kearney as well as at the new site. "We're excited to have a space that will allow us to better serve our customers and our local community we love to call home," Madron said.