KEARNEY — Jennifer Nicol felt privileged to be invited to inaugurate the new celebration bell at the CHI Health Good Samaritan Cancer Center last month.
At last, she had a meaningful way to celebrate her progress in her three-year battle with colon cancer.
That bell, inscribed with the word "JOY," hangs near the entrance to the center. It can be rung by patients and staff for any reason at any time.
"It's not just about your last treatment. We are celebrating the big moments, the little ones and those in between," said Sara Malzacher, the oncology nurse supervisor.
The bell's fervor is contagious. Some patients ring it every time they come in for treatment. Some are photographed with it. Some release confetti as they ring it. Some bring ribbons and noisemakers. Some ring the bell, then scribble messages on the dry erase board next to it.
Sign up for Kearney Hub daily news updates
Want to read more local content like this? Subscribe to the Kearney Hub's daily headlines newsletter.
Malzacher said, "This bell is for your last day of chemo. Your last day of a certain medicine. For a day you felt awful and didn't want to come in, but you did. Dang it, celebrate! We want people to feel victorious even if their cancer is not gone."
Nicol of Kearney got the ball rolling. She had seen online videos of cancer patients around the country ringing bells when they finished treatment. As she underwent chemotherapy, she repeatedly asked Malzacher when Good Sam would get a bell.
Malzacher's response: "We're working on it." Which was true.
"We'd been working on it for at least nine months, but I wanted to make sure we did it right," Malzacher said. "I'm pressed pretty thin, and I couldn't give the project 100 percent dedication."
Also on board with the bell project was the center's Cancer Center Patient Satisfaction Team, a group of employees who strive to find ways to make patients more comfortable.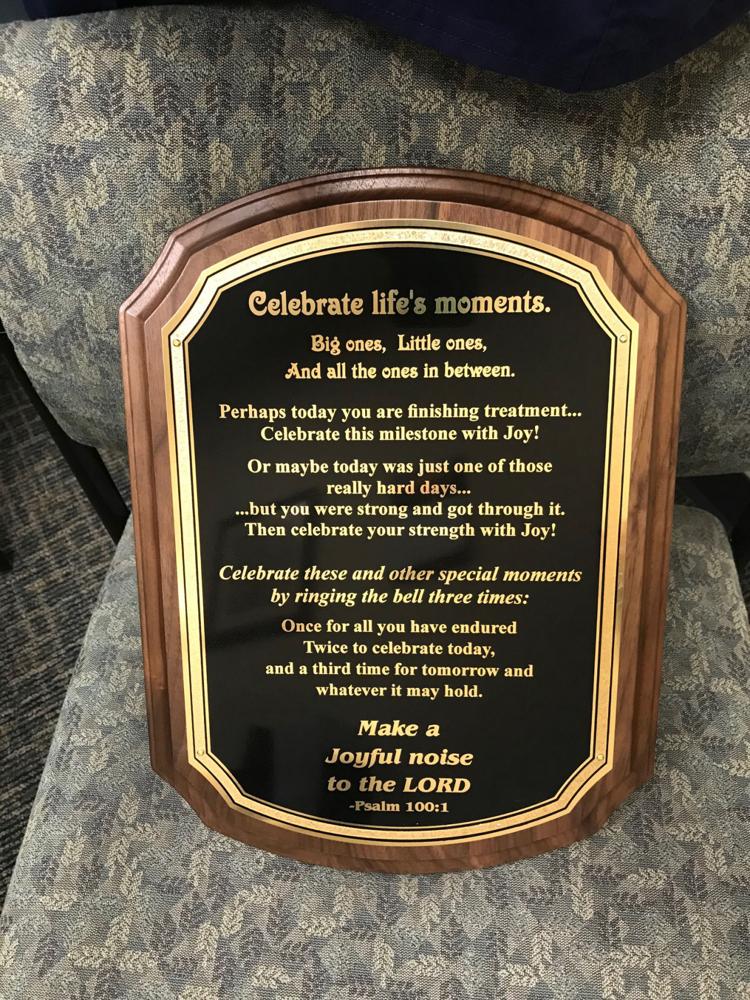 Last year, when the cancer center received a donation in memory of the late Brian Thompson, a former patient, Malzacher knew exactly where that money should go. Thompson's family agreed. The plaque behind the bell states that Thompson and his family found the center to be "an oasis of care during a difficult journey.
"Celebrating life's moments is as important to the staff as it is to the patients," Malzacher said. "For us, taking care of oncology patients is an honor. Sometimes we can experience a lot of loss, and we forget about the victories that we help cancer patients achieve. For staff, it's important for us to see our patients celebrate."
As word of the bell spreads, patients and staff are coming from other areas of Good Sam to ring it, too.
Malzacher said patients in the waiting room light up when they hear the bell ring.
Last week, she said, a man who had finished his treatment rang the bell as if it was an old dinner bell. Then he grabbed his stick horse and "rode off into the sunset."
She often tears up when she hears it.
"It's like hearing Brahms Lullaby," she said, which is another Good Sam tradition for the song to play when a baby is born.