SURPRISE, Ariz. — In about a week, Lynda Long will mark the 20th anniversary of her brother's execution for murder in Texas.
David Long was convicted of the hatchet killings of three women in Lancaster, Texas. While he waited on death row in Huntsville Prison, he confessed to the 1978 beating death of a gas station attendant in San Bernardino, Calif.
David was pronounced dead, by lethal injection, at about 7 p.m. Dec. 8, 1999.
Lynda Long, a former resident of Kearney, has stated for 20 years that they put the wrong man to death.
She believes it should have been her father, Park Long, strapped to the gurney that day because it was his unconscionable abuse that drove his son, David, to become a murderer.
Lynda shares the story of the Long children's twisted and painful upbringing in a book available at Amazon.com, "Together: A Story of Survival."
She said she wrote the book to help her siblings and herself heal, but she hopes that in telling their story, other children might be spared abuse.
A U.S. Navy veteran, alcoholic, drug addict and child abuser, her father was a time bomb, according to Lynda.
He flew into rage at the slightest provocation, Lynda said. As a result, the children would keep their distance.
Lynda, the oldest child, said she and her three brothers learned to wait until their dad and mom had passed out from drinking before returning home at night. The brothers included David, the youngest; Gary, the oldest; and Daniel, the one their father hated and abused the most, according to Lynda.
Lynda details in her 216-page book how the children coped — and failed to cope — with their dysfunctional father and enabling mother, Dorothy Alice Long.
"Together: A Story of Survival" is the fulfillment of a promise to her siblings, Lynda said.
She wasn't a writer, but as a teenager she told her three brothers that someday she would write a book about their horrible childhood.
"The abuse of Daniel, I still cannot read that chapter. It was the hardest part, having to watch him being beaten by our dad. If I tried to help him, he got beat even more. My dad beat him like a punching bag," Lynda said in an interview from her home in Arizona.
Sign up for Kearney Hub daily news updates
The cover shot Lynda selected for the book was taken by Park Long when he moved his young family from Texas to California. Lynda was 8 years old at the time.
The mother and four children are smiling for the camera, but Lynda said as she re-examined the photo decades after it was taken, she could see the brokenness in each of her brothers' faces.
The oldest brother, Gary, is looking down with a "half-hearted smile," while the youngest, David, is distracted and fidgety, she said.
Daniel couldn't hide his inner pain, Lynda said.
"What I once thought was a sweet, sheepish look on Daniel's face," she wrote, "is a scared little boy seeking protection, wishing he could blend into the print on my mother's skirt. Were he to speak openly to our father he might have said, 'You despise my very existence. You kick and beat me. Now you want me in your picture?'"
In California, the children learned to hang out at the beach until it was safe to return home. Quietly they crept inside, careful not to wake up their parents.
Lynda said her bed's mattress drooped near her feet. Daniel would hide under the blanket in that depression when his father came to beat him.
Because Park and Dorothy Alice were incapable of supporting their family, they were evicted every several weeks. The children were used to moving. Food was scarce, so David, Daniel, Gary and Lynda always were hungry, except when Uncle Paul, a truck driver, visited and brought meat for the grill. Lynda wrote that one night she awoke to feel her uncle laying next to her in bed.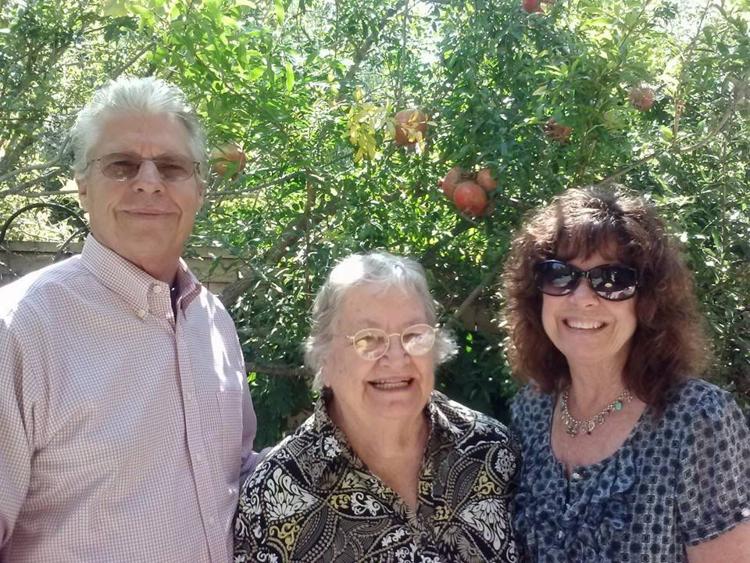 On a day when the children were hanging out under a pier at the beach, she told her brothers she would write a book about their childhood.
Keeping her promise was a "grueling experience," Lynda said.
One hurdle was learning to write. Another was finding the time. The toughest thing was reliving the ugly events of their dysfunctional upbringing.
"There were times I seriously thought about throwing in the towel, but I couldn't because I made a promise," she said.
Lynda said she and her brothers might not have survived their childhood if not for Carl and Louise Hagan, a married couple who lived in their neighborhood.
The Hagans had their own children, but they sensed the Long children were enduring bad things at home.
"Louise Hagan told me one day something I had been longing to hear my entire life, 'God loves you, and I love you too,'" Lynda said.
The Hagans fed the children and became mentors. They took them to church.
Lynda said her brother, Gary, "the intellectual one," decided after listening to a speaker at church tell about suffering through war that if that man could survive a war, then he could survive his parents' abuse and neglect.
The Hagans continued their kindness to the children, even though it put them at odds with neighbors who disliked and were suspicious of the Long family.
"What saved us was the Hagans. I didn't know the impact they had on our lives until I was writing the book and their name was coming up all the time," Lynda said.
Her mother, Dorothy Alice Long, died from cancer.
One day her father said he was going out for cigarettes. He never returned.
As the oldest child, Lynda said she lived many years with anger and guilt because she felt responsible to protect her brothers, but wasn't able to.
David and Daniel spent time in juvenile facilities in California.
Following his murder conviction, David wrote on death row how he killed small animals in response to his father's abuse. David's sinister episodes stretched on for weeks, according to Lynda's book, and evolved into the horrible acts he would commit as an adult.
Daniel lived his adulthood as a vagrant huddling under bridges and mostly out of touch with his siblings. Lynda said Daniel was homeless in Mexico when he died.
A rich family took in the oldest brother, Gary. He attended college and became an attorney, while Lynda worked in marketing and media sales.
David discovered Christianity in prison and prayed that his execution might comfort the families of his victims, she said.
During the months before his execution he emptied his cell of personal belongings: photos, books and written reflections. He was separating himself from the world and preparing for the end, Lynda said.
His letters and other writings revealed that he had discovered Christianity. David wrote, "I wouldn't give it up for nothing."
Lynda visited David at Huntsville about six weeks before his date.
She wrote about the profound effects of the visit on her.
"Leaving David on death row that October, and walking away from the Ellis Unit, I began severing ties with guilt and shame, the parasitic companions that always shadowed me."
Lynda realized, while driving a dusty Kansas road back to Kearney, that the book she promised her brothers should have a broader message. She wants her readers to learn about abusive families and how they can stop the cycle.
"The tears that I reserved for Gary, Daniel, David and myself, for our lost childhood, now flowed to death row and now included the men and boys I saw there, waiting for their 'day certain,' their day to die. ... Driving off, I left the residue of a horrific childhood and its lingering side effects on the side of the road," she wrote.
In retirement, Lynda said she wants to do what she can to end child abuse, and hopefully save children from paying the price for the sins of their parents.
"There are some things that twist a kid up so bad they can never come back from it," she said.