KEARNEY — Super nachos, cheese-stuffed sticks and, even, pizza cheese crunchers.
If it's a meal offered to kids at Kearney Public Schools, food service director Kate Murphy has tried it.
Her personal favorite meal served is any of the new Asian chicken entrees, which includes orange, teriyaki, sweet and sour, and General Tso's.
That meal option seems to be a favorite among the students, too, she said.
"If it's Asian chicken day at the high school, we're swamped at that station," Murphy said.
Sign up for Kearney Hub daily news updates
However, since the General Tso's chicken is spicy, it's only served at the middle and high schools.
This consideration is just one of the many factors that go into meal planning and preparation at Bearcat Diner, which serves approximately 4,000 lunches and 900 breakfasts to KPS students every day.
Murphy oversees all of these meals, from the menu selection to scooping up servings onto kids' plates. A total of 68 employees also help with school lunch, including cooks, servers, dishwashers and kitchen managers.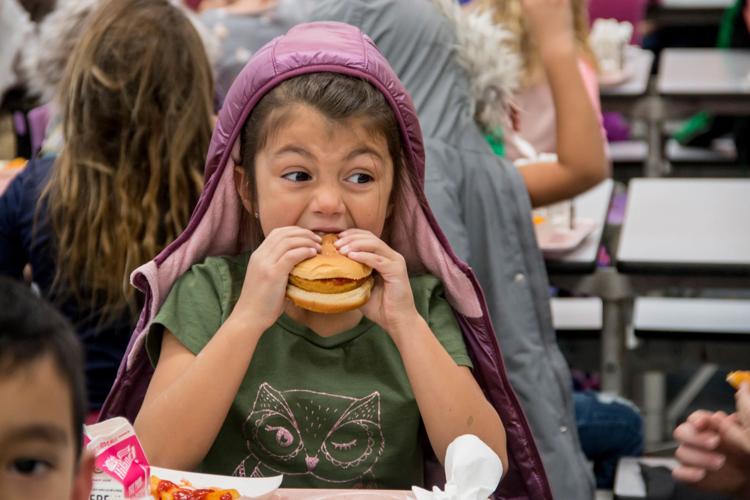 Picking out meals for kids
The first step in the process is simply deciding what will be served to kids at each level, as there are different menus for elementary schools, middle schools and the high school.
In addition to bringing their lunch, elementary students typically have two entree choices with one item being hot and one, most of the time, being cold. At the middle school, students are upgraded to two hot lunch options and one cold.
Then, at the high school, students have almost a dozen meals to choose from every day. They're broken down into a "homestyle" option, a couple pizza options, a homemade soup, multiple hot sandwiches like a burger or chicken sandwich, a build-your-own sub and salad bar. On Tuesday, for example, kids could have eaten a crispito, homemade cheese or pepperoni pizza, max stix with marinara sauce, vegetable beef soup or any of several sandwich options.
"Everyone is an expert on food and what they like," Murphy said. "They know what they eat at home."
While there are lots of options at the high school, Murphy said they try not to overwhelm students at the elementary level. They get two options, and most of the time kids seem to enjoy what is familiar to them. Favorites tend to be spaghetti, super nachos and chicken nuggets.
All the meals run on a six-week cycle, which means kids can only eat spaghetti so often. Murphy has to come up with at least 30 entree options to rotate around, plus B option lunches, like PB&J, that may be repeated more often.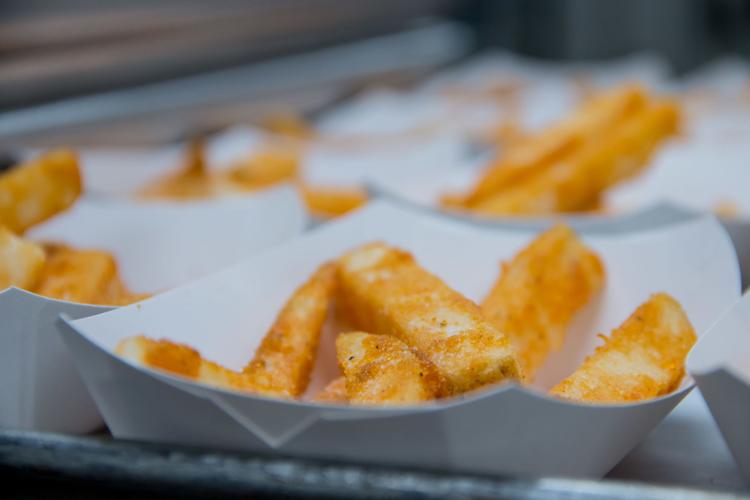 New foods
Because Bearcat Diner needs a lineup of so many meals, Murphy often is looking for new dishes.
"We always try to look for new items and look for new recipes," she said. "We find those items through distributors. I also do a lot of searching other schools and see what they're doing and what they're serving."
She also goes to state conferences where she gets new ideas.
When the schools try out a new food, they want to make sure it's something that the kids will like. A food kids love has high "acceptability" and a meal they don't has little.
There's more than one way to tell what kids like to eat.
At the elementary level, a lot of the time the kids will tell the workers. Students also will sometimes make requests for certain foods.
Bearcat Diner also can tell what lunches are popular and which aren't by how many of the meals are ordered by the kids. They also can gauge by whether the food gets eaten or if it ends up in the garbage.
Murphy also has done focus groups in the past to find out what kids like, something she said she'd like to start up again.
Recently, schools have added a few new items to the menu, such as the Asian chicken items, chicken and cheese taquitos, and "pizza cheese crunchers." The crunchers are similar to the breaded cheese sticks, a popular item, but they have both mozzarella cheese and sauce already inside them.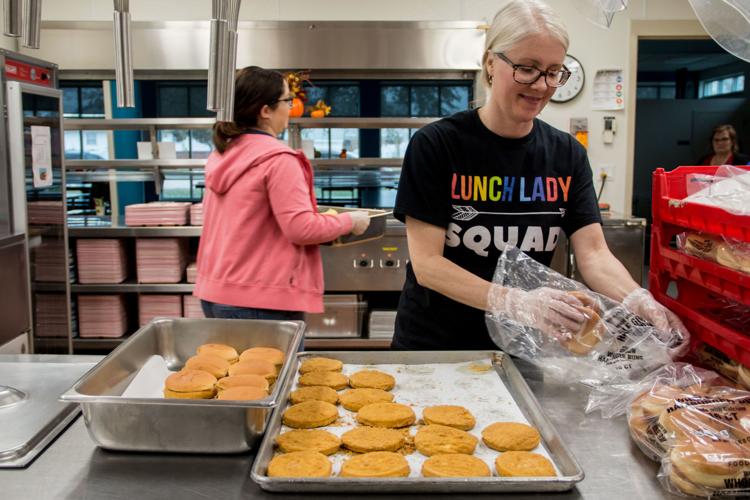 Distribution
Before any of these meals can be put on a kids' plate, though, the food has to be transported to the schools.
KPS has two receiving kitchens: one at Sunrise Middle School and one at Kearney High School. The receiving kitchens are where food from distributors, like Cash-Wa, is stored.
Kitchen managers located at each of the schools make their orders for each school day from one of the two receiving kitchens. These orders are placed a couple days before the meal is served, and before students have said which lunch option they want to eat, so the manager has to make an educated guess of how many of each item the school will need.
Kitchens get their deliveries for a meal in the morning the day before it's served.
Workers in each school kitchen then cut up the fruits or veggies and cook the components of the meal the day it's served. They also plate up some of the components before the kids come through the line.
The rest of the meal is in the kids' hands as they choose how many scoops of canned fruit to take from the salad bar or what kind of milk. Murphy said kids are allowed to take and eat as much food out of the salad bar as they wish.
Nutrition guidelines
In order for a meal to count as a "meal" according to the federal government, it has to have at least three food groups. That's only the beginning of the nutritional guidelines.
One of those components must be a serving of fruit or vegetables. The other two can be more fruit, more veggies, a grain or a meat or meat alternative.
Each cafeteria also has to provide specific options every week. The specific amounts change by grade unit, but the groups include fruit, grains, meat or meat alternatives, milk and vegetables. While schools have to reach a vegetable total, those vegetables have to include certain amounts of dark green veggies, red or orange veggies, legumes, starchy vegetables or "other" vegetables, which includes asparagus, cucumbers, pickles and mushrooms.
The meals for each week also have to average a certain range of calories. At the elementary level, meals have to be between 550-650 calories, between 600-700 calories at the middle school, and between 750-850 calories at the high school level.
According to Murphy, individual meals can be higher or lower than these ranges, but the total average for the week must fall in those ranges.
Saturated fat calories also must be less than 10 percent of the total calorie amounts.
There are various other requirements, too. For example, at least half of all the grains must be whole grain, a change this year from 100 percent whole grain. Murphy said KPS still exceeds the requirement for whole grains, though.
Districts are reviewed every three years to ensure they are meeting all these requirements. Murphy said she was reviewed last year. This is a requirement because meals are reimbursed by the federal government.
For some students with dietary restrictions, Bearcat Diner also provides other nutritional options. From peanut allergies to gluten intolerance, Murphy says they "work with parents and families on those. We just want to nourish them so they can learn."
At the end of the day, that's what Murphy says is so important about the diner's role for KPS.
"Hungry kids can't learn and if they're not nourished, you could have behavior issues," Murphy said. "We try to do our best to offer them things they like so they will like it and eat it and so they will learn. Because that's what we're here for: to help the kids. For a lot of them, I think (lunch) is about their favorite time of the day."