LEXINGTON — Seth McFarland has dabbled in home brewing since he was in college.
For McFarland, brewing beer with his friends was just a hobby. If a batch didn't turn out, he'd toss it and try again. Although he's made a career for the last 14 years crafting award-winning wine at his family's vineyard and winery — Mac's Creek in Lexington — he didn't expect to add beer to the mix. In the last six months, McFarland also has been perfecting his skills at brewing beer.
McFarland owns the business with his parents, Max and Theresa, and his brother, Barry. McFarland's parents came to him with the idea of adding a brewery to their business a few years ago after they visited Pals Brewing Company in North Platte.
"They had some lunch there or whatever and a couple samplings. (They) just absolutely fell in love with the beer culture. They came home and looked at me and my brother (Barry) and said, 'We want to add a brewery to this craziness.' And we were like, 'Huh?' Because they don't drink a ton of beer," McFarland explained. "We were like, 'OK, let's start looking into it.'"
Sign up for Kearney Hub daily news updates
Want to read more local content like this? Subscribe to the Kearney Hub's daily headlines newsletter.
The brewery was added where the McFarlands formerly stored their harvest crush equipment for the vineyard's grapes. They also have added a bottle house where all the empty glass, finished wines, full and empty kegs, the delivery vehicle, paper and glass products are held.
Mac's Creek Winery and Brewery began cranking out beer in March, and McFarland has been focused on making the beer as exceptional as the wine.
"Probably the most nerve-racking thing for me when we got started is that the bar has been set very high for the wine. We've done a very good job on that and that is not going to change," he said.
When customers come to the winery and brewery, they are curious about where the ingredients come from and how the brews are made.
"They want to know as much as they can ... You can go right out (in the vineyard) and see what we are growing and how it tastes. We are hoping to get to that point with the brew side as well," McFarland said.
While the McFarlands don't plan to start growing barley or hops, they do want to get these ingredients from growers in the region. The brewery currently offers Kolsch, Pale Ale and an English Mild. They also added a cider and sparkling wine to the menu.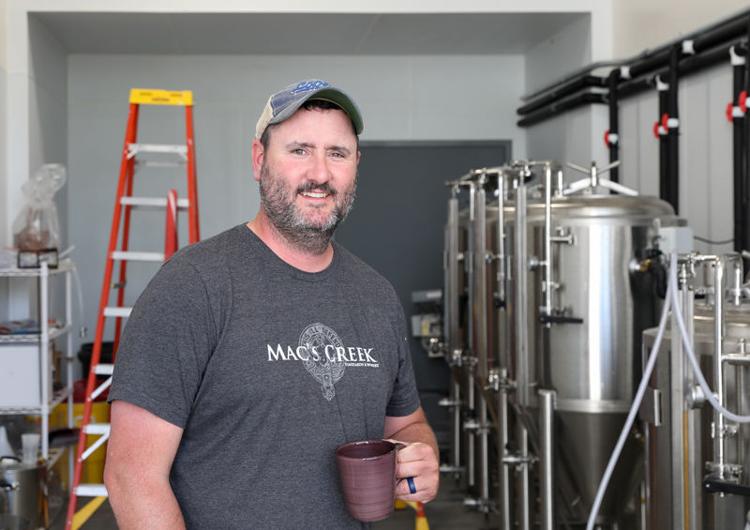 With the addition of the brewery, McFarland hopes to break the stigma around wine. He wants people to feel relaxed and feel comfortable trying anything they have available.
"They shouldn't be (intimidated) because wine is just as much fun as beer," he said. "You can have a world-class wine with a pair of shorts on. It's cool, man. I don't care. You can have it with a hot dog. I don't care. The beer has kind of helped us open to the door to that. It's still very high-end, but it's a very classy environment that you can have a glass of beer at or you can have a glass of cider or you can have a glass of wine."
The addition of the brewery has brought out more men and younger generations as well as neighbors and friends who had never ventured to the vineyard. They've also made updates inside the business with the beer taps and the addition of TVs so customers can watch the Huskers, Lopers or Yankees, McFarland said.
"It's a really high-end, relaxed environment," he said. "We want to provide a super awesome, chill experience at the highest level we can do it."
Flights at Mac's Creek are $5 for five samplings of wine, beer or a combination. Beer and cider are $5 a glass, and wines are $7 a glass. Mac's Creek wines are distributed, but the beer only will be available for purchase at the brewery.
Throughout the summer, Mac's Creek hosts a variety of events for customers to enjoy. There is live music 6-9 p.m. every Friday with a $5 cover charge. Bands typically perform by the creek.
"You and your significant other can grab a couple of chairs or bring your own chairs for that matter and find a great spot by the creek under the shade and just have a wonderful night. A mini four-hour vacation," McFarland said.
Customers have the chance to relax and exercise in the vineyard with yoga at 9:30 a.m. in the vines June 22, July 13, July 27, August 10 and August 24. Pilates is held at noon June 17 and July 1. Both activities are held in conjunction with the Orthmann Community YMCA in Lexington. Both classes include a beverage of choice at the end.
For customers who are looking to enjoy a dinner and drinks, they can partake in the sunset dinners at Mac's Creek on June 29 and July 27. Tickets are $45 for non-wine club members and $35 for wine club members. Along with the meal, the price includes two beverage tickets.
Dogs are welcome at all times at Mac's Creek, and the business has created an event to focus on the pups. Dog Days of Summer will be July 6, and there will be homemade dog treats available for dogs and beverages for their human companions.
With more breweries popping up around the region, McFarland hopes craft beer lovers will travel around and try all the different flavors the area has to offer.
"We are kind of in the middle. People can take an afternoon and hit two or three and really have some fun," he said.
McFarland's goal is to keep moving forward and adding new flavors to their variety of beverages. He'd like to infuse different fruits raised on the acreage into their brews such as grapes, crab apples, rhubarb or pears.
"I think we could do some seriously cool, funky, fun, different beers and cider stuff. I hope people are excited about things like that coming down the pipeline," he said.
The McFarlands' hope is that Mac's Creek is an affordable, relaxing environment that provides the highest quality of every item they serve.
"We want to give back to the community and the area that has been so wonderful to us and our family," McFarland said. "For us to even give an afternoon of relaxation and pleasure to those of us that are neighbors and friends that's all we can ever hope to do. We are going to do it as long as we can."