OVERTON — After 46 years of working in consignment and selling antiques, Karl and Beulah Tiede are ready for retirement.
The couple are selling their business — Tiede's Second-Hand and Antiques in Overton — as a turnkey retail business. The business consists of a 15,774-square-foot warehouse and showroom space, two overhead doors and plenty of inventory in Overton.
The Tiedes' business began in Lexington when Beulah started doing consignment in order to stay home and raise their children.
"We had consignment garage sales every other Saturday — two Saturdays a month. She had enough time to go with the girls and do what they needed to do," Karl said.
Karl and Beulah bought the buildings in Overton in 1990 and opened their antique store. The space is a meticulously organized maze of rooms and shelves filled with glassware of every color, toys, books, furniture, holiday decor, china dolls, lamps and even old spices and baking items. The Tiedes built up their inventory by buying estates or items from older people who were moving out of their homes into assisted living or care facilities.
"They would take what they wanted. Their kids would get out what they wanted, and we'd buy the rest of it," Karl said. "There were a lot of years we'd average 40 a year. Some years it was more than that."
Since opening, customers have come from across the country to visit the store, and they have antique dealers travel from Nebraska, Colorado, Wyoming, Kansas, Oklahoma, Iowa and South Dakota.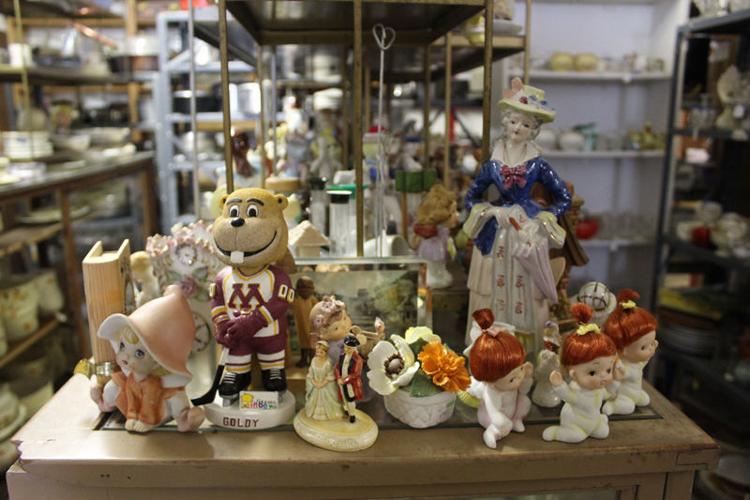 Karl's favorite part of the business was furniture.
For Beulah, it's books. Massive shelves as well as nooks and crannies of the store are filled with books. Each aisle has a chair or step stool in order for customers to sit or reach a book on the highest shelves. Before they began their half-price sale more than a month ago, Tiede's had more than 80,000 books. Beulah is ready to retire, but she said she will miss the books and the people who come to shop or visit the store.
Karl said, "It is just time to slow down. We tried to slow down, but that didn't work so we are just going to quit."
Since announcing the sale of the business and listing everything at half price, the store has been bustling with customers.
"We first went half price on the books. There were two weeks of that before we went half price on everything else. It just went wild. All five Saturdays it's just been crazy," Karl said.
The Tiedes hope someone will buy and continue their business. Karl said knowledge of antiques and keeping a low-budget operation are a few of the ways to make an antique store successful. They will continue the half-price sale through the holidays and will close the business at the end of the year.
They plan to travel to some of their friends' stores they haven't had a chance to visit yet. Karl still plans to do a little antique dealing, but there is one thing he really wants to do once he retires.
"I want to go fishing," he said.