KEARNEY — Bhikhabhai Chaudhari stood behind the Western Inn South at 510 Third Ave. and watched a Bobcat scoop up mattresses ruined by the July 9 flood. As bulldozers lifted ruined mattresses destined for the landfill, he just watched, still in shock.
Chaudhari purchased the motel Dec. 18. Now, the doors to its 42 rooms stand open. Rooms are empty. Carpet has been ripped off the floors. Those floors are scarred. Chairs, nightstands and small tables, all unusable now, sat in front of the motel rooms Tuesday, free to anyone who stops by. Chaudhari is giving it all away.
"I was making improvements here, improving the business," he said, shaking his head. He moved here from Beaumont, Calif., where he managed a Rodeway Inn for eight years.
As flood waters rose last Tuesday, police rescued Chaudhari and his family from the inn. Police took them to Tractor Supply Co. at 514 Third Ave. and then to the Econolodge at 709 Second Ave. They now are staying with his nephew in Hastings.
Chaudhari returned to his inn last Wednesday to survey the flood damage. The inn's rooms, all ground floor, had 4 or 5 inches of water. In some places, water trickled into rooms from the roof and damaged ceilings and walls. "They are still assessing the damage," he said.
He has insurance, but he's unsure what will be covered. He's determined, somehow, to reopen his motel.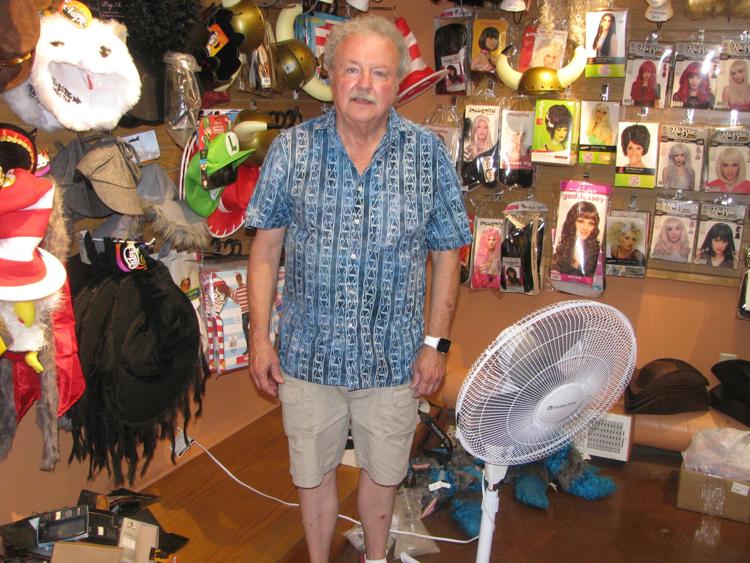 Stagecoach
Chaudhari not alone as he struggles to get his businesses — and his livelihood — back on its feet.
A few doors south at 310 Third Ave., Gary Glandon still has fans whirring at his Stagecoach store even though it reopened Saturday morning. Flooding closed it for four days and ruined more than 2,000 pounds of merchandise.
On July 9, he dropped off his wife and son at the store at 9 a.m. He planned to start work at noon. He noticed that the hike and bike trail was flooded west of the Cinema 8 movie theater at 300 S. Third Ave., so he went for a brief walk on the trail's dry section. "When I came back, I saw police cars pulling into our parking lot. I saw all the water coming up the street," he said.
Glandon raced inside the store and, with co-workers, pulled merchandise off the floor and lower shelves. They carried some of it to the shed behind the store. "I don't know how long we were in there, but the water kept coming. The electricity went off. We realized we better leave or we wouldn't be able to drive our cars out," he said.
They drove north to Tractor Supply Co., then hurried back. He grabbed his laptop and walked back to TSC. "The water was up to our knees. I had to be careful not to trip with that laptop," he said.
From TSC, they drove north to Burger King at 802 Third Ave. From there, police directed traffic east on 11th Street to E Avenue, where Glandon turned north. "Later, that flooded too," he said.
At 9 a.m. Wednesday, Glandon returned to Stagecoach. "Merchandise, displays, everything was floating in six inches of water. It had gotten up to about a foot deep. When we opened the doors, the water went out pretty fast, but we still had an inch or two to mop out," he said.
Electricity was out, so he bought a generator. People arrived to help. He and others mopped. They loaded ruined items into two large trailers and took them to the landfill. "I tried to inventory merchandise before I threw it out, but it was an array of stuff," he said. "Insurance people brought food for a couple of days, too."
Glandon also hired a professional crew to clean the floors. "Maxim (Cleaning and Restoration) was here from Omaha. They were doing a number of places along here. They stopped in and gave us a bid," he said. He worried briefly about the cost, but it was worth it, he said Tuesday. "I wanted to do whatever was fastest to get the store up and running."
"At first I figured it would take from a week to a month to re-open, but we got it done faster. We still have cleaning and dehumidifying to do, and there's a strip of lights outside that don't work today, but people have been really helpful," he said.
Team Concepts
Nikki Erickson, executive director of the United Way of the Kearney Area, was driving past Turkey Creek the sunny morning of July 9 when she noticed a flooded hotel not far from Team Concepts, the business she and her husband, Josh, own at 301 Central Ave.
"Everything was dry at Team Concepts," she said. She pulled over, made a few business calls in her vehicle, then looked up and was shocked to see the business inundated with water.
She dashed into the building, grabbed as much as she could off the floor and put things on tables. "Water was coming in everywhere. It all happened so fast," she said.
Outside were vehicles, trailers and equipment from RockIT Event Pros, also owned by the Ericksons. "We saved all of that. We moved very quickly and got things across the street to the overflow parking lot at the Ramada Inn and empty ground behind Whiskey Creek," she said.
The Ericksons' Team Concepts building sustained considerable damage. For the next few days, the Ericksons were cleaning, scrubbing, removing mud, using a scrub brush and hanging new drywall. By Tuesday afternoon, equipment still was piled up outside, but they were making progress.
As head of United Way, Erickson is part of the community effort currently organizing disaster relief. "We are on the front lines with sending messages to the public about assistance and other things," she said.
Now, she knows about disaster first-hand.