KEARNEY — Kyla Martin had an dilemma.
She wanted to make pillows for the upholstered pieces in the spacious new Saints Hall in the new First Baptist Church, but she discovered that new pillows would cost at least $50 each.
Then the ever-creative Kyla had an idea.
She visited furniture stores around town and asked for free discontinued upholstery samples. With those, she and her mother-in-law Vonnie Martin, also a church member, created 70 colorful pillows for the furniture in Saints Hall, a fellowship area and coffee bar outside the sanctuary. Each pillow is unique. No two are alike.
"This was a great way to save the church money. This cost us less than $3 per pillow, and no two pillows are the same," Kyla said.
Sign up for Kearney Hub daily news updates
Before she got started, she devised a plan to get the project approved. The Rev. Sean Dougherty "was a little hesitant" about the idea, "so we made a date that he'd come out and see samples," she said. She invited Dougherty, his wife Mallory and their daughters to her house for a barbecue. After they ate, she brought out 15 sample pillows and presented them as The Pillow Project. She also treated the Dougherty daughters to horseback rides.
"His wife really liked them. They really liked all the colors," Kyla said.
In early July, Kyla and Vonnie got to work.
"While our men were sweating it out at the Sumner rodeo, we got busy," Kyla said.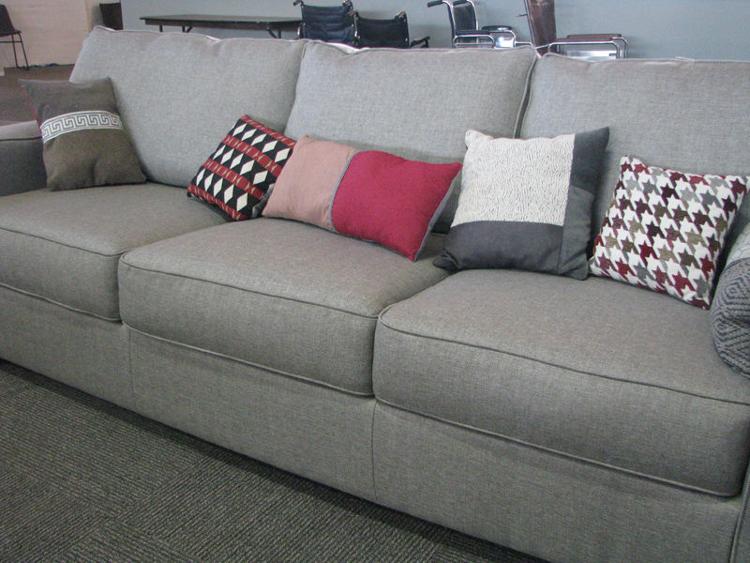 Kyla, the creative force behind the Community Action Partnership of Mid-Nebraska's Holiday Splendor and Signs of Spring craft shows at the Buffalo County Fairgrounds each year, had found small pillows at clearance sales and discount stores around town. "Or, we used actual pillows and cut them down," she said. She even made a few pillows by stuffing old bedsheets between those upholstery samples.
Kyla designed, cut and sewed up the pillows, while Vonnie stuffed and closed up the pillows. In three weeks, the two women finished 56 pillows and are completing 14 more before the Aug. 25 open house in the new church.
"I enjoy it. It is something I can sit and do," Vonnie said. She had learned to sew on a treadle sewing machine and made all the clothing for her four children when they were young. Also helping stuff pillows was Kyla's daughter Sage, 22, and Kyla's mother Phyllis Shubert.
The pillows add splash to the room. Each is unique. Each sports one of four accent colors that highlight four sections, or "pods," of Saints Hall.
The two also are making pillows for the tan sofas in the new church's youth room and the conference room. The youth room pillows are being made out of old graduation gowns. Those in the conference room were once old upholstery.
Kyla believes that Saints Hall is "a place to meditate or to have a conversation at different places in the room."
She said she has never handled a project like this, but "if I don't know how to do something, I just volunteer to do it." She quickly learns.
Vonnie, mother of Kyla's husband Tim, just smiled. "We're repurposing these pillows, just as we are repurposing this room for God's purpose," she said.