LINCOLN — As the Lincoln mother drove down one of the city's main thoroughfares, a new sculpture outside the Lincoln Children's Zoo appeared to her as a set of hands signaling the devil's horns.
Red and black like the devil. And fingers bent to make the devil's horns.
Surely that doesn't belong around children, she thought. Some other, more whimsical sculpture could be placed at the zoo.
Only thing is, the sculpture isn't a hand signal evoking the devil, but rather Spider-Man's hands unleashing strands of silk.
But that's not what the Lincoln mother saw during her frequent drive, so in an email to the city, she asked that the sculpture be moved.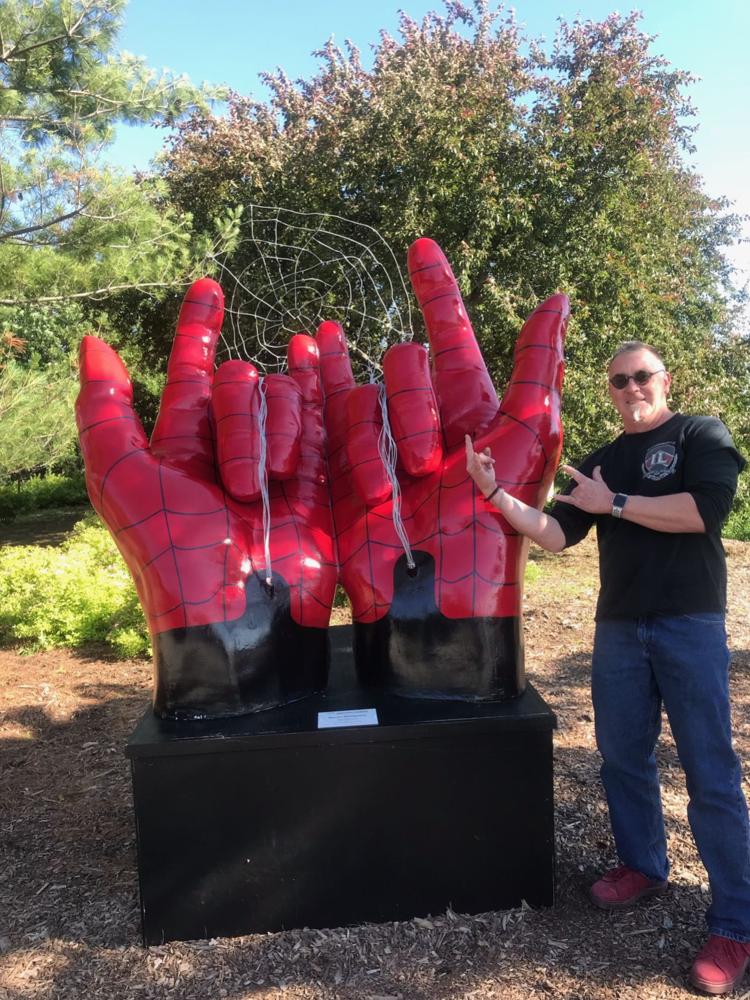 "This is anti-Christen (sic), and demonic, and completely inappropriate and offensive to place in front of the Children Zoo and Gardens where couples are married," she wrote in an email. "Remove it please. Put it (in) a empty ditch somewhere … (Devil worship) is a Hate Crime against the church."
The woman's request has gone viral, and the woman, reached by phone Thursday night, said the whole thing is largely a misunderstanding.
Driving by, she couldn't see the Spider-Man details to the sculpture, she said. She's in her 50s, and her memories of Spider-Man are when he wore a blue and black suit. She said she truly believed that she was looking at a sculpture of hands imitating devil's horns.
"This is not about religion; it's more about children," she said Thursday .
She asked that her name not be used.
The sculpture, it turns out, has a distinctly Christian history.
It was created as part of a fundraiser for the Youth for Christ Campus Life program. In October, the Spider-Man sculpture and about 50 other hand sculptures will be auctioned off, with the proceeds going to the campus youth program.
Matt Schulte, executive director of Youth for Christ in the Lincoln area, hopes that the notoriety brought by the dust-up comes with a silver lining.
"It's been featured in Newsweek, CNN, I'm told it's gone overseas. I'd love it if Marvel (comics) would … say, 'We should buy that for our campus.' "
Of the many hand sculptures scattered about Lincoln, the Spider-Man one has been one of the most popular, Schulte said. His organization intentionally placed it at the zoo.
"Kids just love it," he said. "This caught us off guard because we thought this sculpture would be a fun celebration of an American superhero, someone looked at it and didn't see a superhero, they saw devil horns."
The sculpture was made by Ian Laing of Omaha, who himself is deeply Christian. Laing said that his chief medium is metal works and that his calling to become a metal artist occurred in church.
"It was Good Friday, and my pastor laid three nails on the table. He walked in front of everybody and said, 'If you're not using your God-given gifts, you're doing a disservice to God.' "
And from there, Laing developed "Third Nail Creations," inspired by the crucifixion. He makes custom metal pieces, including frames, bicycles, wine racks and jewelry, including numerous crosses and other religious symbols.
Laing made three hand sculptures for the Lincoln project.
The other two are a pair of hands holding a bowl, inspired by "Oliver Twist," and hands holding a moon, inspired by the children's book "Goodnight Moon."
"Spider-Man is my favorite superhero, and I saw a way I could make his hands," he said.
For Laing, the episode is reminder that public art is very much part of the public realm.
"There are no limits to your imagination," he said. "Art is meant to create controversy. Not everybody looks at it in the same way."