For many years The World-Herald ran a contest asking readers to write letters telling what they are most thankful for. The prizes were modest, but the lessons were lasting.
Many of the winning entries revolved around people finding silver linings in otherwise difficult positions, including survivors of polio, the Holocaust and a shooting, to a widow fortunate her late husband maintained life insurance and a mother happy to have a full table of her children who once were all in deployment.
9-year-old burn victim happy to be home
George Allen Stuart, age 9 in 1949, was burned when a playmate threw a burning kerosene-soaked rag on him. He spent 18 consecutive months in the hospital and had eight skin grafts. Despite having to return to the hospital for more treatments, he was able to spend Thanksgiving dinner at home with his family, who had roasted duck for their meal.
Stuart was one of 1,308 letters to the contest editor. He said he'd save his $5 prize for a new bicycle.
Holocaust survivor fulfills Thanksgiving dream
Alex Sonnenwirth, a Romanian, was taken prisoner by the Germans with 26 of his family members in 1940. About half of his family was executed in gas chambers, and the others died of the privations of forced labor. He was the lone survivor.
In November, 1943, I was in a German prison hospital with three American pilots. This was the first time I had ever heard about Thanksgiving. Since then I never ceased dreaming about it. This year will be my first opportunity to celebrate Thanksgiving in the land of the free. I shall thank wholeheartedly and sincerely Our Lord for everything I met here: Freedom from fear and hunger, equal opportunity to succeed, friendly and understanding helpfulness.
"Thanksgiving should be, for old and new Americans alike, the day of remembrance thanking for the happiness of the past and the day of prayer asking for the continuation of prosperity and success for all of us in this best of all countries.
Sonnenwirth ultimately wound up in the American zone. After getting a visa, he earned his degree at the University of Nebraska.
Other winners in 1949 included Gay Keating of Dunlap, who wrote that her father was coming home from the hospital and did not have to have his hand amputated after a serious infection, and Hilary Lassek, who was happy for the health of her family.
Child recovers from polio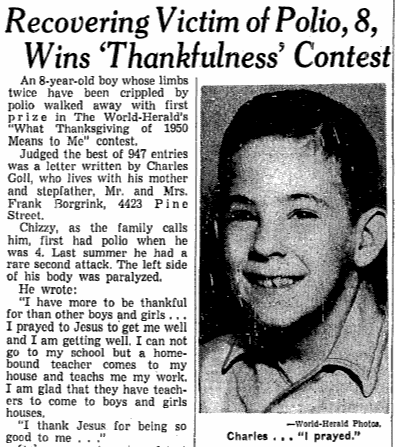 Charles Goll contracted polio when he was 4. He suffered a rare second attack at age 8 when the left side of his body was paralyzed. At age 9, he wrote the winning letter.
"I have more to be thankful for than other boys and girls," Charles — or "Chizzy," as his family called him — wrote. "I prayed to Jesus to get me well and I am getting well. I can not go to my school but a homebound teacher comes to my house and teaches me my work. I am glad that they have teachers to come to boys and girls' houses."
Rehabilitation and exercise made Charles' limp unnoticeable to the untrained eye. What did he plan to do with his winnings?
"I'm going to buy some Christmas presents for my wonderful Mommy and Daddy."
One mother sits with a full table, another stands again

Frances Quinn never walked without crutches after contracting polio as a child. However, she was thankful to take her first steps just before teaching her child how to walk.
"The March of Dimes made it possible for me walk without the aid of crutches," she wrote. "Through them I received a brace which I couldn't afford. Now I carry my daughter without any trouble. Every mother knows what a wonderful feeling that is.
"I found out months ago and could never express how thrilled I was. When I sit down at the table this Thanksgiving, I will thank God for giving me strength to walk on this brace and also the March of Dimes for their wonderful work."
Another mother, W.E. Lewis of Crete, was excited to be joined by her six sons and four daughters, the first time since 1942 that she'd have a full table.
Only one son couldn't attend, as he was still deployed; the others had all returned from their service.
---
Photos: Thanksgiving in the Omaha area through the years