Gunfire at a Millard Hy-Vee sent customers and workers scrambling Tuesday evening, but no one was wounded.
Authorities say the shooter, a man in his 20s, fired at two cars in the pharmacy drive-thru, then shot out a window at the entrance of the store and headed inside, where he fired another shot at a monitor.
As people raced to the exits, the man was tackled by a customer and an off-duty Omaha deputy police chief.
"I just hear my manager screaming, 'Someone has a gun' and then people started running and screaming and tripping over everything," said Hy-Vee employee Cody Kerfoot.
The shooter was taken to Immanuel Medical Center with minor injuries, police said. A woman who was hurt while trying to get out of the store also suffered minor injuries.
The shooting was reported about 6:30 p.m. The Hy-Vee is near 180th and Q Streets.
Police say they don't know what provoked the man.
"Extremely unusual, one of the more challenging and frightening calls that comes to a community," said Deputy Police Chief Ken Kanger. "We're just extremely fortunate and grateful that there weren't serious injuries here."
Witness reports indicate that the man had been in the parking lot about 30 minutes, Kanger said, moving his car from one stall to the next, before pulling out his weapon.
Off-duty Deputy Chief Scott Gray was the Omaha police official who helped tackle the assailant.
Gray was inside the store. He and a customer ran to the entrance when they heard the shooting. The two tackled the gunman and took the semi-automatic handgun away from him, Kanger said.
Among those who raced out of the store were several workers who took shelter at the deli two doors down.
Justin DeSchamp, a Goodcents supervisor, said the employees ran to his Goodcents deli and sub shop and said there was an active shooter at the grocery store. The employees came inside, he locked the door and they waited it out together.
The workers told him that a man had fired a weapon outside the store first and then entered the Hy-Vee and fired several more times.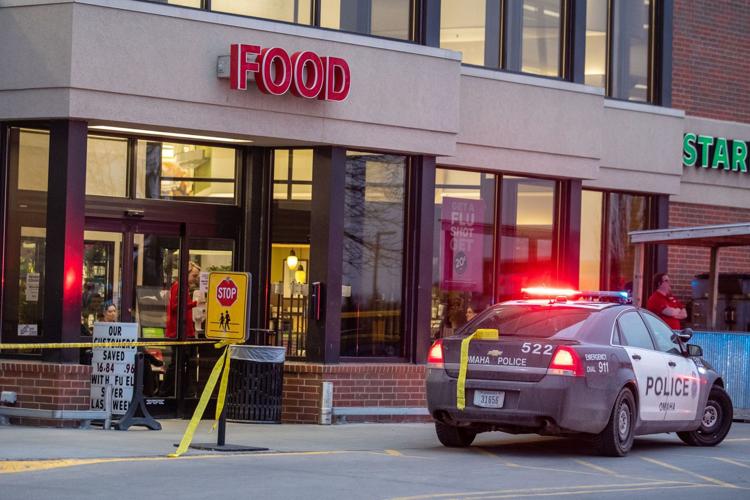 Omaha police and Douglas County sheriff's deputies responded to the scene, as did the Omaha police helicopter. After the man was tackled, the scene was quickly secured. Within a half-hour, officers were busy taking statements from witnesses.
The shooting remains under investigation. No officers discharged their weapon, Kanger said.
A Hy-Vee spokeswoman said the company is grateful no one was hurt by the shooter.
"We are working with police as they continue their investigation into this situation," said Tina Potthoff, senior vice president of communications.
Potthoff said the company hopes to reopen the store Wednesday morning.
World-Herald staff writer Nancy Gaarder and photojournalist Chris Machian contributed to this report.