KEARNEY — While the University of Nebraska at Kearney volleyball team lost four-year starting setter Lindsey Smith to graduation, no one anticipates a dropoff in production at the position this season.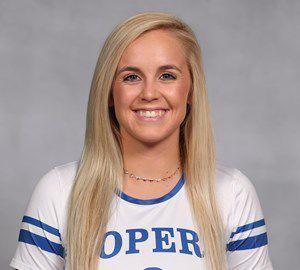 Junior Maddie Squiers will move into the starting spot after redshirting last season. She's a well-rounded setter who provides the Lopers with experience and a strong understanding of the offense. She spent her first two collegiate seasons at Bellevue University where she was a two-time NAIA All-American before transferring to the Lopers in January 2018.
"It's nice that I had a whole season under my belt here — two springs and a season I guess — with practicing," she said. "It's just really nice to play in a game because it's been a really long time."
Squiers' journey to the Lopers is unique. Her father, Rick, is entering his 21st season as the Lopers' coach, but coming out of Kearney Catholic High School, Maddie didn't feel she could compete at the Division II level. The Lopers also had Smith on the roster, who was a sophomore.
Maddie opted to attend Bellevue where she instantly thrived and improved her skills.
In her two seasons with the Bruins, Maddie averaged 10.9 assists, 2.6 digs and 1.0 kills per set while hitting .280 to earn numerous accolades, including the 2016 AVCA NAIA National Freshman of the Year.
She credits her development to Bellevue assistant coach Steve Fields, who's been instrumental in developing All-American setters throughout his coaching career.
"Right out of high school, I probably wasn't good enough to come here," Maddie said. "I wanted to go somewhere where I could play right away so Bellevue was just kind of the best option for me. I just thought an NAIA school would probably be the best fit for me."
Squiers said her father always joked with her about coming to UNK, but after he saw her thrive at Bellevue, he sat her down and seriously discussed the option.
While Rick credits Bellevue's coaching staff for Maddie's development, he wasn't completely surprised with her success.
In spring 2016, he coached Maddie's 18-and-under club team.
"We were playing some really good teams at open level volleyball, and I was watching her make plays and was like, 'What were we thinking here?'" Rick said. "I think it was at that point where she really thought she was going to be a good college setter. I started to see those things. But you don't know. The two years at Bellevue kind of confirmed that."
Maddie used last season to develop her skills, get comfortable with the speed of play and develop chemistry with her teammates as she redshirted to preserve a year of eligibility.
Maddie traveled on every road trip last season so she could experience the different venues, especially against MIAA teams. Rick hopes that experience will give her confidence entering this season.
"I got so many touches on the ball it was unbelievable how better you can get from just practicing for a year and a half," Maddie said. "Getting to be on the second side all of last season, there was really no pressure on me. I just gave it all I had every
Squiers also earned the respect of her teammates, as they voted her as one of the two team captains for this year. Senior outside hitter Julianne Jackson is the other.
Besides playing for her father, Maddie will suit up alongside her sister, Anna, who's one year younger and a junior outside hitter.
It's not the first time this situation has occurred, but Maddie said she's thankful she can share the memories of playing collegiate volleyball with her father and sister.
"It's very unique," Maddie said. "It's nice having Anna on the team because she's the only person who knows what it's like to play for our dad. We really understand each other there. Playing for our dad is definitely very challenging at times but extremely worth it. I wouldn't have it any other way."