KEARNEY — University of Nebraska at Kearney's two basketball programs are in different spots.
The men's basketball team posted an underwhelming 10-18 record and lost four players to transfer, including leading scorer Kanon Koster, after the season. The women's team went 15-14 last year, despite relying on seven freshmen to play a bulk of the team's minutes.
One problem that's consistent with both programs, though, is the lack of attendance.
Women's games averaged 1,030 fans and the men averaged 1,385 fans per contest last season. Both attendance figures are down from the 2017-2018 season when women's games averaged about 200 more fans and men's contests averaged about 500 more spectators.
One complaint among fans has been the lack of quality nonconference competition, especially for the women's program. Last season, the women's team played five non-NCAA teams on its home court and won by an average of 43.4 points per game.
Sign up for Kearney Hub daily news updates
Want to read more local content like this? Subscribe to the Kearney Hub's daily headlines newsletter.
UNK Athletic Director Marc Bauer said the athletic department is creating a position for marketing and promotions, which also will be coupled with business finance, to enhance the game day experience.
Basketball attendance around the Mid-America Intercollegiate Athletics Association is down, Bauer added, while revenue from streaming games is increasing.
He is unsure if there's a way to lure quality opponents to UNK's Health and Sports Center because of the difficulties of basketball scheduling.
"I don't understand basketball scheduling yet. Teams won't play teams because they know they will get beat," Bauer said. "What happened to competition? Things have changed. In the wrestling world, I would've been glad to take my guys down to UNL and let them get stomped into the mat."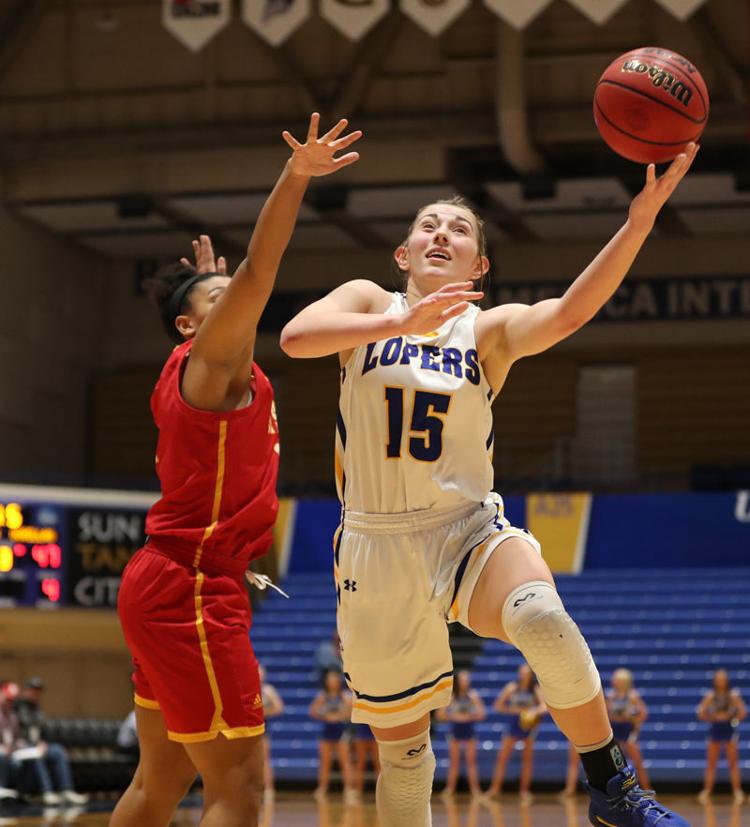 Bauer isn't afraid to collaborate with the basketball coaches for ideas.
He learned from Mike Denney, his wrestling coach at the University of Nebraska at Omaha when Bauer was an athlete, to be approachable and to make others feel valued and engaged. Bauer has used that approach since he became a wrestling coach. It allows others to feel encouraged to help reach a common goal.
Women's basketball coach Carrie Eighmey suggested to Bauer that the student-athletes join forces with student organizations on campus and participate in volunteer activities around campus and in the community. It's an activity that requires little planning but could spark a relationship with students and potentially drive interest for athletics.
"That's the energy I want to see, and that's the energy all of us need," Bauer said. "Those are the types of things that influence building connections.
"We want people there to cheer for us in all of our sports. Fans make a big difference at sporting events. Not only is it encouraging that she had the idea, but also that she wants to do it."
Wrestling
The Lopers have remained one of the top teams in the nation annually since coach Dalton Jensen succeeded Bauer in 2016.
Expectations were high for Jensen when he took over, especially with Bauer leading the program to two national championships, two runner-up finishes and one third-place finish in his final five years.
The Lopers haven't won a national championship during Jensen's tenure as head coach, but have placed fourth, eighth and fifth during his three years.
Bauer said it's more difficult to attract high-end wrestling talent to the Division II level compared to when he was coaching. The growth of college wrestling and the introduction of the NCAA's transfer portal in October are two reasons for the new challenges.
When Bauer started coaching, there were fewer teams in each division, including 36 at Division II. Now, more universities have added wrestling and the growth has skyrocketed with DII ballooning to 62 programs.
At the Division I level, 80 universities sanction wrestling, making it difficult for transfers from that level to slide down to DII programs.
Bauer believes if the transfer portal was around when he coached, he wouldn't have landed as many of the program-changing transfers as he did, including Destin McCauley, Daniel DeShazer and Romero Cotton, all of whom were at Division I schools prior to competing as Lopers.
"As soon as your name goes into the portal, low Division I schools who have scholarship money left are throwing money at those kids and the kids are taking it," Bauer said. "The portal has been a killer for Division II."
Swimming
The women's swimming team is in transition. Becky O'Connell became the sixth coach in the program's 57-year history when Bauer hired her in July 2018.
Although the Lopers cracked the university's all-time Top 10 list in 10 different events in O'Connell's first season, the program was ineligible for postseason competition, Bauer said. They only had eight swimmers, which is below the 11 student-athlete requirement by the NCAA.
Bauer hopes the Lopers can have 20 swimmers next season.
"Becky O'Connell is a breath of fresh air for that program," Bauer said. "She's a veteran coach in the swimming community and has really good connections in our state and outside our state. She realizes and understands the fundraising component with that. We are excited about the direction of the program."