KEARNEY — Less than one month after Marc Bauer assumed the athletic director role, he made his first major decision. He relieved Holly Carnes of her duties as the UNK softball coach on May 9.
It ended a 19-year run for Carnes. During that span, the Lopers experienced little success.
The Lopers posted a 368-489 record, which included five winning seasons and 10 appearances in the Rocky Mountain Athletic Conference Tournament.
"I'm not sure where we are going with things yet, we are still in the search process," Bauer said. "The pieces are there to complete. I'm excited to see where this goes. There was some change made. We want that to be positive change."
In the 1990s under then-head coach Dan Simmons, the Lopers competed on a national stage. They won Rocky Mountain Athletic Conference championships and claimed victories in the NCAA Tournament. In a four-year span, the Lopers advanced to two Elite Eights, one Final Four and finished as the runner-up once from 1996 to 1999.
The program's momentum didn't last after UNK replaced Simmons in 2001. One reason it didn't continue was the lack of high-end pitching. In softball, quality pitching is vital, but it was an area Carnes struggled to recruit and develop.
Bauer understands it will take time but hopes the program can compete for MIAA championships in the future.
"There's no doubt in my mind that in every sport we are in that we can compete in the MIAA," Bauer said. "When I say compete, I mean compete at a very high level. Does that mean we are going to be winning ever conference title? No. It's a tough conference.
"At the end of the day, it's all about being competitive. If we do the right things and are focused on doing the right things, usually winning takes care of itself."
The Lopers' softball facilities are inadequate. They had the luxury of playing most of their home games at Patriot Park with their final two home contests coming at Dryden Park, a community diamond, this season.
Bauer wants to explore facility upgrades. It would give the Lopers their own diamond likely with an all-turf field to subtract the weather element from factoring into their home schedule.
A quality softball facility could be built for about $500,000, Bauer said.
"There's potential down the road that they are going to expand Patriot Park," Bauer said. "I like the potential of getting in on that but I also like the potential of building something over here that's closer to campus. I will be working on that. It would be attractive."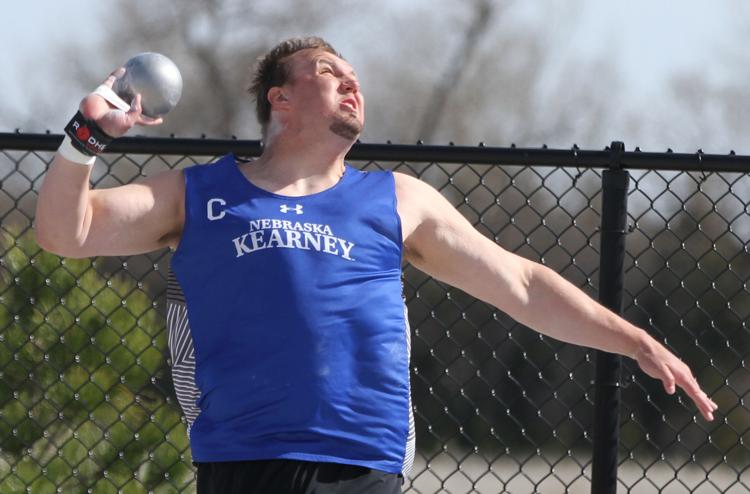 Track and field
The men's and women's track and field teams feature about a 100 student-athletes each year. Most of those student-athletes are walk-ons. Some receive academic scholarships.
Even with the financial obstacles, head coach Brady Bonsall produces national championship caliber talent.
They had the top ranked throws team this season. Five student-athletes also qualified for the Division II Outdoor Championships this spring.
Bauer is trying to help Bonsall with fundraising. Bauer has a history in that area, raising more than $3 million for the UNK wrestling program during his time as the head coach.
"We've talked about changing some of his fundraising he's doing with his student-athletes, and I hope to see some increase in scholarship opportunities for his student-athletes," Bauer said.
Bauer appreciates and commends Bonsall and his staff's ability to connect with student-athletes.
"Student-athletes love that coaching staff," Bauer said. "They are truly about the student-athlete experience. I love going out there and watching them coach. They are passionate. They know how to train their kids."
Tennis
The women's tennis program had an unexpected down season and failed to qualify for the NCAA Tournament for the first time since 2013. Bauer commends the job coach Jake Saulsbury and his team did, though.
One of their top players, freshman Bhavya Ramineni of India, was ineligible and didn't play in the spring, which affected the Lopers' talent and depth, Bauer said.
International talent dominates college tennis, and it's critical for a program to have high-end international players on its roster to compete on a national stage.
That's created an interesting dynamic for Saulsbury. He tries to balance his team with international athletes and students from Nebraska. Bauer said international players also typically account for a large portion of the scholarship money because they're seeking a quality program that will cover as much of their college education as possible.
"Jake gets the system and how to play the game, and he plays it," Bauer said. "I think talent-wise, he picks up some of the best talent Nebraska has to offer. He also understands he has to tap into the kids with the skill level on the national scale. It's tough."
The tennis program also is in the early stages of trying to construct a facility with six indoor and six outdoor courts. The project would cost an estimated $6.5 million and be paid mostly through private donations.
It would provide the Lopers with an ability to practice and host duals regardless of the weather.
"The tennis facility will be a good thing for the community," Bauer said. "Whether that helps with his recruiting, I don't know how much (it will help)."
Golf
The Lopers' women's golf program is trending upward since making their first-ever NCAA Tournament appearance in 2017. They qualified for their third consecutive NCAA Tournament appearance this spring.
They placed 10th in the 12-team NCAA regional and set the lowest stroke average as a team in program history this season.
Bauer has been impressed with second-year coach Shawn Rodehorst and his ability to grow the program.
"The thing I love about him is that he's a local kid and has good connections and ties, that's why I put him in charge of our Blue Gold Classic this year," Bauer said. "I know he's excited about his team and the future of his team."