KEARNEY — The University of Nebraska at Kearney volleyball won the MIAA regular-season and tournament titles last season to earn the top seed in the NCAA tournament regional.
Hosting the event created extra buzz and excitement around the team that lost just two matches entering the tournament. But once the Lopers' first-round match against eighth-seeded Harding University began, that energy quickly evaporated out of the Health and Sports Center.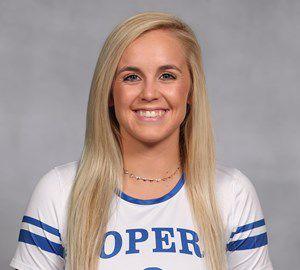 The Lopers lost the five-set match, marking the sixth consecutive year they failed to advance out of the first round.
"We try not to (talk about it)," redshirt junior setter Maddie Squiers said. "It's kind of a sore subject still."
The Lopers hope they can snap the streak and win a regional this season. This year's team has a different look with the addition of nine freshmen and two transfers and the absence of All-American libero Ellie McDonnell, four-year starting setter Lindsey Smith, outside hitter Kendall Schroer and defensive specialist Morgan Stute.
Despite the roster changes, the expectations remain the same.
The Lopers are ranked 11th in the initial American Volleyball Coaches Association Division II Top 25 poll and have made the NCAA tournament in each of the last 20 seasons.
They also have won the conference regular-season and tournament titles the last three years.
"We have some pretty high goals, as always," Squiers said. "Definitely win conference, definitely win regionals and then make a run at winning nationals. I think our main goal this year is just getting out of regionals."
Coach Rick Squiers, Maddie's father, believes the Lopers' inability to accomplish that feat in recent years is due to the lack of firepower on offense.
Last season, the Lopers were hoping freshman outside hitter Sami Mauch would be one of their top players. But a knee injury in a summer basketball all-star game kept Mauch off the court.
After redshirting and recovering from the injury, Rick Squiers believes Mauch could provide an instant boost to the Lopers' offense this season. She's still regaining her explosiveness, but she participated in the Lopers' annual Blue/Gold Scrimmage and their two-day scrimmage against Augustana University last week.
"She showed some flashes in Sioux Falls of some really exciting things with the big arm and the ability to score," Rick Squiers said. "That got everyone excited. If we can start seeing that consistently and have some of these youngsters come along, we will feel really good."
Maddie Squiers will fill Smith's spot as the Lopers' starting setter. She was a two-time AVCA All-American at NAIA Bellevue University before transferring and redshirting for the Lopers last season.
Sophomore Lindsay Nottlemann likely will serve as the Lopers' libero. She played as a defensive specialist last season, appearing in 23 of the 36 matches.
Junior Monique Schafer, who redshirted last season after transferring from Northeast Community College, and freshmen Danae Drish, Sarah Brittain and Kamryn Schuller also are competing for playing time in the back row, Rick Squiers said.
"I think we are pretty close with our starting lineup," Rick Squiers said. "I think we have it down to really a couple of spots. We probably won't know for sure until we play some games. I think as a whole we've seen at least for the early season what gives us the best chance to be competitive. We will try to iron some of those things out this weekend."
The Lopers open the regular season with the Loper Preseason Invitational at the Health and Sports Center. On Friday, they will play Adams State at noon and University of Findlay at 6 p.m. They will face Oklahoma Baptist at noon and Augustana at 6 p.m. on Saturday.
The Lopers don't have a nonconference road game this season. They will play nine nonconference games before opening conference play against Emporia State on Sept. 20 in Emporia, Kansas.