KEARNEY — Jon Bergmeier hasn't watched the ESPN documentary series, The Last Dance, about the Chicago Bulls, even though he keeps a photo in his phone that shows him shooting over Dennis Rodman.
It was his last game his senior year at Kearney State College, a 70-67 loss to Southeastern Oklahoma in the first round of the 1985 NAIA Tournament in Kansas City, Mo.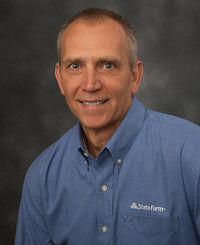 "I remember him and how much of a stud he was. At that point I had never played against a 6-8 guy who could get up and down the court like that," said Bergmeier, who has been recording the series and plans to binge-watch it soon. "He only made dunks, layups and put-backs — I remember him shooting an air ball from the free-throw line — but he still had 40 points against us."
Forty points, 17 rebounds, three blocked shots and all but eight of his team's 37 points in the second half. Still, UNK almost overcame an 11-point deficit with Bergmeier leading the comeback.
"I still remember that today, being in awe of him diving for balls and getting up and down the court. He was a beast. I had 25," Bergmeier said.
None of Bergmeier's points came from dunks.
Loper faithful could make an argument that he is the best 3-point shooter ever to wear a Loper uniform. Problem is, his last year was 1985 and it would be two more years before they painted the 3-point line on college basketball courts.
The 3-pointer "would have made a difference," Bergmeier said. "Not only for me but for our whole team. Between (Kirk) Shuck, (Dana) Falter, me and Mike Sjuts ... the four of us seniors, that's where we shot most of the time."
Bergmeier scored 1,337 points in his career as a Loper between 1982 and 1985. He was a three-year starter and in all four years, the team won at least 21 games and advanced to the national tournament.
He scored 657 points his senior season, which ranks ninth all-time at KSC/UNK. He made 265 field goals that year, which ranks sixth, and shot 53 percent, mostly from long range.
"It's hard to determine that for sure but I would guess (the 3-point shot) would have been (an additional) five points per game. Then again, you may have shot more of those than other shots so you don't know how it's going to affect things, but it would have made a difference, especially from where I shot. … (Coach Jerry) Hueser always said there wasn't a shot I didn't like," Bergmeier said.
Growing up on the farm, he spent many hours shooting, shooting and shooting some more.
He graduated from Tri County High School in DeWitt and planned to go to the University of Nebraska-Lincoln to study agriculture. But after playing in the Nebraska Coaches All-Star Game, he realized he could play at the next level and decided to join his older brother at KSC.
"Nobody's going to say I ever had an assist record or a rebound. I wasn't known for my defense, although I did take quite a few charges. Shooting was what I did a lot of growing up on the farm, just shot and shot. Back then, that's all I did."
He earned a Presidential Scholarship, the premier state college academic scholarship, and earned Academic All-America as well as All-American honors while a Loper.
He continued to play basketball with former teammates and other "Kearney guys" in competitive tournaments for several years, until age started playing a role.
"I was playing with Dusty Jura and that group and I blew my ankle terribly when I was 40. That's about the last time I played competitive ball," Bergmeier said.
He kept playing pickup games around Omaha for another 10 years.
"I'm 56 now. I quit when I was 50. I had seen friends and other guys have knee and Achilles injuries, and I was like, 'it's time.' I miss it now, I do but I don't," he said. "I miss the guys more."
Bergmeier has been an insurance agent in Papillion the past 28 years. Before then, he was an insurance underwriter for four years.
He and his wife, the former Barb Herbek, have two children, a 32-year-old daughter living in Denver and a 26-year-old son in Omaha.
While the children attended UNL, both parents are members of the UNK Athletic Hall of Fame.
One of the last times Bergmeier watched the Lopers play was near the end of Connor Beranek's senior season. He had followed Beranek, who was the same age as his son, Ty, and was familiar with him through club tournaments.
While visiting the Health and Sports Center, Jon and Barb sought out the track team's record board where Barb's name still appears as a member of the 1986 distance medley relay team that won the NAIA indoor championship and set the school record. They decided it was an old record because her nameplate — along with relay teammates Becky Muma and Deb and Donna Spickelmier — had yellowed while the more recent records were white.