KEARNEY — Former University of Nebraska at Kearney football head coach Darrell Morris had a knack for hiring quality assistant coaches during his 15-year tenure.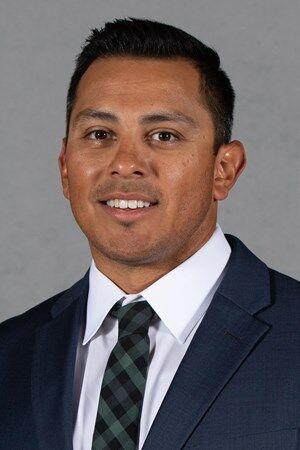 Morris' hirings included two future NFL coordinators and a multitude of coaches who experienced success in the collegiate ranks. One of those coaches who worked under Morris and is a premier college coach is Oregon defensive coordinator Andy Avalos, who was the Lopers' defensive line coach in 2009-10.
After his two years at UNK, Avalos coached linebackers for one year at Division I Sacramento State and then seven years at his alma mater Boise State before taking his current role.
"I wasn't aware prior to but learned about it once I got to UNK and the tradition of the guys that have come through the program," Avalos said in a phone interview from Eugene, Ore. "Darrell did an unbelievable job of assembling the staff with veteran coaches and young coaches and a good mixture of all in between.
"With the resources he had, the program was extremely successful in those years there. There was a standard of excellence that you had to meet. I think one of the blessings of being at that level is that you learn to do a lot of different things and you are forced to do a lot of things at a high standard. Darrell would get the most out of people to make the program the best it could be."
Avalos is one of the greatest linebackers in Boise State history, playing a key role on the Broncos' defenses from 2001 to 2004. He earned first-team All-Western Athletic Conference honors at outside linebacker in each of his final two seasons and led the Broncos in every defensive statistical category his final three years. He also completed his playing career fourth all-time in Broncos' history with 365 career tackles.
He returned to his hometown of Corona, Calif., after graduation and coached the linebackers for the high school team in 2005. He then spent three years as a graduate assistant coach at Colorado before joining the Lopers in 2009.
In his time coaching the Lopers' defensive line, Avalos worked under defensive coordinator Bob Crocker, who was a finalist for the Division II Coordinator of the Year award in 2009.
One moment that stands out to Avalos during his two years with the Lopers was in 2009 when UNK went 10-1 in the regular season, including a 9-0 mark in the Rocky Mountain Athletic Conference, to qualify for the NCAA Division II playoffs.
The sixth-ranked Lopers hosted No. 16 Saginaw Valley State in the first round of the playoffs at Foster Field.
UNK trailed 20-7 at halftime but scored 28 unanswered points in the second half to prevail with a 35-20 victory to advance.
"One of my most memorable times not only at UNK but in football was the first round of the playoffs against Saginaw (Valley) State when they were very successful during that period," Avalos said. "We were able to host them at home. The first half definitely went Saginaw's way and they had the momentum. But as UNK coaches, we were able to get the guys to fight back and win that game at home against a program like that. That's one of the things that I cherish in my football coaching career."
He said his goal was always to coach at Boise State. He didn't have to wait long to accomplish that task. He departed UNK after the 2010 season for Sacramento State where he coached for one year before Boise State hired him as its defensive line coach in 2012.
After coaching the defensive line for two years, Avalos was promoted to defensive coordinator in 2014. He served in that role through the 2018 season.
In February 2019, Oregon head coach Mario Cristobal hired Avalos to be the Ducks' defensive coordinator.
"There weren't too many places we would've left Boise for, but Oregon from afar was always a university and football program that I admired since high school with their tradition and success," Avalos said.
Avalos and his wife Summer have two children, Paityn and Paige, who are 6 and 4.
Although he is a decade removed from his time at UNK, Avalos said he remains in contact with numerous people from his time in Kearney, including Morris and Crocker. His wife also "still floats around the house with her UNK Loper shirt on every now and then," he added.
Avalos views Crocker as a mentor and "huge influence" on him. He also is appreciative of the opportunity Crocker gave him, which allowed him to gain invaluable experience and played a part in the trajectory of his coaching career.
Avalos is entering his second year with Oregon this fall. He believes the Ducks are headed in the right direction after last year winning their first conference title and Rose Bowl since the 2014 season.
"In this last year, there were so many defining moments in this first year," Avalos said. "The thing I hold close to my heart is the impact and the ability to get people to believe. I think that held true when we had success late in the season. That's why you do it. That's what stands out. It's not necessarily the victories or a certain point in a game, but how we were able to adjust and improve the mindset and work together as a defense."