NORFOLK — The Kearney High girls finished third Thursday at the Heartland Athletic Conference girls golf tournament played at the Norfolk Country Club.
The Bearcats shot a team score of 389, finishing behind Lincoln Southwest (354) and Lincoln Pius X (359) in the 11-team meet.
Eve Edwards led the Bearcats shooting a 92, which gave her the seventh-place medal. Lincoln Southwest's Kate Strickland was the individual medalist with Lincoln Pius X's Nicole Kolbas second with an 81.
Also for the Bearcats, Hannah Lydiatt shot a 98, Betsey Lewis a 99, Emily Jensen a 100 and Megan Ernst a 103.
"It was cold and we didn't play our greatest," KHS coach JD Carson said.
The Bearcats are back in action Monday, hosting the district tournament at Awarii Dunes Golf Course. The Bearcats will have to finish in the top three to qualify for the state tournament.
Heartland Athletic Conference
At Norfolk Country Club
Team Scores
1, Lincoln Southwest 354. 2, Lincoln Pius X 359. 3, Kearney 389. 4, Lincoln East 394. 5, Grand Island 396. 6, Lincoln Southeast 404. 7, Fremont 414. 8, Norfolk 442. 9, Lincoln Northeast 452. 10, Lincoln North Star 471. 11, Lincoln High 504.
Top 10 Finishers
1, Kate Strickland, LSW, 77. 2, Nicole Kolbas, LPX X, 81. 3, Neely Adler, LSW, 82. 4, Adella Maiyo, LSE, 87. 5, Lauren Carr, LPX. 87. 6, Ansley Sothan, LSE, 88. 7, Eve Edwards, KHS, 92. 8, Marissa Kuehn, LPX, 92. 9; Emma Witte, FRE, 93. 10, Sadie Steele, LSW, 94.
Tran third at No. 1 singles to lead tennis team
FREMONT — The Kearney High tennis team finished fifth in the Heartland Athletic Conference Tournament played Thursday in Fremont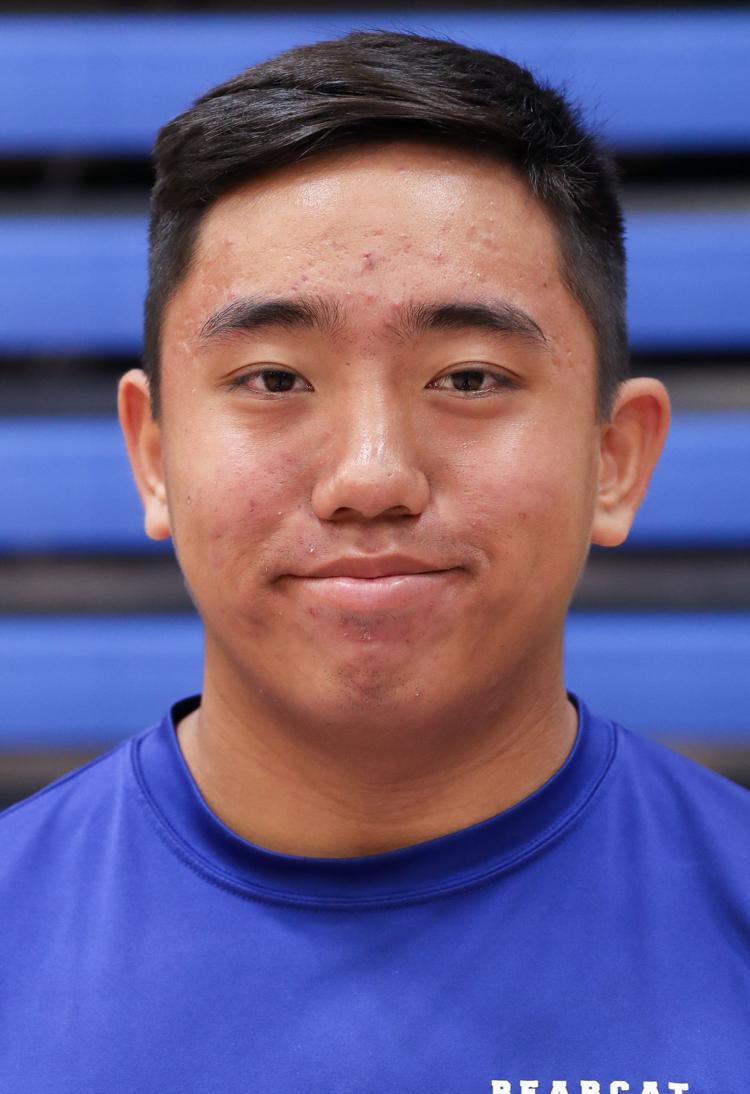 The tournament originally was scheduled for today but was rescheduled to Thursday to take advantage of better weather conditions.
Phillip Tran, playing at No. 1 singles, had the top performance for the Bearcats. Tran upset two higher seeds to finish third. He upset Kyle Givens of Lincoln East, 6-1, 6-1, avenging two losses earlier this year to Givens.
"Phillip served extremely well and was able to get a lot of free points off his serve," KHS coach Troy Saulsbury said. "Phillip was also hitting his spots."
In the third-place match, Tran upset third-seeded Alex Bigsby of Fremont, 8-6, winning the last five games.
"Again Phillip served well and stayed patient to win this match. Phillip did a nice job of sustaining cross-court rallys and not giving Alex any openings to hit to," Saulsbury said.
The Bearcats' No. 1 doubles team of Ryan Mahalek and Sam Rademacher finished fourth, but Saulsbury said they "had the upset of the day" when they beat the second-seeded team from Lincoln Pius X. They lost the first set to the Thunderbolts and trailed 5-3 in the second before rallying to win the second set and a tie-breaker. Unfortunately, Mahalek rolled his ankle in the tie-breaker and they eventually retired in the third-place match.
"Ryan and Sam served really well. We limited our double faults and created a lot of missed returns with our serves today," Saulsbury said. "Ryan and Sam were very strategic and effective in their poaching today. Our movement at the net caused Pius some problems. Our aggressiveness was the difference in that match."
At No. 2 doubles, Carson Elstermeier and Charlie Brockmeier went 2-2 to place sixth and Chinyere Obasi was seventh at No. 2 singles with a 2-2 record.
Heartland Athletic Conference
Team Scores
1, Lincoln Southwest 30. 2, Lincoln Pius X 23.5. 3, Lincoln Southeast 11. 4, Lincoln East 11. 5, Kearney 9.875. 6, Lincoln North Star 5.5. 7, Fremont 4.5. 8, Lincoln High 1.75. 9, Norfolk 0.875. 10, Lincoln Northeast 0.25. 11, Grand Island 0.