KEARNEY — Five athletes, one coach and one team will be inducted into the Kearney High Hall of Fame during ceremonies at halftime of Kearney High's football game with Grand Island on Friday.
The group includes athletes from the swimming, wrestling, basketball, football and soccer programs as well as tennis coach Les Livingston and the 2006 state champion football team.
Adam Beckman (2005), swimming
Beckman is the most decorated swimmer in KHS history. A dominant force from his freshman year through his senior year, he graduated with KHS records in eight out of eight individual events and was on all three KHS record-setting relays. He still holds four of the individual records and his teams hold two of the relay marks.
Beckman was a five-time state champion and three-time state runner-up. He won two state backstroke gold medals and his 2005 time was 10th on the all-time charts. He was a three-time state champion in the individual medley, setting the state record in 2005. Beckman was recognized as an academic and athletic high school All-American.
After high school Beckman attended Northwestern University and graduated with a communications degree. He swam for the Wildcats for four years and placed sixth at the Big Ten championships in the backstroke.
Brandon Brill (2003), wrestling
Brill was was a four-time state finalist and three-time Class A state champion, compiling a 122-3 record wrestling at 103, 112 and 135 pounds. He was the state runner-up at 130 in 2003. He was a four-time district wrestling champion and a three-time Greater Nebraska Athletic Conference champion.
Sign up for Kearney Hub daily news updates
Because of his dominance in high school wrestling, he was named a USA Wrestling Magazine All-American. He was recognized by the National Wrestling Hall of Fame Dave Schultz Excellence Award, awarded for best in all classes in Nebraska. The Nebraska Scholastic Wrestling Coaches Association awarded him the Guy Mytty Award as the outstanding senior in Class A and named him to the All-Academic second team.
After high school he attended the University of Nebraska at Kearney where he wrestled for three years and was twice named an NCAA Division II Academic All-American. After receiving his Bachelors Degree from UNK, he attended Logan College of Chiropractic in St. Louis receiving a Bachelor's Degree and a Doctor's Degree.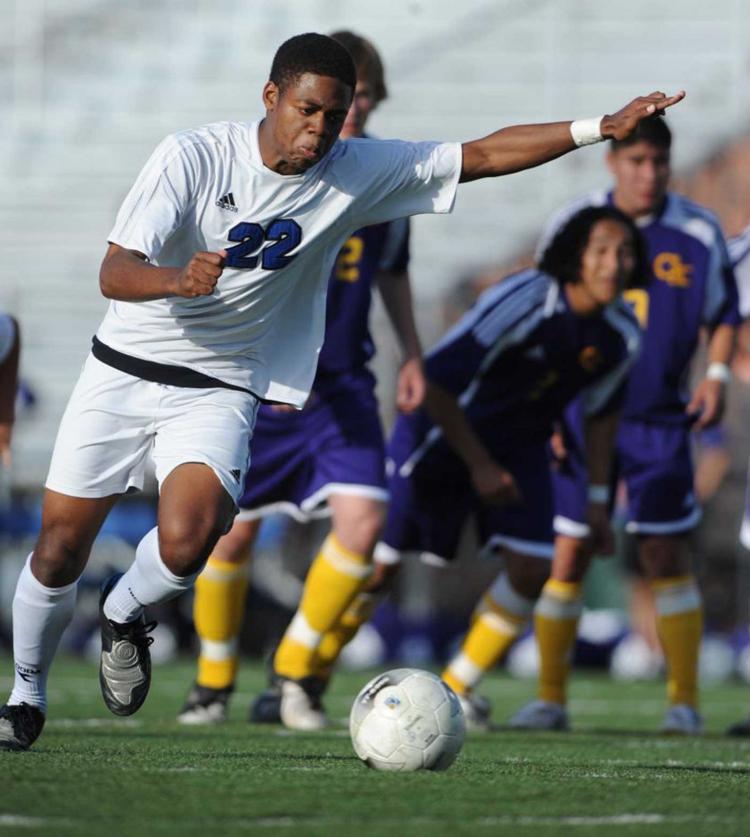 Josh Gable (2009), football/soccer
Gable is the rare athlete named all-class all-state in two sports. A four-year starter in soccer, Gable was a two-time all–class all-state selection as well as a three-time Class A all-state pick. Gable was the honorary all-class captain his senior year. He set six KHS soccer records and holds all of the soccer offensive records at KHS. He was selected to play in the Nebraska Shrine Soccer Classic in his senior year and was a finalist for the Nebraska Gatorade High School soccer player of the year. He received All-GNAC recognition three times.
On the football field, Gable was a two-time all-class all-state kicker. He is still tied for the longest field goal in KHS history at 50 yards and he holds the kick-scoring record (64 points).
After high school Gable played professional soccer in Italy and Belgium, had NFL kicking tryouts and kicked in the Arena football League.
Doug Koster (1991), Basketball
Koster rewrote the KHS record book during his three years as a starter on the Bearcat basketball team. The records included single-season scoring average, 2-point field-goal percentage, career points, career rebounds, career scoring average, 2-point field goals, free throws made, points in a single game, 2-point field goals in a game and total field goals in a game. Although many have since been broken, most are still in the top five at KHS.
Koster earned Class A all-state honors as a junior and all-class all-state honors as a senior. He was a finalist for Nebraska Mr. Basketball and played in the Nebraska Coaches Association all-star game. The Kearney Hub and Grand Island Independent named him their Basketball Player of the Year and he was twice named All-GNAC.
Koster attended UNK on a basketball scholarship. While at UNK he began organizing Mr. Basketball events and has continued this as his career. Mr. and Miss Basketball events have continued until the present. They have contributed greatly to Kearney and the KHS Booster Club as well as other communities around our region.
Denise Gill Wilkinson (1997), Soccer
Denise was a true difference-maker for the KHS girls soccer program in its early years. Her coach, Tami Anderson said, "She changed the complexion of Kearney High soccer in her four years and put us on the Nebraska state soccer map!"
Denise was a four year starter and a an All-GNAC pick all four years. She was twice named to the Class A all-state team and all-class all-state her senior year. Denise also excelled in the classroom and was twice named to the academic all-state team. She was a Nebraska Shrine Soccer Classic participant.
After high school she attended Hastings College on a soccer scholarship, earning all-conference honors three times and all-region once. She was twice an NAIA Academic All-American
She attended Optometry School at Pacific University in Oregon, receiving a Doctor of Optometry degree. She is an Optometrist in Lake Oswego, Oregon.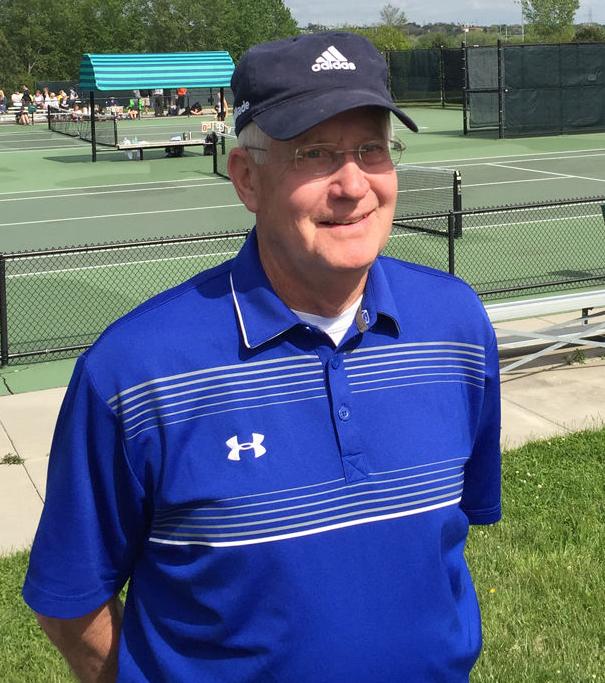 Les Livingston, Tennis Coach 1971-2016
Between 1971 and 1974 Livingston served as a ninth-grade assistant football and track coach and a sophomore basketball coach. He assumed the helm varsity boys programs in 1975. During his 34 years as boys tennis coach and 22 years as girls tennis coach, he amassed one of the most successful coaching records in Nebraska tennis annals. After retiring from head coaching he served as girls assistant coach for an additional 12 years and was boys assistant coach for eight years
During his tenure, the boys had a dual record of 220-47 and the girls' dual record was 131-44. The boys and girls teams won 52 invitational titles and 25 conference championships. Under Livingston the boys won three state championships and were runner-up five times. He coached 24 state champions and 33 state runner-ups.
His successes generated numerous prestigious coaching accolades. He was the Nebraska Coaches Association Tennis Coach of the Year (1986), the National Federation of High Schools Coach of the Year twice (2001. 2005), he was recognized as state coach of the year by three other professional organizations and is a member of the Nebraska Tennis Hall of Fame (2013).
He was a NHSACA National Coach of the Year finalist on three different occasions..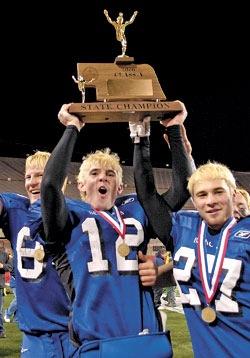 2006 Football Team
The 2006 football team won Kearney High School's second Class A football title, compiling a 12-1 record that is the most wins in school history. The Bearcats shut out Creighton Prep and Lincoln Northeast in the playoffs and avenged their only regular-season loss to Millard South in overtime in the semi-finals. In the championship game, they beat an undefeated Omaha Westside team 41-21 at Memorial Stadium to bring the Class A state championship trophy to Kearney.
The team gained 2,653 yards rushing and 1,660 passing while averaging 331.1 yards and 27.8 points per game. This was a school record for offense and total points (362). On defense, they allowed 193.4 and 9.7 points per game. They set a team record with 18 interceptions and 15 fumble recoveries.
Head coach Brandon Cool's coaching staff included Brad Archer, Mark Brown, Steve Cherry. Tim Christo, Nick Gates, Craig Lathrop, Greg Limbach, Kent Sughroue, Darrell Teply. and Darren VanWinkle.