KINGSVILLE, Texas – University of Nebraska at Kearney sophomores Montrez Jackson and Tiara Schmidt earned All-American honors Saturday at the NCAA Outdoor Track and Field Championships in Kingsville, Texas.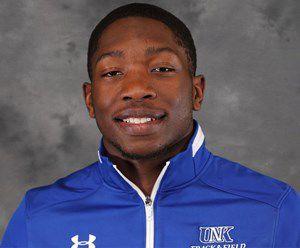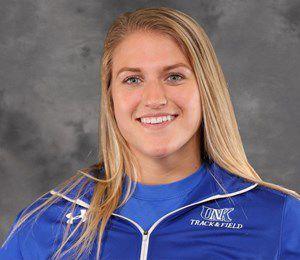 Jackson came in sixth in the high jump with a leap of 6 feet, 11 inches, while Schmidt placed 11th in the women's shot put with a toss of 48-4.
In his first national meet, Jackson cleared 6-6 1/4 and 6-8 1/4 on his first attempts. It took him two tries to get past 6-9 3/4 and 6-11 before bowing out. He missed on two attempts at 7-0 1/4 and then didn't clear 7-1 1/2. Jackson is UNK's first outdoor All-American in the high jump since Derek Bailey finished fifth in 2003.
Ethan Harris of Colorado Mesa won the event clearing 7-2 1/2.
Schmidt came in 11th with a career-best effort of 48-7 and almost matched that in her second attempt. Lindsay Baker of Ohio's Ashland won the national title (54-4 1/4). Schmidt is UNK's first outdoor All-American since 2015 and the first in the shot put since Jackie Ziemke in the 2014 indoor meet.
Jacob Bartling and Mackenzie Crowder closed out their stellar throwing careers over the weekend. Bartling finished 15th in the men's shot (56-10 1/4) while Crowder was 22nd in the women's shot (44-9 3/4).