KEARNEY — Josh Lynn didn't inherit a thriving football program in 2017 when he became University of Nebraska at Kearney's third head coach in four years.
Prior to Lynn, the Lopers went 1-21 in two seasons under Josh Lamberson before he left and accepted an assistant head coach/offensive coordinator position at Division I FCS Abilene Christian University in Texas.
Lynn understood the challenges.
He had to recreate a culture and build consistency within the program. It was similar to the process Marc Bauer undertook with the wrestling program when he became the head coach in 1999-2000.
Last year, the Lopers posted a 5-6 record, their best since 2011, in Lynn's second season. The Loper football program is trending upward. The team's talent has improved and the interest throughout the community has grown.
Bauer, named UNK's athletic director on April 23, said he sees correlations in Lynn's football success with what he accomplished in building the wrestling program into a national power.
"There is an energy there. This whole town feels it. It's coming," Bauer said. "That's why it's important for me and our institution to do what we can to, what I like to call, blow it up.
"This is an opportunity for us. If we miss this opportunity, shame on us. This is the opportunity you want. This is a time where we can take Loper athletics and Loper football to a whole new level."
Sign up for Kearney Hub daily news updates
Want to read more local content like this? Subscribe to the Kearney Hub's daily headlines newsletter.
There isn't a simple formula to building a winning program and culture.
The UNK athletic department doesn't have the resources like Northwest Missouri, Pittsburg State and Missouri Western, who have indoor football practice facilities, or the luxury of being near a major city where a plethora of high-end talent resides.
The UNK football coaches have to scatter across the Midwest and convince high school athletes to believe in the brand they're building.
Bauer compares it to his tenure as the wrestling coach. The program's wrestling room wasn't glamorous. It wasn't even as nice as Kearney High's facility, he said.
But once he had a strong foundation in place, he recruited and signed elite talent who played critical roles in leading the program to NCAA Tournament success ­— including three national championships, five runner-up finishes and two dual national titles.
"There are hundreds and thousands of students out there looking for places to go," Bauer said. "If we lose somebody, my mentality always was that I will find someone better. They are out there, but you have to get on your horse and get them. You have to be passionate and want to do that, and we have a lot of coaches that want to do that."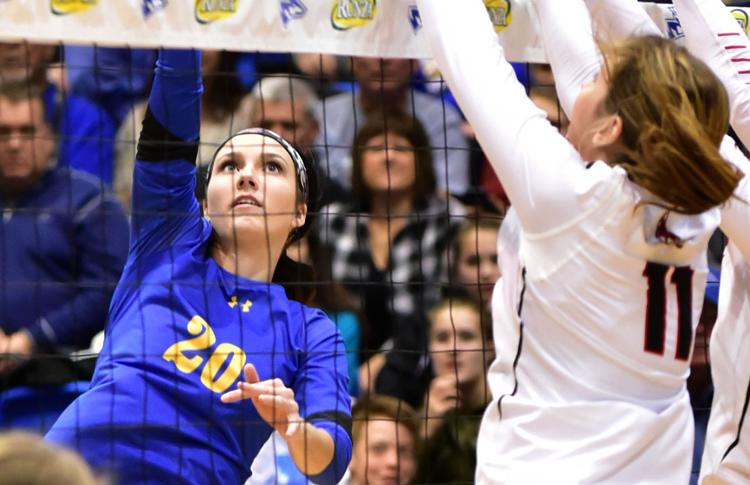 Volleyball
During the last 20 years, volleyball has been a premier program at UNK.
Rick Squiers is just the third coach in the volleyball's 51-year history. In his 20 years at the helm, he has amassed a 637-88 record and 20 NCAA Tournament appearances, including national runner-up in 2005.
"He's been that close, and he's right there," Bauer said. "Does that mean something needs to change? Not necessarily because things just have to go just right, and there's not one thing he needs to do that's going to win him a national title."
The Lopers are one of the top Division II programs in the country. They never have experienced a drop-off under Squiers. Instead, he's retooled his team year after year and remained in the hunt for conference and national championships.
Bauer understands the difficulties of winning on the national stage. The Lopers find themselves in the most competitive conference and NCAA Tournament region in Division II each year.
Last season, the Lopers rallied to win the MIAA regular-season title to host the conference tournament. They faced Washburn — a team they lost to twice in the regular season — in the title match and prevailed with a five-set victory to earn the automatic bid for the NCAA Tournament.
They then hosted the NCAA Tournament regional for the first time since 2011. But in the first round, Harding University (Ark.) stunned the top-seeded Lopers, extending their streak to six consecutive first-round exits in the tournament.
Despite the bitter result, the Lopers exceeded expectations. They didn't have an elite hitter but came together and played strong defense to defeat opponents.
This season, the Lopers will be in a similar situation without a go-to option at the net and critical defensive players gone from last year's team.
"He has a really good formula, and that's why he's successful year in and year out," Bauer said. "It's like a puzzle. He just has to continue to tweak, and that's what he does. He knows as well as I do you have to have some luck."
This year's conference tournament will be held in Kansas City, Mo., as the MIAA opted for a neutral location instead of the top regular-season team hosting the event.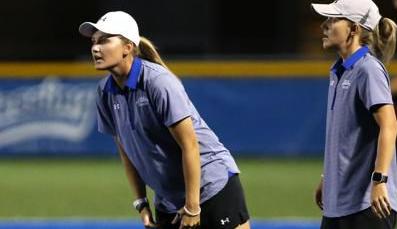 Women's Soccer
When Bauer became the UNK wrestling coach, he said he didn't have a close mentor he could rely on for advice and guidance. He's trying to serve that role though third-year women's soccer coach Chloe Roberts.
Roberts had a storied college playing career at Division II University of North Alabama from 2009 to 2013. Roberts, an England native, was a four-time All-American, who tallied a school-record 93 career goals, and earned the Daktronics 2011 Player of the Year award.
The inaugural season for the UNK women's soccer program was in 2009. The Lopers have experienced little success during their first 10 seasons, posting one winning record. They are 9-23-4 in Roberts' first two seasons.
Bauer understands the daunting task of building a program from scratch. He wants to share his experiences and answer any questions Roberts has as she tries to construct a competitive program.
"She knows her stuff," Bauer said. "It's just going to take some time, it is. She's young, and it's coming."
The Lopers never have had a full-time assistant soccer coach, instead only having a graduate assistant in the first 10 years. That will change this fall. The Lopers are in the process of hiring an assistant coach in conjunction with the Kearney Soccer Club. The coach's salary will be paid by both entities, as the coach also will help the Kearney Soccer Club's Under-10 program.
"This is a step in the right direction for the soccer program," Bauer said.
Cross Country
The men's and women's cross country teams consistently compete well in the MIAA. The men's team finished second and the women's fourth last season. Both also placed in the top half at the NCAA Central Regional meet.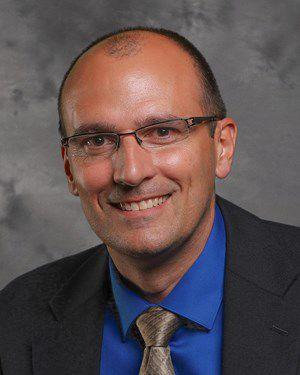 Many of the cross country athletes also compete on the track and field team. Brady Bonsall, the head coach of the cross country and track and field teams, prioritizes community engagement, which Bauer appreciates.
Bauer is trying to help Bonsall with fundraising. Bauer has a history in that area, raising more than $3 million for the wrestling program during his time as the head coach.
"The fundraising piece is obviously big," Bauer said. "A lot of the kids do both (cross country and track)," Bauer said. "I know Brady works hard and takes a lot of pride in their running program. It's just battling for those athletes is a challenge for him."
daniel.zielinski@kearneyhub.com
@DanZielinski3