HOLDREGE — Ava Johnson's "Frozen" car helps her get around at her grandparents' farm southwest of Holdrege.
"She just loves it," said the 3-year-old's mother, Kristen. "It took forever to get her in the car (the first time), but once she got in, she loved it."
The child's electric car is one of three modified last spring for special needs kids ages 1-3 by students in the University of Nebraska Medical Center's Physical Therapy Education program at the Kearney campus. They were assisted by University of Nebraska at Kearney engineering students.
The project by the Nebraska Chapter of GoBabyGo!, funded by the Munroe-Meyer Institute Guild, is part of a national program that provides the modified cars to help children with developmental disabilities have more independence. 
Kellie Gossman, assistant professor of physical therapy education in UNMC's College of Allied Health Professions, said that once the Kearney campus was opened to physical therapy students, a grant was received from an anonymous donor to extend GoBabyGo! from Omaha to the rest of Nebraska.
The funding was for the first three cars, costing approximately $150-$200 each.
"The whole point of the program is to promote independent mobility," Gossman said from her office at UNK's Health Science Education Complex, which positively affects cognitive skills, balance, interactions and fine motor skills. "It helps with all development."
She described it as giving the children a "taste of mobility" and the ability to be "more of a kid."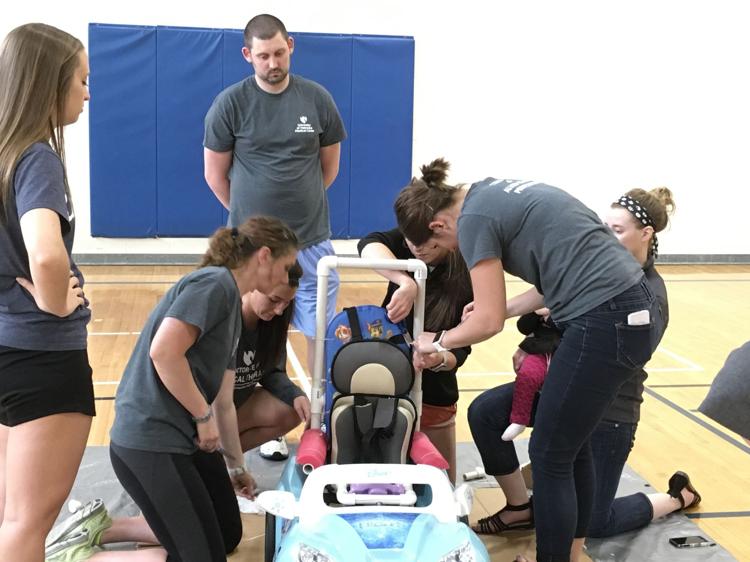 Help for Ava
Johnson said she didn't know about the program until she got a call that Ava was accepted. Ava had been recommended by her pediatrician, Dr. Andrew Casper of Kearney Clinic.
Ava has Holt-Oram Syndrome, also known as heart-hand syndrome. Her mother said it affects development of the upper limbs. Ava also has a heart defect for which she is examined annually by a cardiologist.
Johnson said Ava basically is one-handed and that hand is curved, which limits its range of motion.
"She's very small for her age. She's only 21 pounds and she's short," Johnson said in early July. The syndrome also affects her balance. "She's only been walking since November and only with shoes for a month."
The physical therapy and engineering students modified each of the three Kearney cars to fit a specific child by adjusting the seat and harness. Other individual features included adding arm rests, changing the "on" switch to a large red button operated by a foot or hand, and/or changing the steering wheel to more of a handle.
"It really is individualized," Gossman said, adding that there is potential to extend the car project to older children.
Ava's car has a big red button as a foot pedal and a rectangle structure made of white plastic pipe over the steering wheel to make it easier for her to steer. The seat also was moved forward.
"She has control, basically, and she doesn't have control of a lot of things," Johnson said about the car's value.
Someone still watches Ava when she's driving the car at her grandparents' farm where her dad, Shane, has a large workshop for his STJ Construction and Overhead Door Co. Kristen has a business in their Holdrege home, Whimsy Chic Boutique, that features Paisley Raye clothing.
Tori Clare of Grand Island, mother of another child who received a Kearney car, said it has helped her daughter improve her core and head strength "in a fun way."
"She can work on reaching therapy goals to make her as independent as possible," Clare added.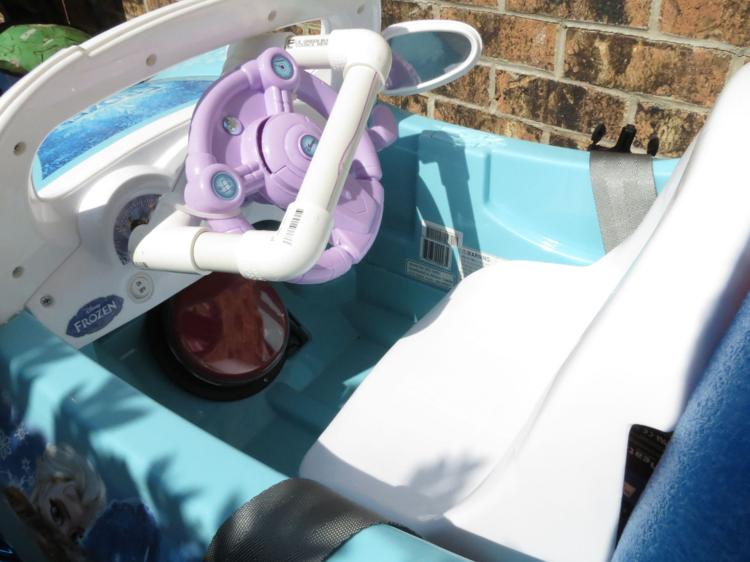 Benefits for students
"They get a chance to be creative," Gossman said about the value of the GoBabyGo! project for the physical therapy students. "To learn about the child's needs and modify the car ... and see the smiles on their faces."
She described the project as a tangible exercise involving skills the students can take with them wherever they go.
Although the free cars can be kept for life, Gossman said parents are encouraged to give cars to a physical therapist or day care center after their children outgrow them.
Children can be referred to kellie.gossman@unmc.edu, with selections for the next set of cars to be made on a first come-first served basis.
Gossman said she also can provide information about other available resources.